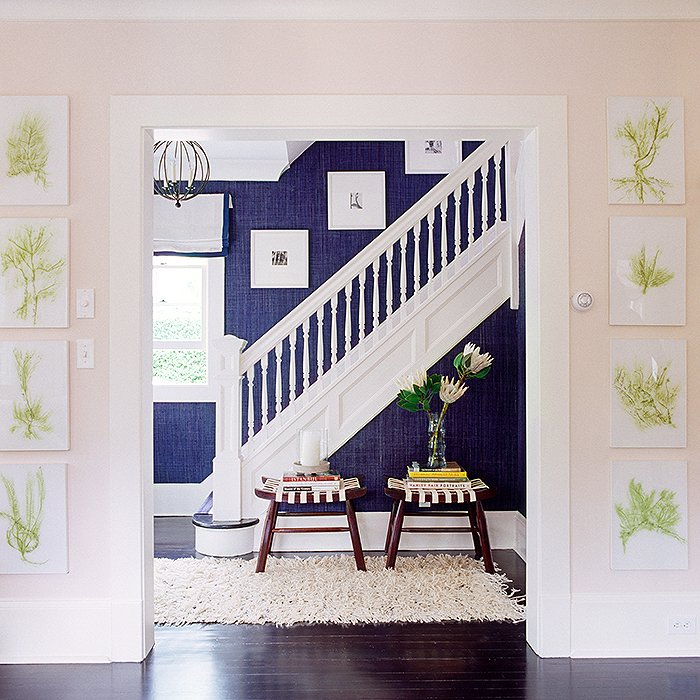 The room: an enchantingly colorful entryway
The location: Southampton, NY
The designer: Timothy Whealon
We love discovering new ways to wield color at home, which is why this stunning entryway by the übertalented designer Timothy Whealon caught our eye. At first glance it's a playful exercise in using bold colors—but then you realize it's also the absence of color that provides the graphic punch.
Why It Works
The indigo raffia wall covering by Phillip Jeffries in the entryway provides not only a richly colored backdrop but also a textural counterpoint to the bright white elements in the space: the bannister, the artwork, and the Victorian hall piece (seen below). This combination of light and dark transforms the bannister and the foyer piece into bold, sculptural statements. The shaggy rug lends the space a casual texture that perfectly hints at the beachside locale, and the matching stools infuse a modern sensibility into the traditional-leaning space, a signature of Whealon's interiors.
Our Favorite Part
Any single room is just one part of a larger fluid space, and we love the juxtaposition of the blue-and-white entryway palette with the soft pink walls and green fern prints of the adjacent living room. Each space features a unique and bold approach to color, but they complement each other beautifully, and the overall effect is surprisingly soothing.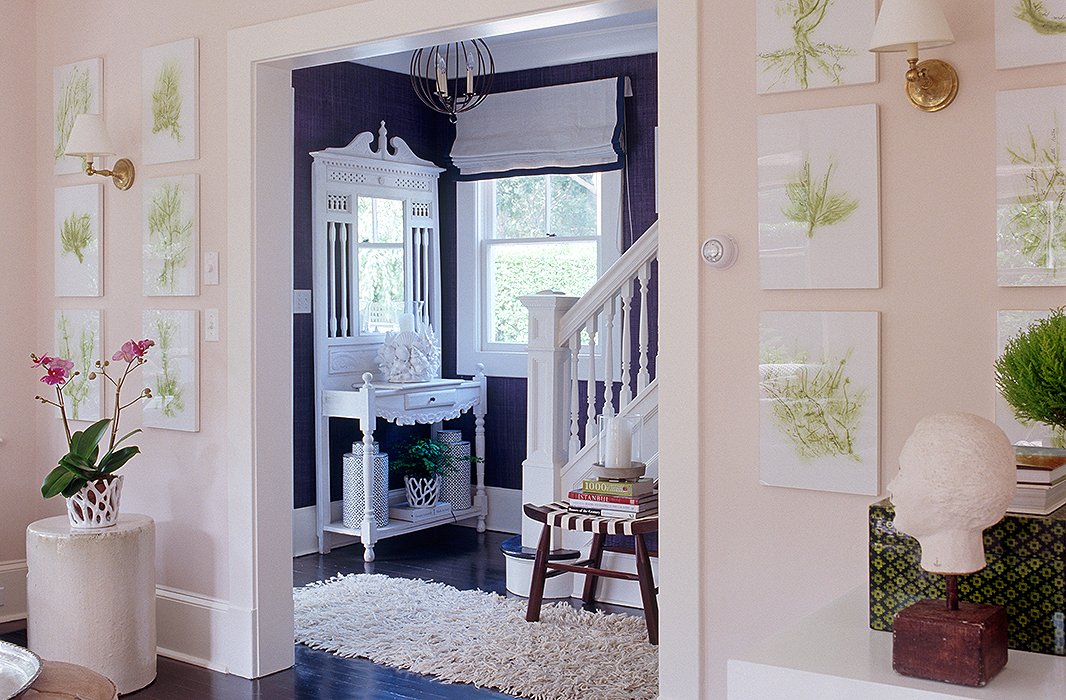 5 Decorating Ideas to Steal
A coat of bright white paint can breathe new life into even the heaviest of wood pieces.
When you have enough of them, a closely hung series of prints can be just as impactful as wallpaper.
A textural wall covering, such as raffia or sea grass, will give your walls more depth than a paint color ever could.
Throw a wild-card modern furniture choice, such as a stool or a side table, into an otherwise traditional setting to give your room a greater sense of balance.
Don't be afraid to make bold color swings from room to room, but do consider the view on the way in and out of each space.