When we bought our 1910 row house in Brooklyn this past fall I knew I was signing up for a long list of projects. To preserve my sanity I divided my to-do list into the projects I could tackle myself and the things I would need to hire a pro to do. My entryway, although pretty dingy, was a space I felt I could tackle on my own. Armed with the transformative power of paint and a little elbow grease, I managed to make some major improvements on a modest budget.
Here's the step-by-step evolution of my entryway from beige and bland to crisp, clean, and pretty darn cool.
Step 1:
The Walls
Before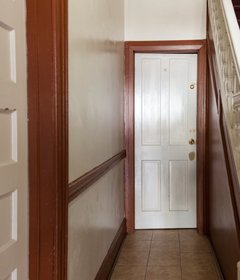 The previous owner had painted the walls an institutional yellow-beige that was not doing the space any favors (especially when paired with the reddish brown trim color).
After
To add some visual interest to the walls I painted the chair rail and everything below it in Benjamin Moore's Black Tar. For a modern feel I chose to extend the line of the paint across the door. For the walls and trim above the molding I used Benjamin Moore's Decorators White.
Bonus Solution: Faux Window
One of my favorite decorating tricks is adding a mirror where you wish you had a window. In this case I added a mirror above the door at the end of the hall. It's not something you notice right away, but it helps to reflect light and really opens up the space.
Bonus Solution: Use Every Inch
We were in dire need of a landing pad for keys and mail, but space for even the smallest console table was limited. The solution I came up with was an entryway console made of a wall-mounted shelf and a corbel bracket. On the opposite wall I used a matching corbel to create a little vignette moment, complete with an oil painting and vases for fresh flowers.
Along the long narrow wall I hung four drawings by artist J. Penry and flanked them with a pair of matching vintage sconces. I customized the shades with gold splatter paint.
Step 2:
The Floor
Before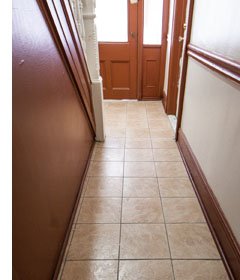 The floors in my entryway are covered in what I would call "Band-Aid beige" tile. Ugh! While I would love to replace it at some point, that just wasn't in the budget this time around.
After
My solution came in the form of floorcloths: painted canvas floor coverings. If you've never heard of them, they are essentially superdurable paintings for your floor. You can buy prepainted ones, but naturally I was attracted to the unpainted ones. You can even order them in custom shapes and sizes. I used several blank cloths placed together so that they covered my entryway floor completely. I then used a geometric-patterned stencil to create the look of patterned cement tiles. For all the details about making one of your own, head over to Design*Sponge, where I blogged about the process.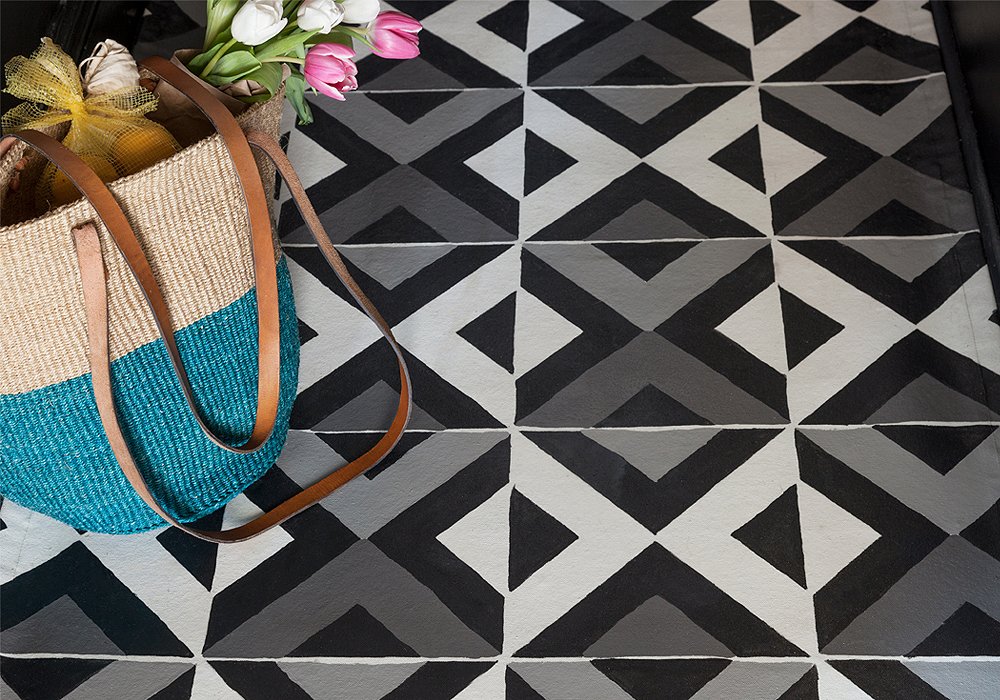 Step 3:
The Light
Before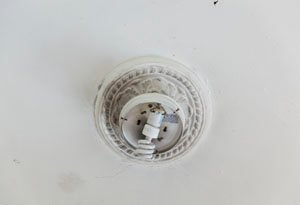 The exposed fluorescent bulb and "slapped on" socket fixture not only covered up the original ceiling medallion, but it also cast a harsh light on the whole space—a less-than-inviting vibe to return home to.
After
Inspired by a fixture I made for this kitchen makeover, I created a chandelier out of brass lamp parts and three wooden arrows. If you're interested in making one of your own, I've posted the full how-to for this project on Design*Sponge.
Even if you're not up to making your own, changing out a light fixture (like painting) is one of the most impactful ways to update a space.
Looking for more ways to customize your home? Check out my Weekend Decorator page for tons of ideas!