While this is her first "grown-up" house, Erin Wasson talks about it as if she's a little kid on a sugar high. She's excited: "I love the big beams and doorways!" She's giddy: "I finally have a place to host my family for the weekend." She's in awe: "You can get lost in this house—wherever you go there's a sense of privacy." For Erin, her home is the final move to adulthood. It's the first time she has an office, a spare bedroom, and space to breathe—an important factor for the former New Yorker, who spends a lot of time residing in hotel rooms when she's working.
The bones of the home, purchased from '90s chanteuse Sophie B. Hawkins, set the stage for a carefree approach to decorating. In tune with Erin's wildly eclectic style, the architecture is a cobbled-together mash-up of tiles from around the globe, quirky light fixtures, carved mantels, and soaring arched doorways. "There's a lot of idiosyncracies," Erin says. "The previous owners created a spirit that moved me—now their aesthetic and mine have bled together."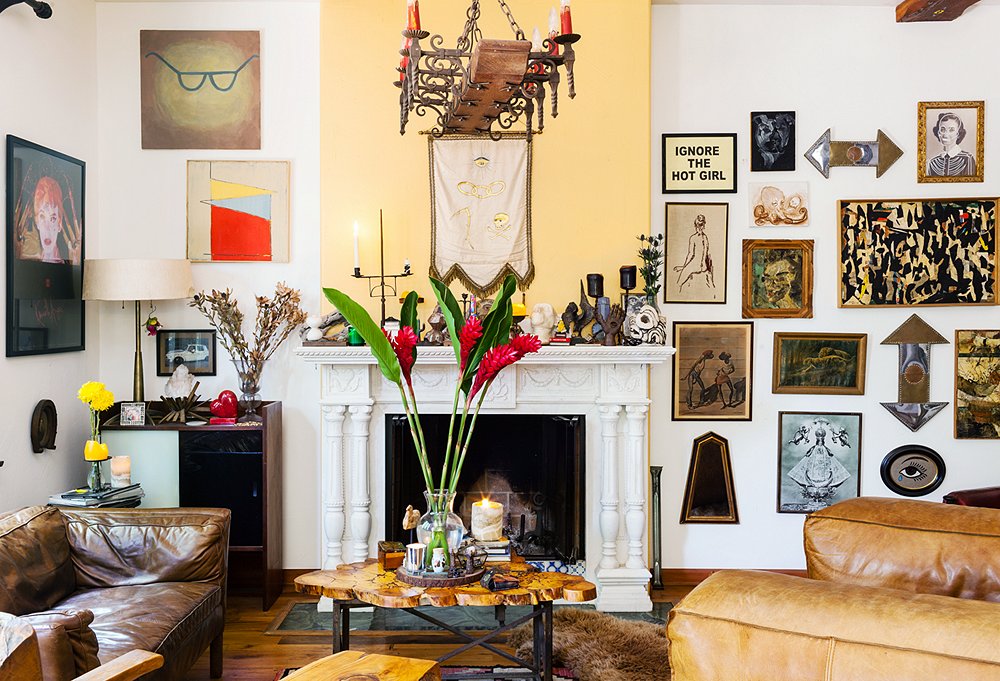 The Art of Improv
Erin calls her style "flea market makeshift." A seasoned collector, she believes you should buy what you love because in a home, those things will naturally work together. "If I found it in the trash, it's going up," Erin says. From needlepoints to 1960s bumper stickers to Fornasetti plates, her art arrangements have an anything-goes attitude. Even her method has a touch of the madcap: "Anywhere I've lived, I start banging into the walls first," she says. "I don't believe in a home that feels too precious. People overthink it, but decorating should be an organic experience. I don't want to feel like I'm living on a set."
The first time I walked through this property it felt like my past, present, and future all in one space. It had such a rad spirit.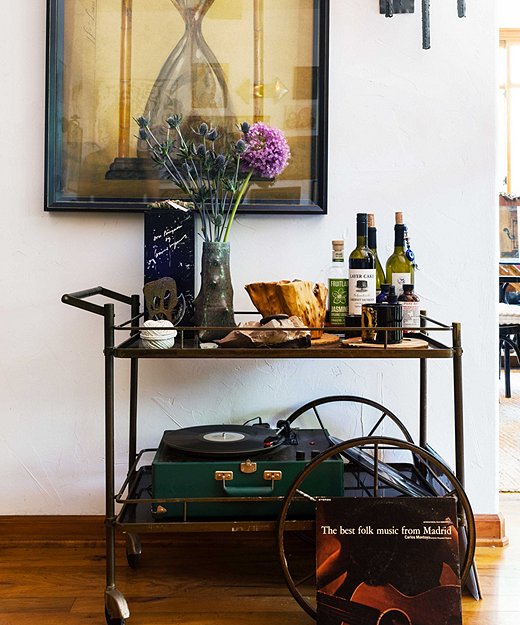 Ambience is Key
"The most important thing about a home is music and lighting," says Erin, an avid record collector. "I wouldn't know what to do with myself if I didn't have a candle to light and a needle to drop." Her aim is to make people feel like they want to "get cozy and hang out" the moment they walk in the house. For Erin, a successful dinner party ends with lots of wine and someone breaking out a guitar—her garage, after all, is a former recording studio.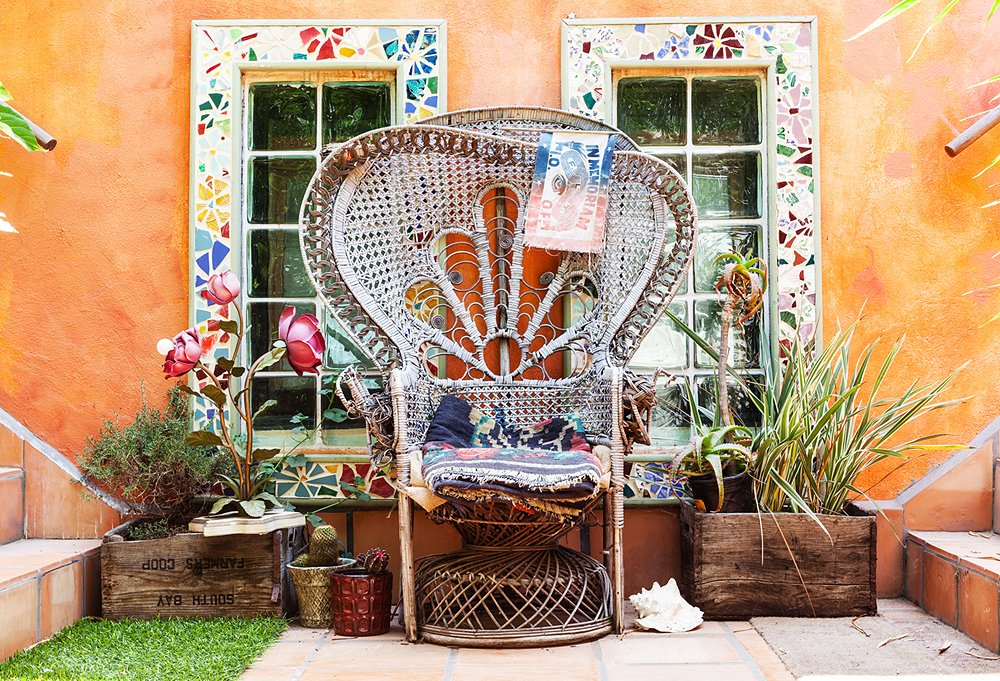 Work the Rooms
Erin is currently working on the relaunch of her jewelry line, Low Luv. "It's a game changer to have an actual place where your printer, scanner, and mood boards all exist in one place," she says of her first home office. She credits her interest in design to her "very creative" father and travel. "There were years when I wasn't in one place for more than a month. I started putting scarves on lamps in hotels just to give me a sense of home and stability," she says. In her house, those rooms meant for work feel just as homey as those meant for play.
Cook and Garden
A native Texan, Erin has a down-home sensibility well suited for California living. She does all her gardening herself, sourcing pots and plants from the likes of Topanga Canyon and Palm Springs. She laid down the Astroturf on her rooftop herself. Erin is also a seasoned cook. "Cookbooks are like my bible," she says. Traveling to local farmers' markets and as far as Joshua Tree to buy small-batch coffee, she's serious about her ingredients. Even on the go, Erin packs her lunch in a vintage wicker picnic basket. "I refuse to eat airplane food," she says.