Los Angeles decorator Estee Stanley has designed stylish, functional homes for the Beverly Hills fete set and Hollywood celebs, including actor Patrick Dempsey's stunning family home in Malibu. So it was a total treat when Estee invited us to her L.A. home for a peek inside her most private space: the master bedroom. Here she gives us an up-close look at her nightstand. Read on for our Q&A.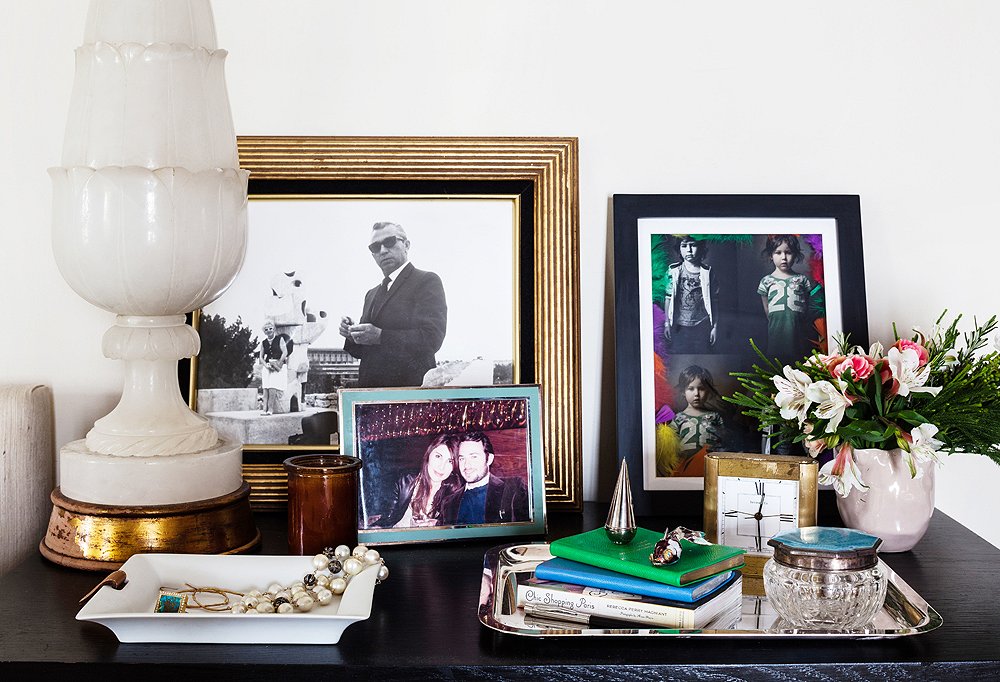 Tell us: What's on your nightstand?
"I always keep things that are meaningful—it makes the bedside just feel real and homey. Flowers are so easy and change the room so much, trays keep it organized, and I also like mood lighting."
Give us a rundown of all the pictures you have.
"The vintage photo in the gold frame is of my grandparents. I've had it since I was a little girl, and I've had it in my bedroom my whole life. They set up the whole picture and took it themselves. I think it's the most gorgeous photograph. The one in the back my kids made for me for Mother's Day last year; my husband took the pictures of them and helped them frame it with feathers."
Do you swap the photos out periodically?
"Sometimes. But I always have the vintage photo of my grandparents here."
What's your current bedtime reading?
"Honestly, my bedtime reading is Dr. Seuss with my kids. But I love going through Australian Vogue and Belle when I can."
Is that your alarm clock, or is it just for looks?
"I have children, so I have an automatic alarm clock [laughs]. It's a decorative clock with an antiqued gold finish that I love."
Your bedside is refreshingly free of technology. Is that on purpose?
"Yes. I feel we are all on technology overload. The bedroom is the most important place to relax and be peaceful. I really need to just turn off when I'm there, so I leave my phone to charge in the bathroom."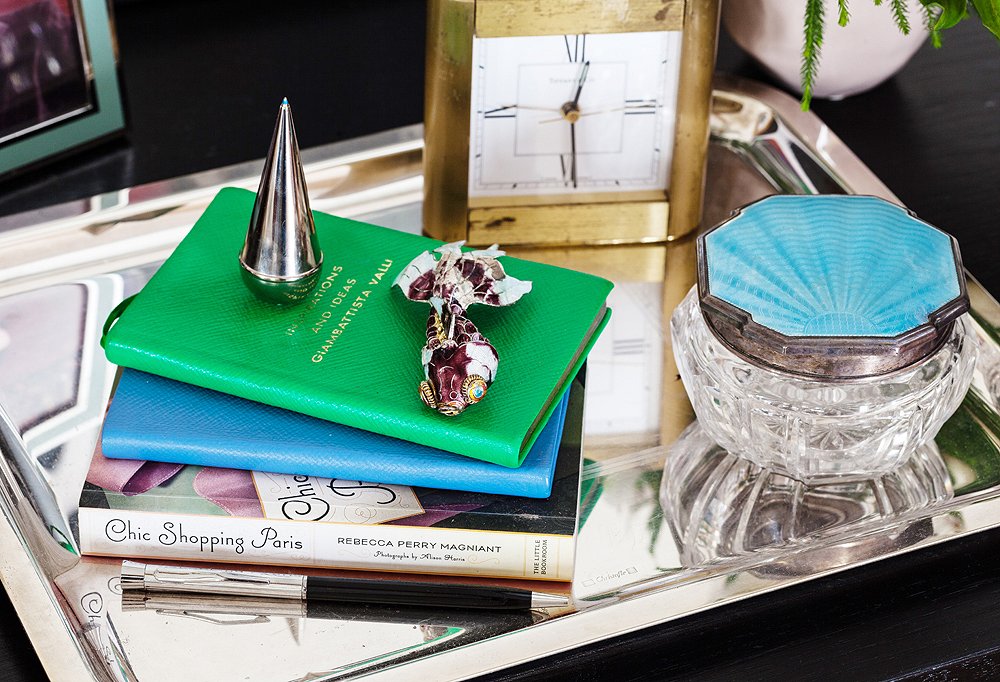 Tell me about the notebooks: Are they in case inspiration strikes?
"They're two little notebooks where I write down the cute and funny things my son and daughter say."
Do you have any pre-bedtime rituals?
"I always watch TV before I go to sleep. I'm a TV junkie. I always watch Homeland, and right now I'm watching The Americans and Scandal. And someone just turned me on to The Bachelor, which is the greatest thing."
What time do you generally go to bed?
"Eleven."
And wake up?
"My kids wake me up at 6:30 or 7 every day."
What tops your list of soothing scents?
"It depends on the season. I love Diptyque's Gardenia in the summer."
Any advice for creating an eye-catching bedside vignette?
"You have to mix different materials and textures. I have a big nightstand with a stained-oak surface, so I kept to mostly metallic and stone pieces on top, and balanced the contemporary with the old—like the combination of the ceramic tray and the silver-lid crystal bowl my mother gave me."
Matching bedside lamps or mismatched?
"Mine are matching. They don't have to be identical, but the scale should be similar."
Can you give us three words to describe your bedside?
"Homey, real, and comfortable."