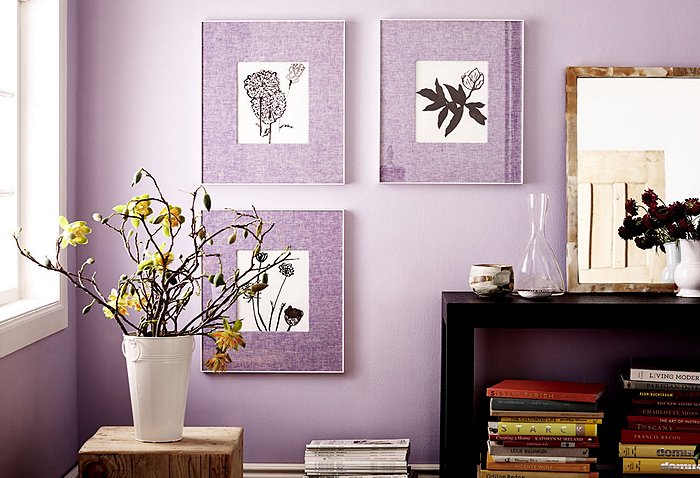 I recently received a set of beautiful botanical drawings from my friend Eileen Behnke, a stylist and artist, and was determined to find a way to frame them that did them justice. I decided they would be the perfect candidates for one of my favorite framing tricks: fabric-covered mats! Creating these custom mats is a great way to unify a series (or disparate artworks, for that matter) and really frees you up to play with color. Because the drawings were black-and-white, I thought matching the mats to my wall color would help them pop, and it worked like a charm. Are you ready to go beyond the standard white when it comes to mats for your artwork? Keep reading for my step-by-step guide to creating your own.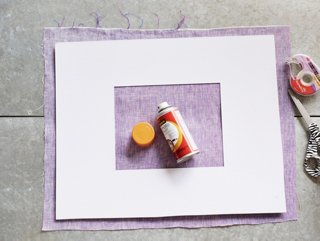 Here's All You'll Need:
A frame with a precut mat
Archival spray mount
Acid-free double-stick tape
A square of fabric 2 inches larger than your mat
Fabric scissors
Getting Started
Begin by cutting a square of fabric a little larger than your mat. Once it's cut, give the fabric a quick once-over with an iron to remove any wrinkles.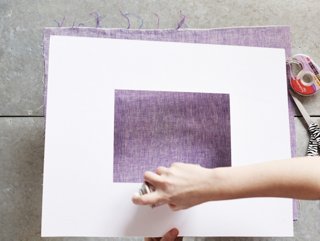 Spray and Tape
Lightly mist the front of your mat with spray mount, and place it face down on the fabric. Flip the fabric and mat over, and gently smooth the fabric into place, removing any wrinkles or creases.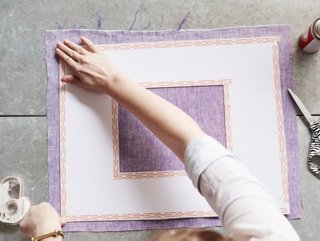 Next, apply acid-free double-stick tape to the inside and outside edges of the mat. The kind I used had a backing paper that I needed to remove to expose the adhesive.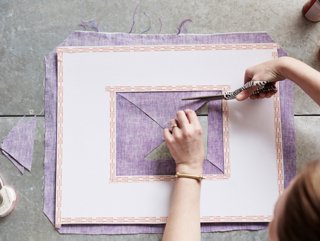 Trim
Use your fabric scissors to cut the outside corners off the fabric. This will reduce thickness when you fold the fabric over. Next, cut an X in the center of the fabric, going from interior corner to interior corner so that you form four triangular flaps. You'll want to trim some of the excess fabric off the interior triangles, leaving four tabs about 1.5 inches deep.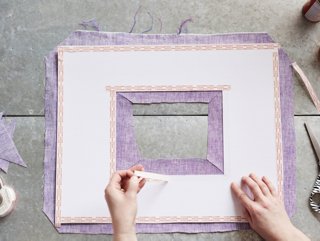 Once you have trimmed off the excess fabric, you're ready to remove the tape backing, exposing the sticky surface.
Fold
Neatly fold over the inside edges and smooth them into place. Repeat the process around the outside edges.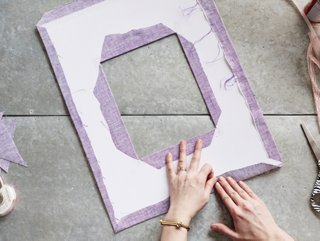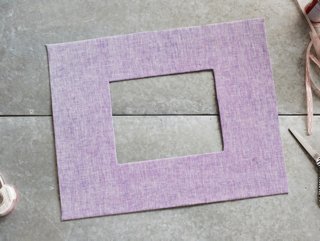 Finishing Up
Use the double-stick tape to position and secure your print to the back of the mat. Now just reassemble your frame and hang that bad boy!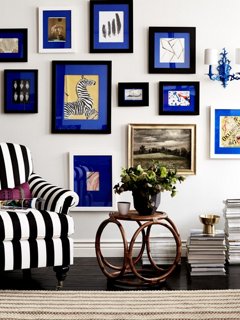 Curious to see how this technique can unify a gallery wall of mismatched prints? Head over to Design*Sponge to check it out!
Photos: Drew Gardner