Every Sunday in our #DearOKL Q&A column, our expert editors answer your decorating questions.
With warmer weather fast approaching, now's the time to start thinking about living alfresco. That's why this week's #DearOKL is all about getting the most out of your home's exterior areas. Whether that's a brick wall in need of dressing, a bare patio deserving some practical beauty, or a tabletop missing a point of interest, we've got you covered with our roundup below. Scroll through, get inspired, and if you're still left wondering what to do with an outside eyesore, ping us on Instagram using #DearOKL and we'll do our best to circle back.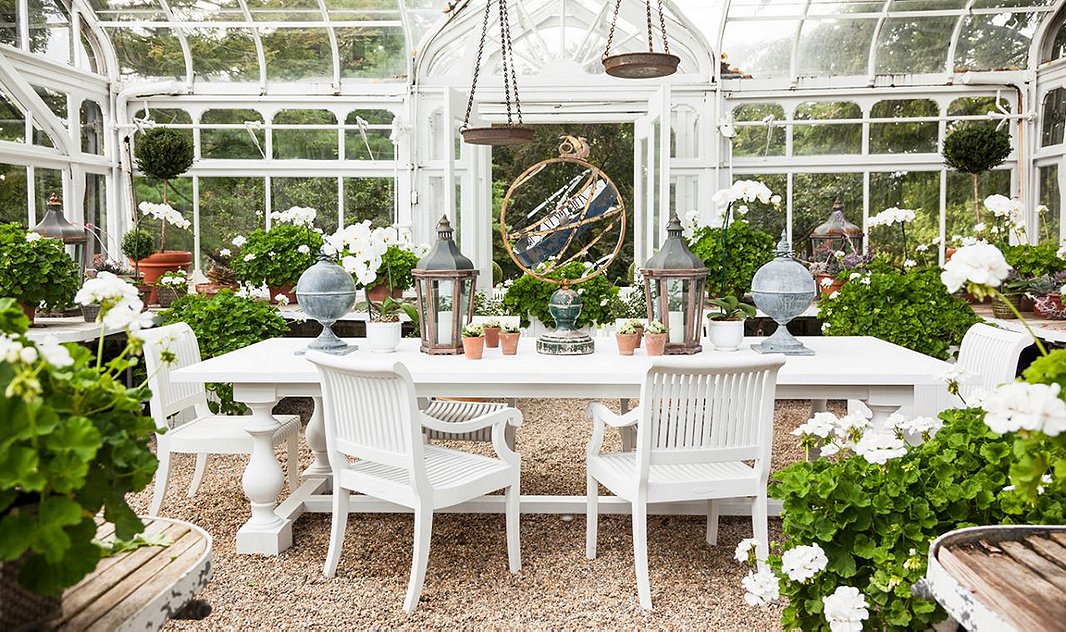 Q: What kind of centerpiece would you suggest for an outdoor dining table?—@eugesdecoradventure 
A: Consider creating a centerpiece that's more than just a singular object; allow curiosity to guide you when grouping pieces together. Find things you love that are made to withstand the elements, set them out now, and leave them be until first frost. Oxidized weather vanes, lanterns (key for mood lighting), and mossy planters are all fair play.

When it comes to arranging, use one item as the focal point, then work your way out from there. Approach it in the same way you lay out your silverware for a multicourse meal—salad fork at one end, teaspoon at the other, plates in the middle. Above, we see how tastemaker and avid gardener Carolyn Roehm does so in her greenhouse dining room with terracotta pots, oversize lanterns, and spherical finials.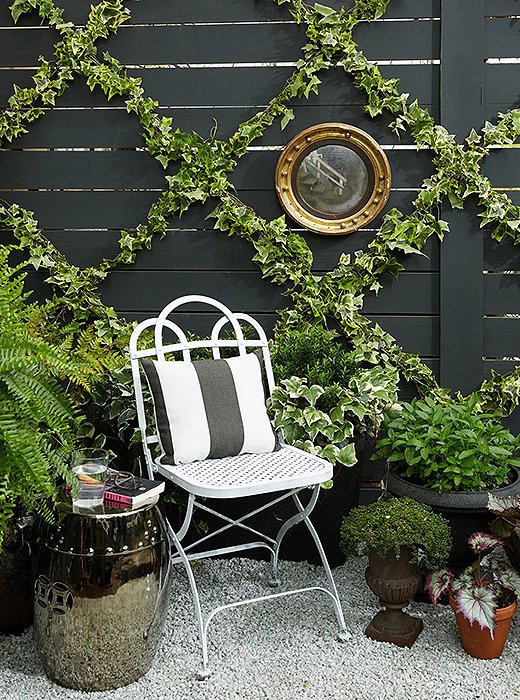 Q: How do I add interest to a fence up against the back wall of my home?—@kellyhalcombrandf
A: Take a page from our Weekend Decorator Megan Pflug's book and espalier your way to backyard beauty. She breaks it all down in this post, but you're essentially training vines to grow along a two-dimensional pattern—a tried-and-true technique with roots in 17th-century France. Once you've finished planting and training, treat your fence as you would a blank wall and hang a round mirror or sculptural something for added interest. Antique signs, ceramic garden sculptures, or a compilation of door knockers are all easy and unexpected ways to add a touch of Old World élan. Want more inspo? Check out fabulous ideas for urban gardens.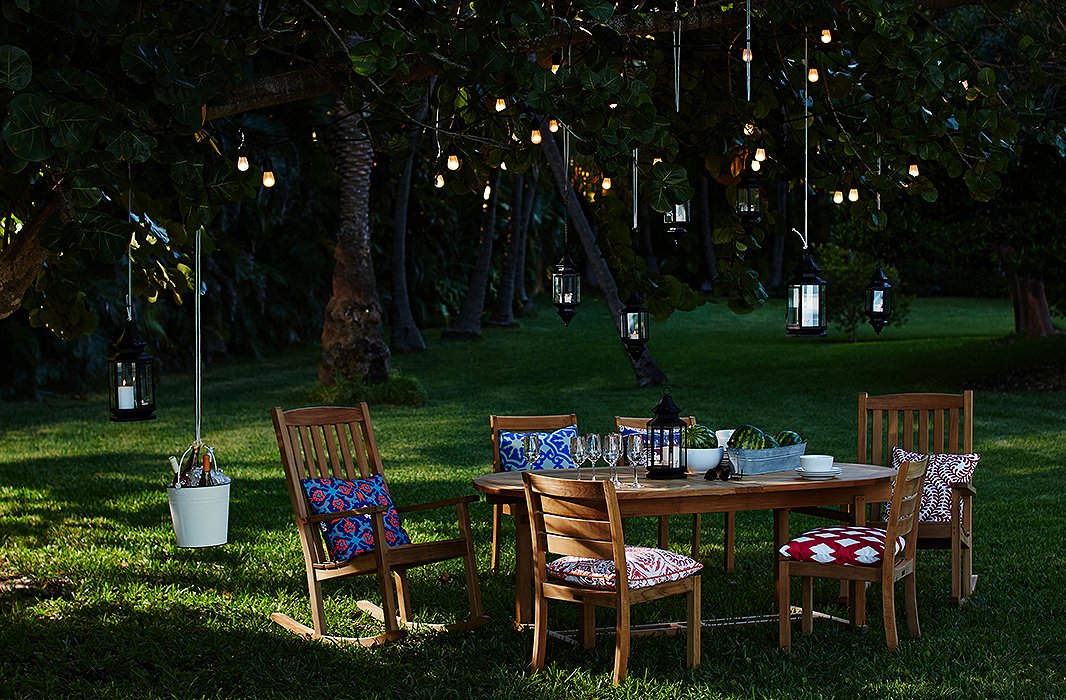 Q: Our backyard is big and hilly and has great trees. What could I create to make a gathering place that would actually be inviting and used?—@jane_austin
A: Transform your most mature tree into an illuminated hangout spot using string or wire to suspend a series of lanterns above a dining table or lounge area. Few will be able to resist gathering beneath a canopy of soft light dripping from a shelter of leafy green. Furniture-wise, think teak—a tropical hardwood known for rot resistance, it has natural appeal and is conditioned to last. Mix in outdoor throw pillows for color and cushioning, and you're all set with a place for some good times alfresco.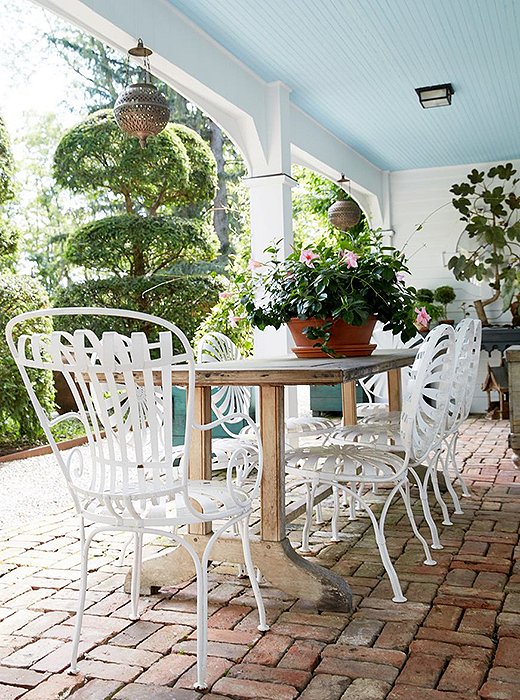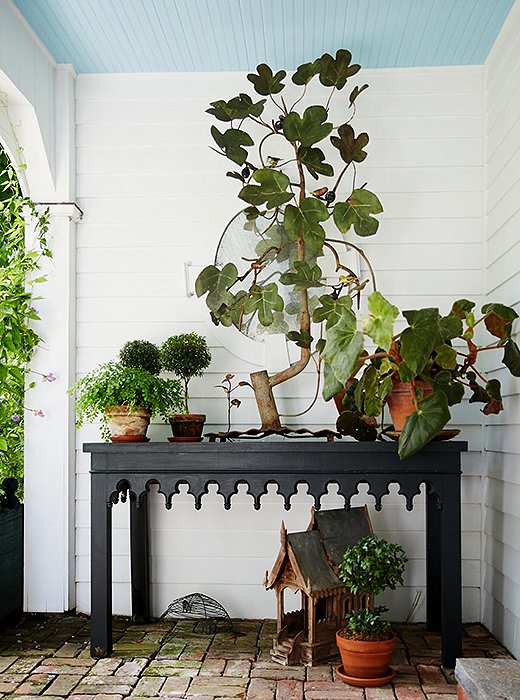 Q: How do I add the right amount of greenery to my covered patio? I want to add plants and flowers, having depth with the plants, but not overdo it. Also, how do I jazz up all of my brick walls, making my outdoor patio feel like an extension of my house and a place to actually use?—@kspellbound
A: Incorporate the same vignettes you have indoors into your outside spaces. You can start by transforming your covered patio into a highly functional spot with two distinct zones: one for alfresco dining and one for displaying your curated mix of plants, flowers, and tailored topiaries. When arranging plants, group varying heights and types in odd numbers—and don't be afraid of overdoing it. More is lush. Once you've settled on plants, use a brick clip to hang a weather-tolerant mirror framed in wood or wrought iron for a finished look and to define it as a space.
Idea worth a try: Adopt the Southern tradition of painting your patio's ceiling a shade of "haint" blue (as seen in the photos above). Haints, a type of evil spirit, were said to have been warded off by the skylike shade, which is why you see painted painted beadboard veranda ceilings throughout the Carolinas, Georgia, and Mississippi. Hey, couldn't hurt, right?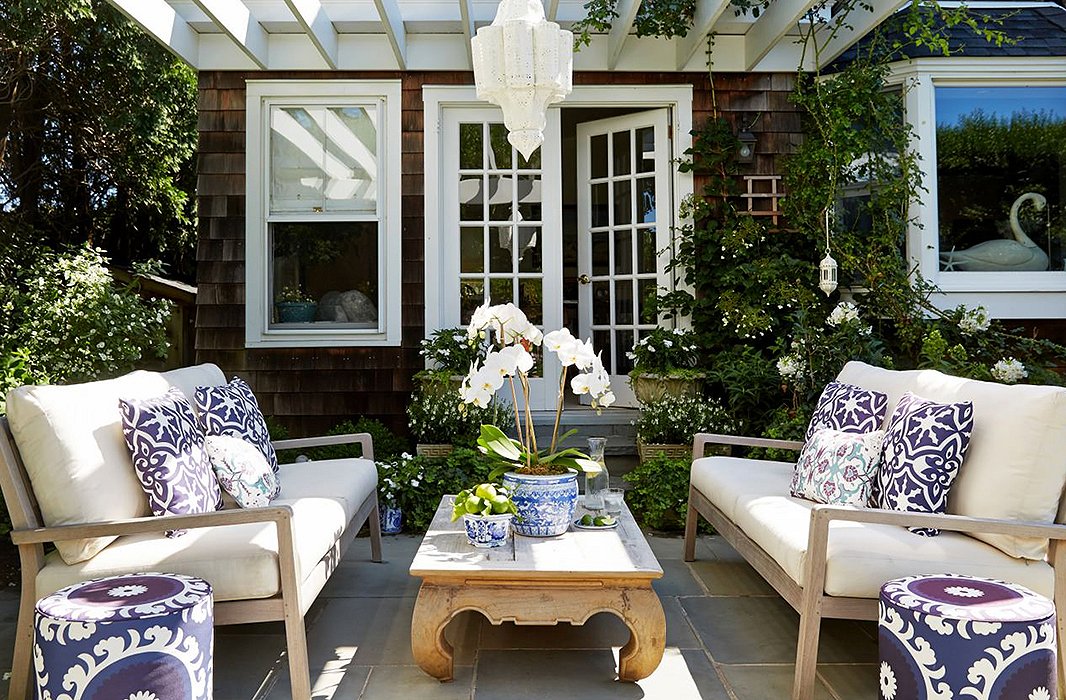 Q: Any suggestions for a small fenced patio space at a condo?—@kimbercalhoun
A: No matter the size and location of your patio, approach it the same way you'd take on your living room. A seating area, a light source, and a few accents to bring everything together are all an exterior retreat needs to be comfy and inviting. If you have the space, consider Kelli Delaney's classic lounge setup above and place two settees face-to-face. Why? Symmetrical arrangements in a compact outdoor space can provide a sense of form, comfort, and even grandeur. Not enough room for a pair of settees? Try a settee and a matching pair of ottomans, or garden stools or chairs made from similar materials for a clean, cohesive look. Either way, once you have your foundation pieces, finish your patio with a little color and flair courtesy of chinoiserie ceramics and globally inspired textiles.  
---
And while you're at it, set up a complimentary one-on-one consultation with one of our talented designers at The Studio at One Kings Lane.
You can also email us at DearOKL@onekingslane.com or use the hashtag #DearOKL on Twitter or Instagram to post your question there (extra credit for pics!).