Sometimes the little things make all the difference—and that's certainly the case when it comes to transitioning your home for the fall season. A few cushy layers here, a touch of autumnal color there: Read on for our favorite easy ways to bring a fall feeling to every room (outdoor "rooms" included).
The Front Door: Add Fresh Curb Appeal
Creating an autumnal display with real wow factor can be as simple as stocking up at the farmers' market—go for a medley of yellow and orange pumpkins and gourds as shown here, or stick to an all-white palette for a more modern feel. To take things up a notch, invest in a set of pretty planters to line the front steps or frame the doorway. Fill them with cheery mums now, then swap in holly or another evergreen come December.
The Entryway: Switch Up Your Accessories
Even the smallest entryway has a spot for displaying decorative items—and changing up these pieces is a sure way to give your foyer a fresh feel for the season. Add a stack of books in a seasonal accent color; fill a sculptural bowl with fresh apples or pears; hang a piece of art with a darker, moodier vibe. Try "shopping" the rest of your home to find worthy candidates, or browse our collections of florals, vintage books, and artwork.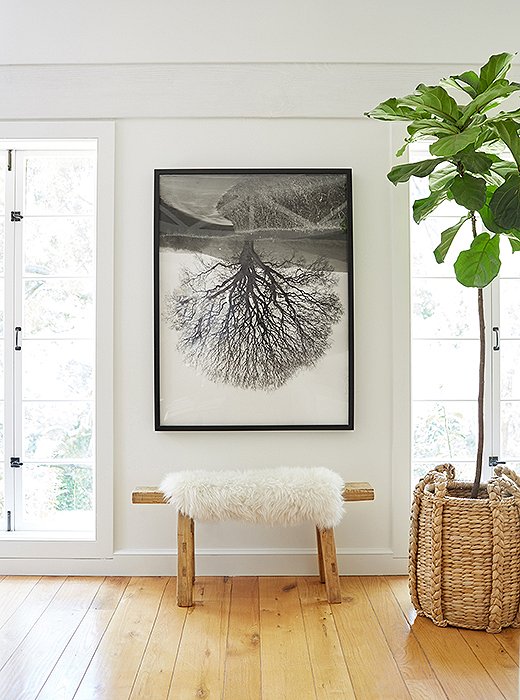 The Living Room: Layer on Softness
As with your wardrobe, the quickest way to transition your home from summer to fall is with layers. We love sheepskin rugs for their endless versatility and major cozy factor: Drape one just about anywhere—on the back of an armchair, atop an ottoman, over a bench—to instantly add a sense of warmth and a rich, comforting texture.
The Kitchen: Add Welcoming Warmth
Bringing fall into your kitchen is all in the accessories. Mix warm-tone materials such as copper and wood into countertop vignettes, and put dishware in fall colors and motifs on proud display: All will help give this utilitarian space an inviting atmosphere. (Popping in a batch of pumpkin bread won't hurt either.)
The Bedroom: Make It (Extra) Snug
Shorter days and cooler evenings make having a retreatlike bedroom all the more important. To give yours an extra dose of coziness, consider your floors. If your bed currently rests on bare wood, a large area rug will soften things up considerably (for help with size and placement, check out our handy guide). If you currently have a rug or wall-to-wall carpeting, layer on an accent rug to create a plush "landing spot." It's an opportunity to introduce a new color or pattern—and it'll make leaving the comfort of your covers a little bit easier.
The Backyard: Prep for Crisp Evenings
To keep your home's outdoor spaces in action well into the fall, comfy blankets and pillows are a must. Store them in a basket near the door and you'll be set for a season of cozy alfresco gatherings—even more so if a warming fire pit is part of the scene.