If you're like us, you're easing into fall and looking forward to cozy nights in and all the dinner parties to come. So we were thrilled when our friends at New York creative firm Zio & Sons invited us to an intimate dinner party at The Vintners Room, a charming wine shop in downtown Manhattan. And once we saw several One Kings Lane pieces were being used to decorate the space, we were through the roof!
The wine shop was transformed into a rustic dining room by Zio & Sons' stylist Anthony D'Argenzio. "Always stay true to the season and theme of the party," says D'Argenzio, whose family runs a winery in Santa Rosa, CA, and who is no stranger to entertaining. "Setting a comfortable mood for your guests is everything. It can be as simple as well-lit candles and a funky playlist. For this dinner, I mixed in vintage brass candlesticks with weathered silver pieces like salt and pepper shakers for a warm, rustic look."
Partnering with D'Argenzio was The Vintners Room's sommelier and wine educator Hillary Fornell. Fornell paired each course with a selection of wines that were delectable, to say the least. "Each wine was selected with specific ingredients in mind. I believe that when enjoying a meal completely, you are awakening all of the senses," she says.
The evening's first bottle of wine was a white called Vietti Roero Arneis (2012) from Piedmont, Italy. "It's the perfect choice for salad and great for prepping the palate," says Fornell. It rested in a willow-and-glass wine cooler.
With a fully equipped kitchen in the back of the wine shop, in-house chef Ryan Smith was in charge of the night's family-style meal, which included fall-harvest favorites such as roasted purple sweet potatoes from North Carolina and barbecue squash made with aged spicy Korean paste. "A friend gave me a traditional Korean cookbook six months ago, and I decided to make the recipes in it. That was the inspiration for the squash," explains Smith. But among all the deliciousness, one of the many highlights actually preceded the main courses: thick slabs of Beehive cheese rubbed with black tea and honey.
Above the table, bushels of mugwort, a local Brooklyn plant, were hung by by Irina Adam of Phoenix Botanicals to evoke alfresco dining. Guests Instagrammed the full table before the Vietti Roero Arneis was poured for the first course: kale salad with parmesan, Meyer lemon, and walnuts.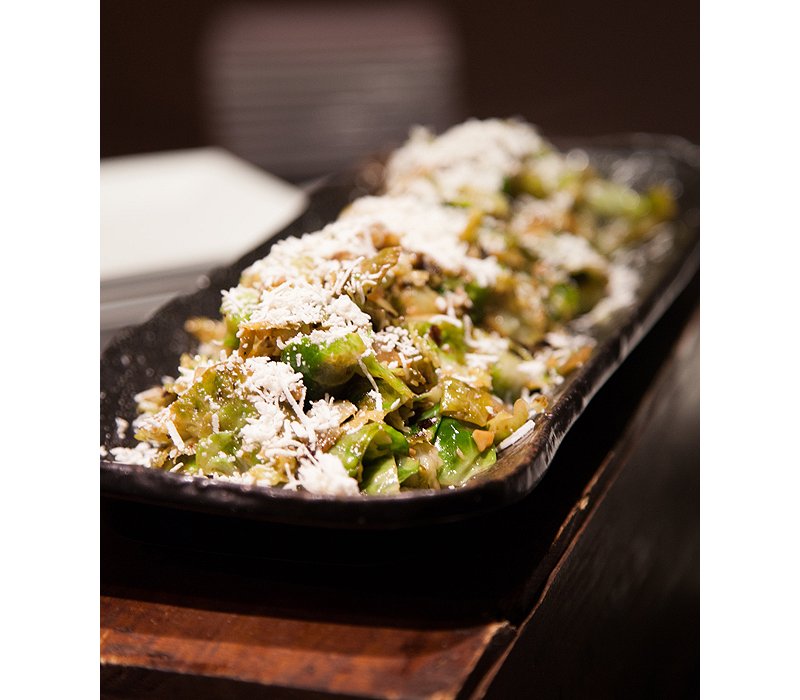 Chef Ryan Smith's Fluffed
Brussels Sprouts with Ricotta Salata
Inspired to start planning a fall dinner party? We can help get you started. We asked chef Smith for the recipe to one of his simplest and best-loved dishes from the evening—and we promise that it's as tasty (and easy) as it looks.
Serves 4
Ingredients:
3 pounds Brussels sprouts, trimmed
2 tablespoons olive oil
½ tablespoon red-pepper flakes
6 garlic cloves, minced
3 shallots, thinly sliced
2 Meyer lemons, zested and juiced
½ cup ricotta salata, coarsely grated
Directions
1. Fluff Brussels sprouts by peeling off each leaf.
2. Heat a large sauté pan over high heat, and add olive oil and sprouts leaves. Cook, stirring occasionally until leaves begin to brown; then add red pepper flakes, garlic, and shallots, and mix well.
3. Remove pan from heat. Stir in lemon zest and juice, and top with the ricotta salata.