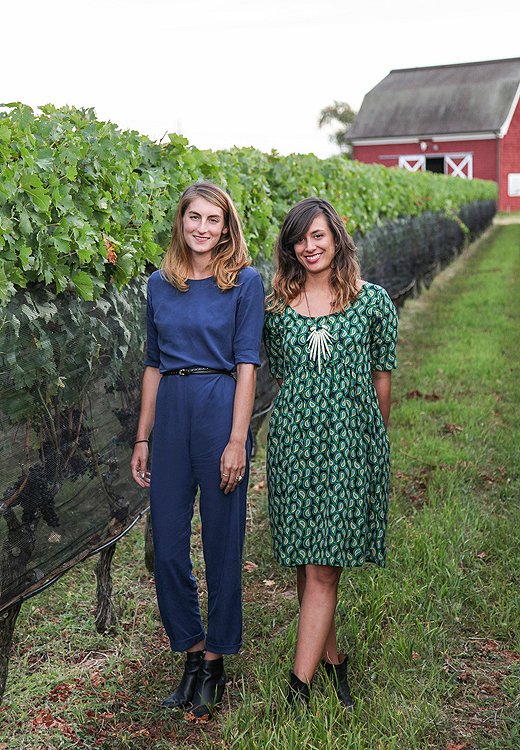 Wanting to take advantage of the still-warm days of early fall, Jenna Saraco (far left) and Nicole Steriovski, the duo behind Local Creative, decided to host a harvest dinner at the picturesque Macari Vineyards on Long Island's North Fork. We're big fans of this up-and-coming Brooklyn design collective (they champion local artisans!), so we were thrilled to join in and savor that stunning sunset, their rustic menu, and those perfect wine pairings. It was an evening we won't soon forget. Read on for Jenna and Nicole's inspiration for the event and to score some of their top entertaining takeaways.
First things first, how do you nail down your guest list?
"We always try to pull together a table of like-minded people—people who will be able to trade stories and share experiences. It's our biggest hope that guests who didn't know each other before will connect and go on to forge their own relationships."—Jenna
When dreaming up your tablescape design, where did you turn for inspiration?
"We wanted to play up the gorgeous vineyard setting, working with the existing palette, so we stuck with burgundies, reds, and greens."—Nicole
What were you thinking about when it came to the flowers?
"To reflect the setting, we wanted them to feel loose, organic, and wild, so our friends at Fox Fodder Farm, who created the arrangements, used mostly mixed foliage, along with a few dahlia blooms and clusters of blackberries for unexpected added texture."—Jenna
Do you have any advice for someone who doesn't want a professional arrangement?
"Flowers enhance any table setting—they're the finishing touch—but they don't have to be complicated. Popping a few single stems in a variety of vessels for a hit of color is an easy DIY arrangement."—Jenna
Fostering a community of people who want to make a difference is so important to us.
How did you play up the season in this party?
"For fall, we're obsessed with the richness and texture of kilims. And we love the thought of juxtaposing typically indoor pieces with a casual, outdoor setting, so we brought in a macramé runner for the table that has the feel of a rug."—Jenna
What's your favorite serving style for a casual dinner party?
"Go family-style for a warm, homey feel. It sounds cheesy, but 'oohs' and 'ahhs' as the big dishes are set out is part of the fun. Plus, everyone starts chatting as they're passing around dishes and helping serve each other." —Nicole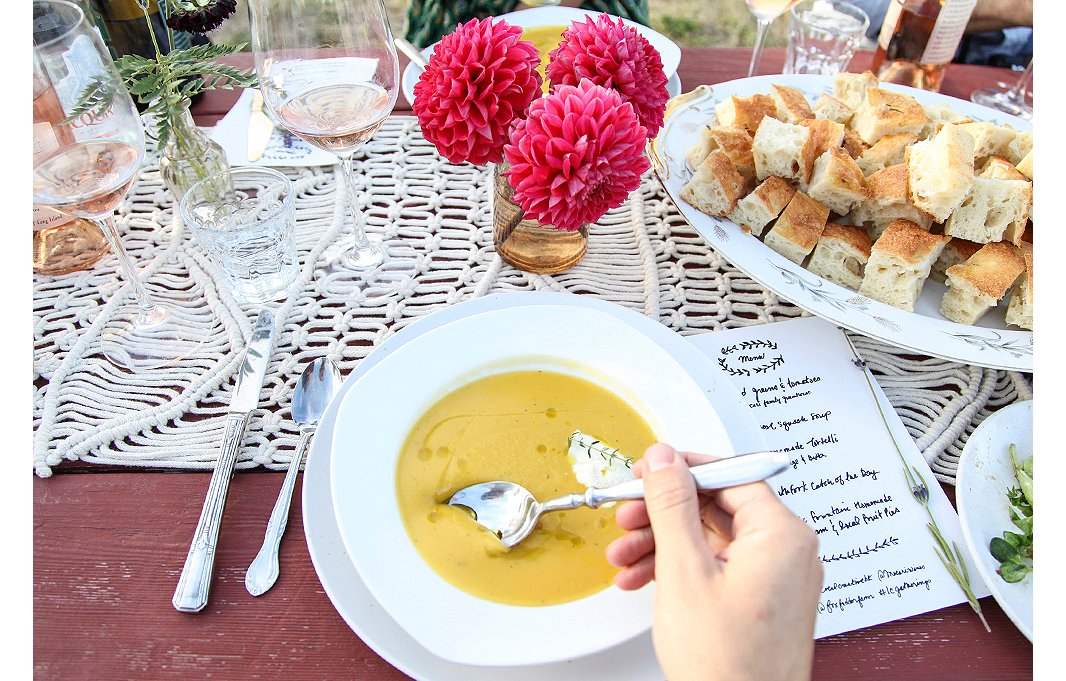 Is there anything all hosts should keep in mind, no matter the style of their party?
"The details—that's what people remember! For our harvest dinner, we topped each menu with a small strand of local lavender, fresh from the market, as a fragrant little touch. Those little accents are also major conversation starters."—Jenna
What's your favorite part of hosting a dinner?
"Honestly, sitting down and sharing a meal. I love lively family-style dinners where all your hard work culminates in this moment of great food and wine and conversation—plus, a beautiful sunset doesn't hurt."—Nicole
The best part of any party is seeing everything finally come together.