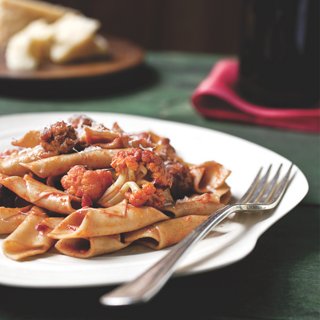 MARIO BATALI'S
Wine-Stained Pasta with Sausage Meatballs and Cauliflower
According to Batali, this quick pasta never fails to impress, and we think it's perfect for a chilly fall evening. The pasta cooks in a half-water, half-wine mixture, hence the name "Wine-Stained," but this recipe is definitely family-friendly—the alcohol will have cooked off by the time the pasta is ready.
Ingredients
Serves 6 / Skill Level: Easy / Cook Time: 25-30 mins. / Prep Time: 15 mins.

1 bottle plus 1 cup inexpensive red wine
2 1/2 pounds sweet Italian sausage, casings removed
1/4 cup extra-virgin olive oil
1 medium head cauliflower, cut into small florets
2 cloves garlic, sliced
Pinch of red pepper flakes
2 cups Mario Batali's Tomato Sauce (recipe follows)
1 1/2 pounds garganelli pasta
2 tablespoons salt
1 cup freshly grated Pecorino Romano, to serve
1. Fill a large pot with half water and half wine and bring to a boil.
2. Using your hands, form the sausage into small meatballs, about the size of marbles. In a 12- to 14-inch sauté pan, heat the oil over medium heat, until just smoking. Add the sausage balls in two batches and sauté, rolling them around, until they are brown all over, 5 to 6 minutes per batch. Remove, and set aside on a plate.
3. Add the cauliflower to the pan and cook until soft, about 5 minutes. Add the garlic and the red pepper flakes, cook for another minute, and add the 1 cup of red wine to the cauliflower. Bring to a boil, and then add the tomato sauce and sausage balls. Bring to a boil again. Then lower the heat to a simmer and cook for 5 minutes. Remove from the heat.
4. Drop the garganelli into the boiling wine/water, season heavily with salt, and cook for 1 minute less than the package instructions indicate. Just before the pasta is done, carefully ladle 1/2 cup of the cooking wine/water into the sausage mixture.
5. Drain the pasta in a colander and add it to the sausage mixture. Toss until the pasta is nicely coated. Pour into a serving bowl and serve immediately, with the grated Pecorino on the side.
Mario's Basic Tomato Sauce

1/4 cup extra-virgin olive oil
1 yellow onion, diced
5 garlic cloves, peeled and thinly sliced
3 tablespoons fresh thyme, leaves only 
1/2 medium carrot, shredded
2 28-ounce cans of peeled whole tomatoes, crushed by hand and juices reserved
Salt, to taste
1. In a 3-quart saucepan, heat the olive oil over medium heat. Add the onion and garlic, and cook until soft and light golden brown, about 8 to 10 minutes
2. Add the thyme and carrot and cook 5 minutes more, until the carrot is quite soft
3. Add the tomatoes and juice and bring to a boil, stirring often. Lower the heat and simmer for 30 minutes until the sauce is as thick as hot cereal.
4. Season with salt and serve.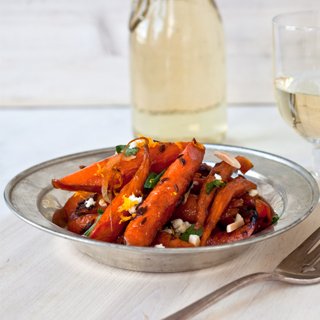 MICHAEL SYMON'S
Carrots with Feta and Mint
Simon's Greek heritage shines through in this pan-roasted carrot side dish, dressed with the classic combination of feta and mint. Inexpensive and easy to make, it's a great way to use the in-season carrots currently in abundance at your local farmers market.
Ingredients
Serves 4 / Skill Level: Easy / Cook Time: 20-30 mins. / Prep Time: 5 mins.

1 1/2 pounds carrots, cut into 2-inch chunks at a bias
1 teaspoon honey
2 tablespoons sherry vinegar
1 tablespoon whole cumin seeds, toasted
3 tablespoons extra-virgin olive oil
Kosher salt
Freshly ground black pepper
1 cup feta, crumbled, to serve
1 teaspoon orange zest, to serve
Olive oil, to serve

For the Dressing:

1/4 cup extra-virgin olive oil
Zest and juice of 1 orange
1 tablespoon honey
1 tablespoon sherry vinegar
1/4 cup mint (leaves only)
1 shallot, thinly sliced
1/4 cup slivered almonds
Pinch of kosher salt
1. Preheat the oven to 450 °F.
2. In a mixing bowl, add the carrots and toss with the honey, vinegar, cumin seeds, and 1 tablespoon of olive oil.
3. In an oven-safe skillet over medium-high heat, heat the remaining olive oil, then add the carrots. Season generously with salt and pepper, and then toss to coat. Transfer to the oven and roast for 20 minutes, or until the carrots have caramelized and browned in spots.
4. Meanwhile, make the dressing by whisking together the extra-virgin olive oil, orange juice and zest, honey, vinegar, mint leaves, shallot, and almonds. Add a pinch of salt and set aside.
5. Once the carrots have finished and cooled slightly, toss them in a large bowl with the dressing. To serve, garnish carrots with feta, orange zest, and a drizzle of olive oil.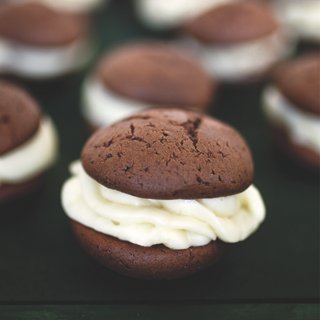 CARLA HALL'S
Chocaholic Whoopie Pies
Hall was looking to embrace the current cupcake craze but wanted to do something a bit different. Hailing from the Northeast, whoopie pies are just as easy as cupcakes to make, plus you'll score extra points with guests for originality.
 Ingredients
Makes 36 / Skill Level: Easy / Cook Time: 30 mins. / Prep Time: 20 mins.
For the Cakes:

2 cups unbleached all-purpose flour
1/2 cup unsweetened cocoa (such as Droste)
1/2 teaspoon baking soda
1/2 teaspoon fine salt
Cinnamon, optional
1 stick unsalted butter at room temperature
1 cup granulated sugar
1 large egg
1 cup milk

For the Filling:
1 stick unsalted butter, softened
2 cups powdered sugar
1/2 teaspoon vanilla extract
1 cup mascarpone
1/2 cup white chocolate, melted 

To Make the Cakes:
1. Arrange the oven racks in the upper and lower thirds of the oven, and preheat the oven to 425 °F. Line 2 large baking sheets with parchment paper.
2. Whisk together the flour, cocoa, baking soda, and salt in a medium bowl. You can add additional flavorings, such as cinnamon, if you wish.
3. Cream the butter and sugar in the bowl of an electric mixer at high speed until fluffy, about 4 minutes. Add the egg, and beat at medium speed until incorporated. At low speed, add the flour mixture in 2 batches, alternating with the milk, mixing until just blended.
4. Using a 1/2 tablespoon measure, drop 18 generous teaspoons of batter onto each sheet, leaving about 2 inches between cakes. Bake the 2 sheets at the same time, 5 to 7 minutes, until springy to touch. Let cool on the sheets for 5 minutes, and transfer to racks to cool completely. Change the parchment and repeat using the remaining batter (72 cakes in total).
To Make the Filling:
5. Beat the butter and powdered sugar at low speed until blended, and then beat at high speed until fluffy, about 5 minutes. Add the vanilla and mascarpone, and mix at low speed until blended, about 1 minute. Slowly mix in the cooled melted white chocolate.
To Make the Whoopie Pies:
6. Match pairs of cake with the same shapes and spread the bottom side of 1 cake with filling (or use a piping bag), and sandwich together with the other cake. Store the finished whoopie pies in a covered plastic container and chill for up to 3 days.
(All recipes and images courtesy of The Chew)