Tucked into the Russian River Valley near the heart of California wine country is the idyllic Farmhouse Inn. From the decadent breakfasts to the bursts of flowers to the dreamy rooms, it's a labor of love by brother and sister Joe and Catherine Bartolomei, fifth-generation Russian River-ites. No surprise, the inn is a favorite of wine-country weekend warriors, with the kind of luxe, laid-back decor that reigns in this neck of the woods: easy, effortless, elegant, and oh-so covetable. "Wine-country style is first and foremost casual," says Catherine. "A good mix of high and low: neutral textures, marble counters, and barn-wood cabinets. Galvanized is big, and so is anything reclaimed." Below we take you deeper into the inn and share some of the decorating ideas we love most.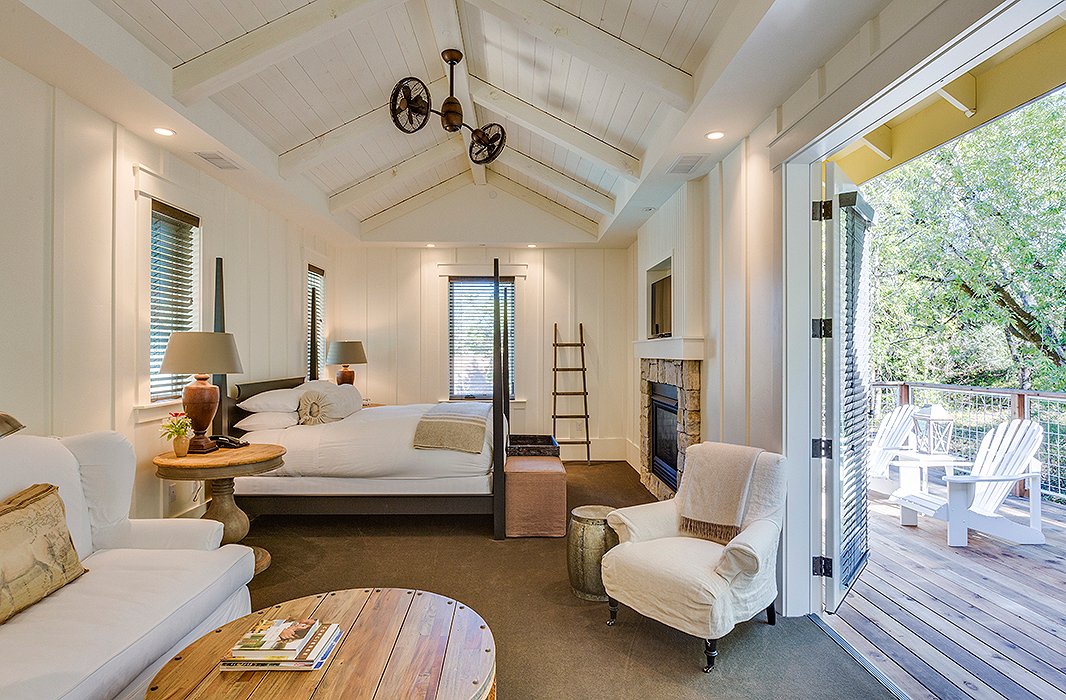 Embrace Indoor-Outdoor Living
"The weather is usually so great here, we love to blur the lines between indoors and out," Catherine says. They do so with French doors thrown open and multiple picture windows (a smart solution for those who love this idea but are at the mercy of less-than-great weather). "We're surrounded by forest, so the outdoors actually becomes the art for the rooms too," she adds.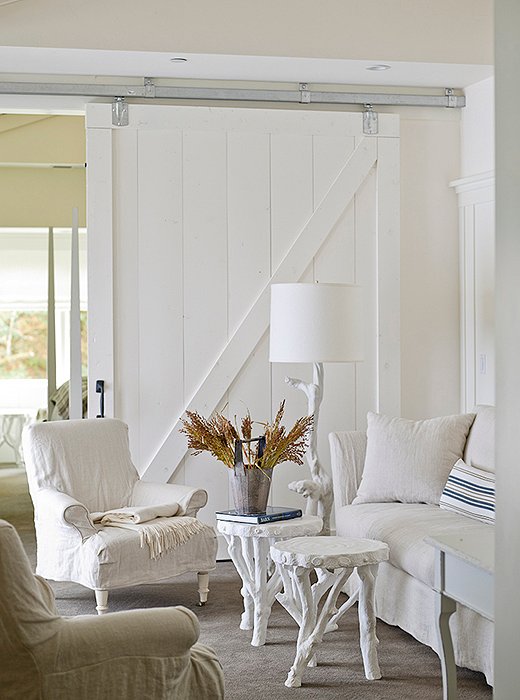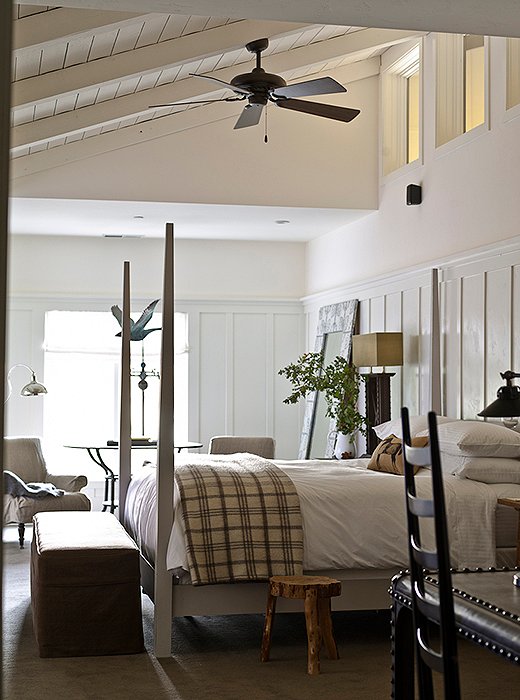 Opt for All-Neutral Everything
Quintessential wine-country style involves a mix of unfussy neutrals in textures ranging from smooth to nubby. At the Farmhouse Inn, sofas, chairs, and ottomans are outfitted in white linen ("sophisticated but calm and quiet") and denim—because what's more Cali cool than a perfect white pair of jeans? And they're all slipcovered, essential for high-use furnishings in easily stained hues.
Indulge in Good Bedding
If there's one thing any hotelier worth her salt knows, it's bedding. "Layers are critical," Catherine says. Here, mattresses get a feather topper, and beds are made with heavy duvets and extra-stuffed pillows. "The beds are the most comfortable things in the world," says Catherine. "I have the same bedding setup at home. So do both my kids! We all sleep like babies." To complete the thought, each bed gets a plush alpaca throw and an overstuffed bolster. "I love to read in bed, and a bolster offers that lower-back support that makes getting out of bed almost impossible!" she says.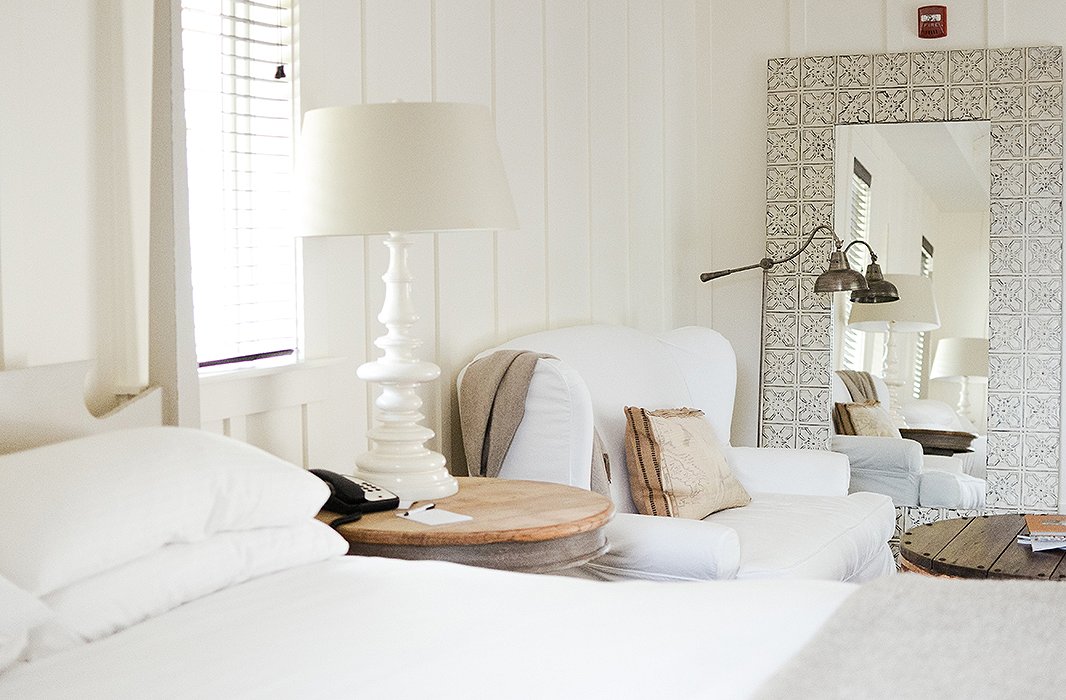 Banish Bare Walls
Beadboard or board and batten (like the inn uses) "gives a space texture and interest," says Catherine, "but it's never busy." If you're hesitant to undertake a full-wall makeover, consider adding beams to just the ceiling for a similar farmhouse look.
Add an Oversize Mirror
Full-length mirrors throw light around the room almost as much as an additional window and look appropriately casual when leaned against a wall. (The latter also holds true for framed art.)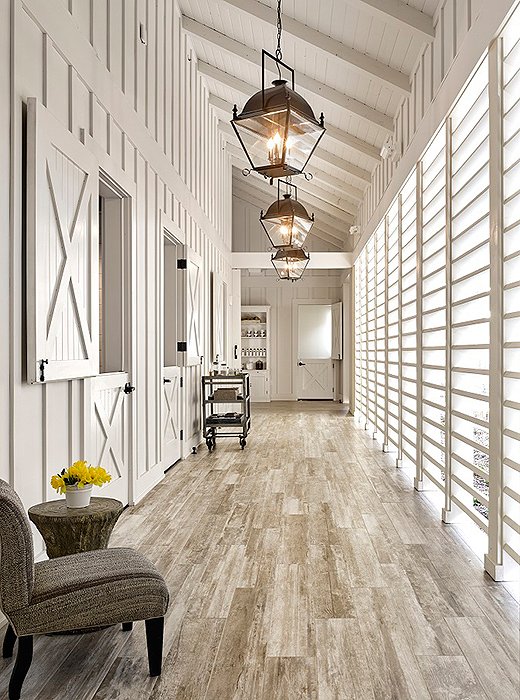 Reference Something Unexpected
The inn's spa—all light, air, and farm-to-table ingredients—draws inspiration from a stable with its barn-style moldings and horse-stall Dutch doors. The keys to keeping your place looking like a home and not a movie set? Moderation, balance, and mix. Flirt with a look, don't replicate it entirely, and work in other styles to complement.
Wine-country style is first and foremost casual. It's a mix of neutrals and textures.
Create Outdoor Rooms
As the inn's central yard attests, all it takes to craft an outdoor "moment" where once there was none are a few chairs and lanterns. Go a step further with an outdoor rug and a side table and you've got an alfresco lounge pad or living room perfect for breaking open a bottle with friends.