Architects of late have taken a liking to converting barns and farmhouses, breathing new life into them as homes. The result is most often impeccably cool and worthy of the coveted spot on a design-magazine cover. But even those of us who aren't in the market for a converted barn can enjoy the look, as this "farmhouse modern" style is spilling over into interior design. With a barn light here, a salvaged beam there, and perhaps a farmhouse table over there, you can master that renovated-barn look no matter where you live. Read on to learn a few elements that will help you nail this warming aesthetic.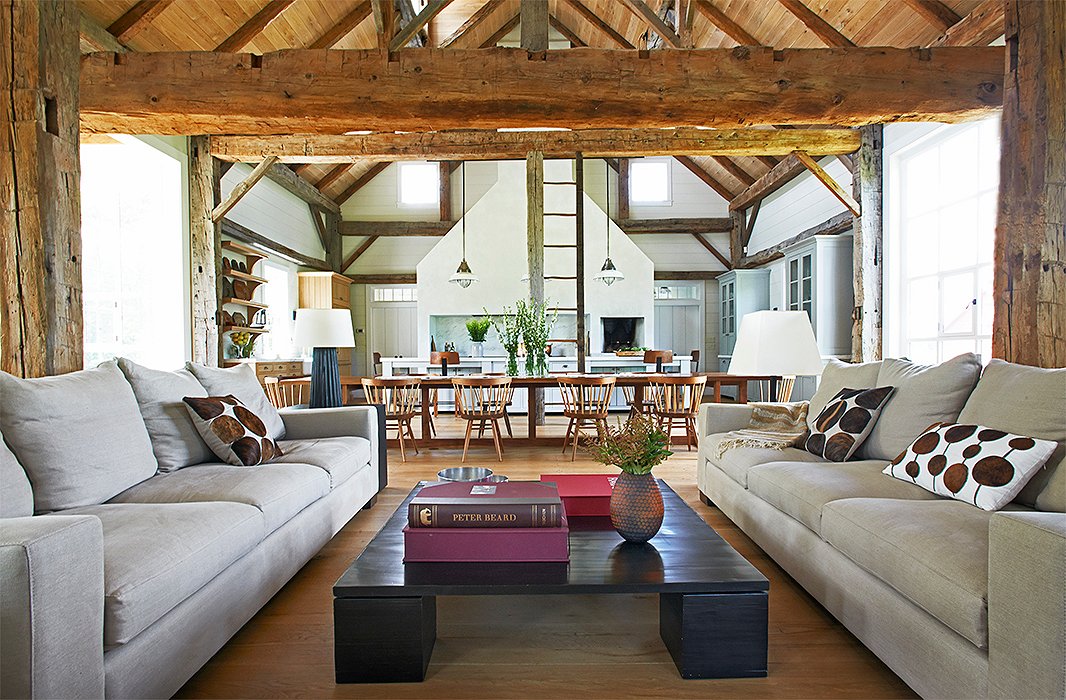 Usher in Clean-Lined Upholstery
With rustic architecture largely setting the scene, sofas and sectionals in modern silhouettes make for perfect visual counterpoints—and as a bonus, they tend to be big on comfort. For practicality and versatility, opt for warm tones and cozy neutrals, such as taupe, browns, and beiges, when it comes to large upholstered pieces. If you have the space, ape a great room arrangement and extend those cozy hues to classic wood dining chairs and a substantial natural-tone table; it will all tie back to the farmhouse architecture beautifully.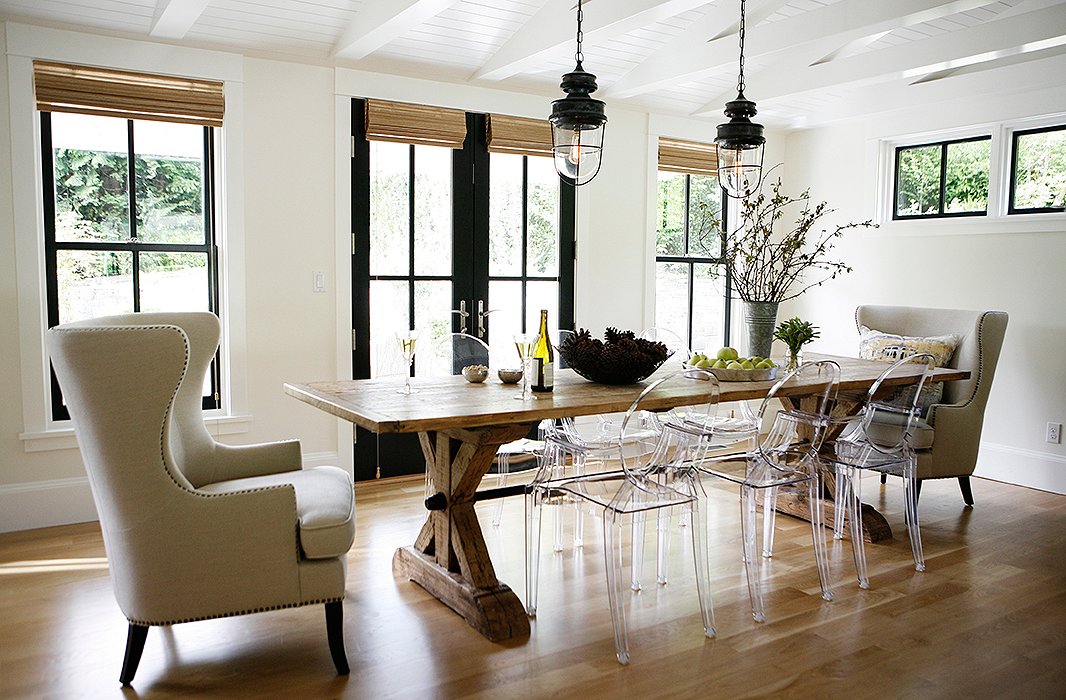 Match Heavy and Light
A classic trestle table or farmhouse dining table is an easy way to embrace the look. Given its history and heft, a farmhouse table also provides great design gravitas. Offset it with a set of contemporary Lucite chairs and equally sleek industrial pendant lights for a beautiful balance of substantial and lightweight elements. Mix in neutrals and relaxed linens, and the result is an inviting, casual atmosphere well suited for the farmhouse-modern aesthetic.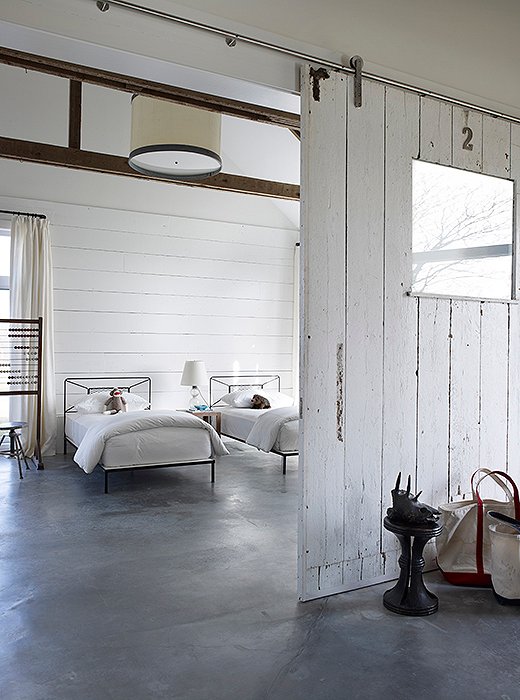 Make for the Hand-Hewn
The farmhouse-modern look is all about the perfectly imperfect. This white rough-hewn wood barn door—an unexpected addition to a spacious farmhouse guest room—along with the poured-concrete floors and railing-thin metal bed frames reference dexterous handwork. Consider mixing these elements within one space for a sleek-meets-salvaged look that's polished and unfussy all at once.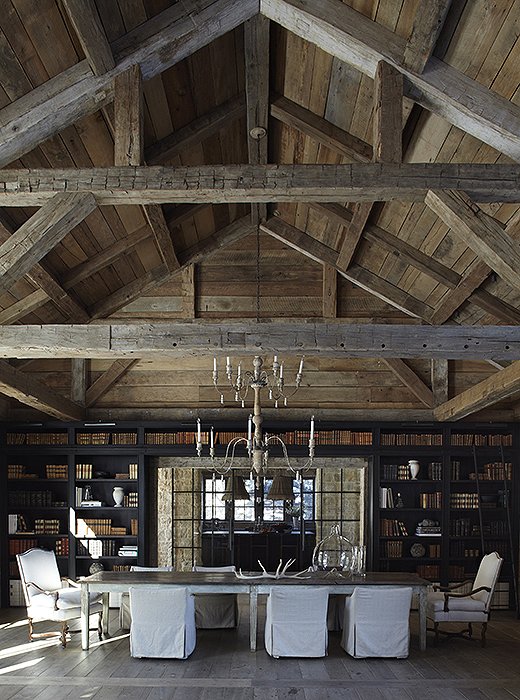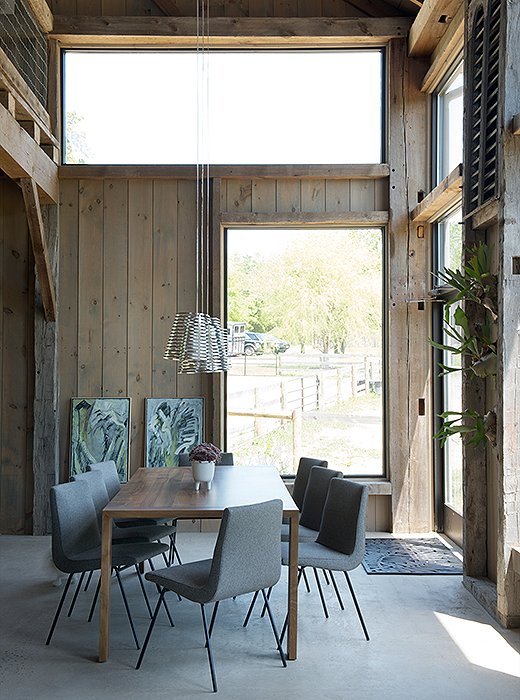 Work with Weathered Woods
If your home is blessed with wood ceiling beams or wall panels, let them shine. Not so lucky? You can visit an architectural-salvage shop for wood remnants or beams for a shelf you can install. The key is to bring in big weathered wood pieces or round out the existing wood foundation, beams, or walls with modern designs that will provide contrast: slipcovers and upholstery in whites and off-whites, art and accents in tonal blues and grays, slender silhouettes, sleek glass and metallic notes. These will all complement the warmth of unfinished-wood walls and architectural elements.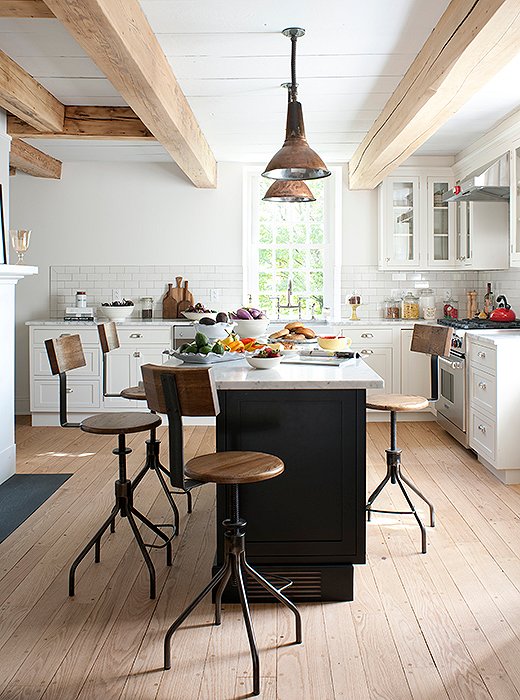 Get Industrial
The kitchen is a prime place to play out this look. With polished materials such as Carrara marble countertops and glazed subway tiles as a base, accents with a rougher quality—think farmhouse stools and industrial pendants—give the space that homey, country feel we love.
Welcome Big Rustic Charm
Everything's a little rough around the edges on the farm, and that's part of its charm. There's no place for high gloss in a farmhouse interior: Look for furniture made from reclaimed wood, antique metal accents with that perfect patina, and terracotta pottery that's enjoyed a fair amount of time in the sun. In a contemporary arrangement, these pieces will be right on point.