Comfortable yet chic, simple yet refined, sophisticated yet livable—the same words used to describe Jenni Kayne's clothing line apply just as much to her amazing home. "I've always decorated my own places, so I know what I'm doing, even though it's not my full-time job," says Kayne. She even thought she might become a decorator at one point but admits, "I don't have the patience to do it for other people."
Residing in the same Los Angeles neighborhood she grew up in, Kayne and her husband have fashioned the house of their dreams. "Whether it's art, food, or furniture, we always choose the same things," she says, explaining how gut renovation and personalizing from the ground up actually came second nature to them. Determined to impart a "modern-meets-farmhouse vibe," they made soaring glass windows and beautiful beams of reclaimed barn wood the bones of this sanctuary, where they reside with their two young children and their Labradoodle puppy, Chachi.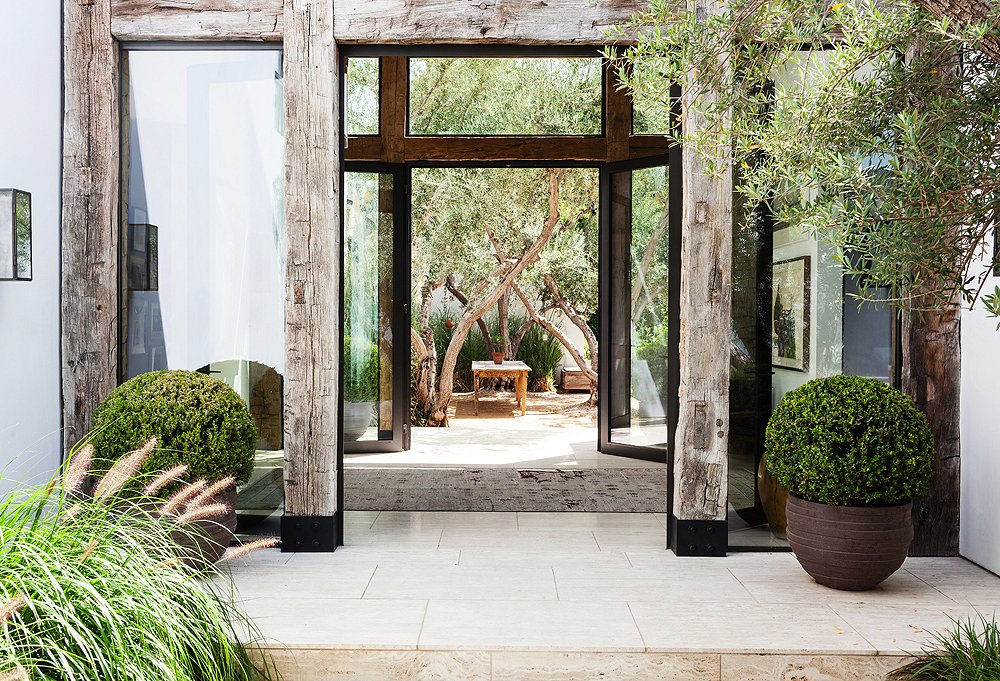 The Grand Entrance 
"I wanted the house to feel very California," explains Kayne, who used native grasses and shrubs to lead the way in, while a grove of olive trees greets you when you head out back. As you enter the living space, the indoor rooms gracefully unfold on either side, as does the couple's enviable art collection. "One of the hardest parts of collecting art is finding things we love that also feel right in our house," she says.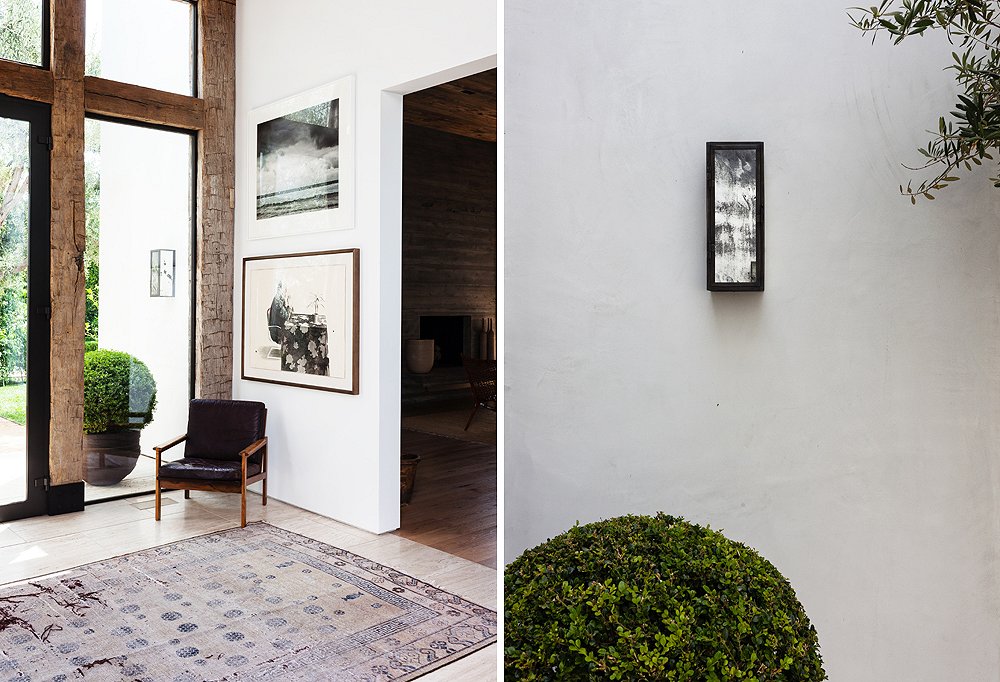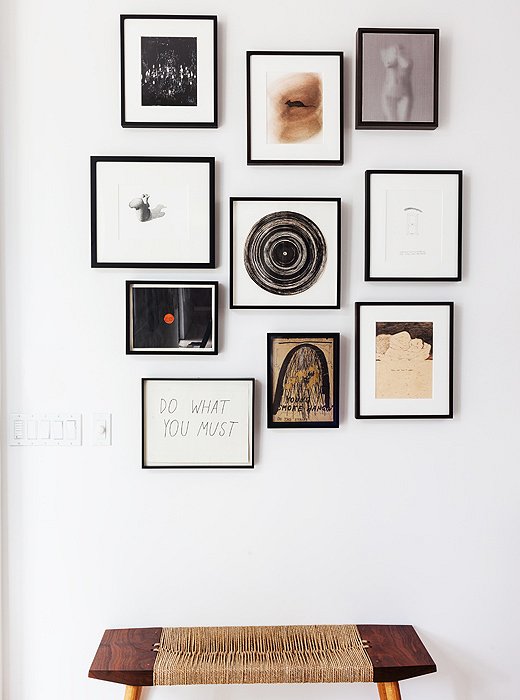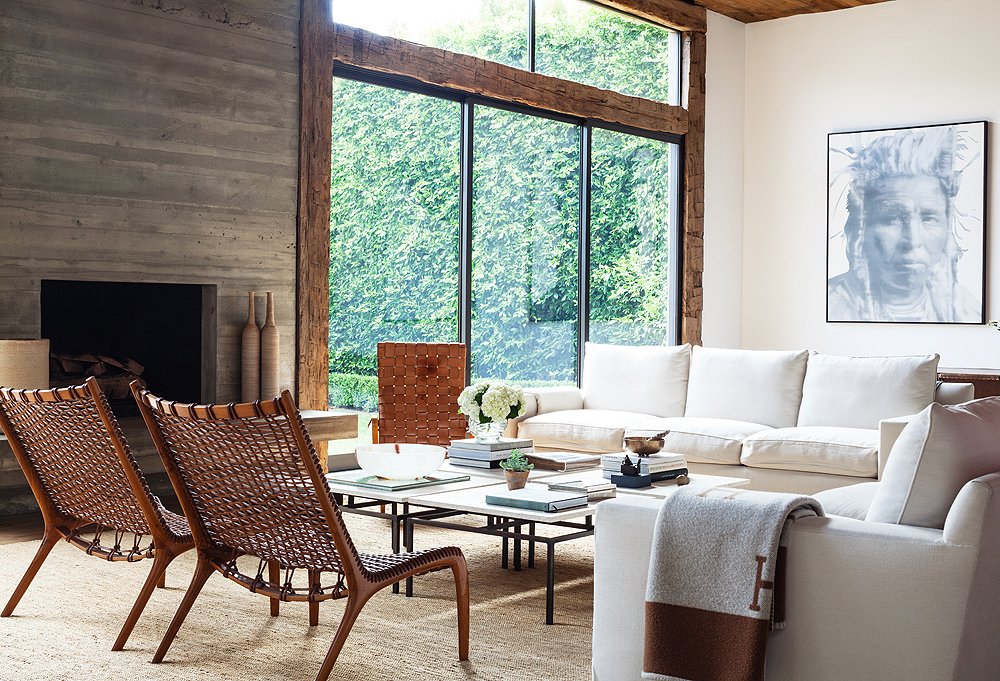 The Living Room 
A true great room, the main living space was a challenge to decorate due to its overwhelming scale. "We had to source mostly new furniture to match the proportions of the architecture," Kayne says. "Nothing fit when we moved in; everything was too small." Believing "you don't know what you need until you live in a space," she gave herself time, living for nearly a year without a coffee table. "We had very young kids then, so it was fine to have empty space," she says. Kayne smartly placed vintage travertine side tables in a quad formation to give the illusion of one big surface. Woven chairs from JF Chen add shapely texture to the space.
Our home is clean, classic, special, modern, and personal… and it feels like us.
The Cozy Den
Kayne wanted her den to feel like a jewel box: intimate and cozy, the exact opposite of the rest of the bright, light, and expansive house. A driftwood coffee table is the only hint at the home's rustic motif. The room is paneled in lacquered black wood and looks out onto the backyard. While the room was designed for watching television, Kayne admits they do most of their viewing in bed and actually use this space to gather with small groups of friends.
The Dining Space 
The couple's previous live-edge wood table was too small in this house, so they traded it for a larger one. Antique leather-and-iron chairs fill up during dinner parties lit by the intriguing burlap pendant, and the trio of paintings by Alison Van Pelt speaks to their passion for dramatically scaled art.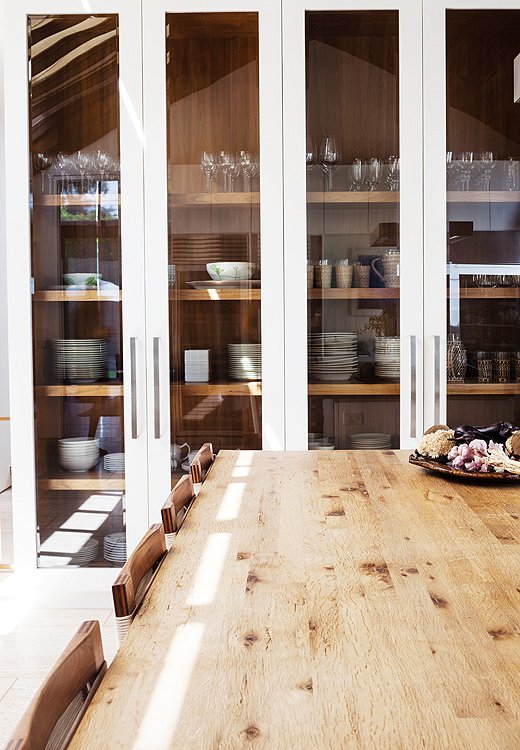 The Family Kitchen
"Once we had kids we realized we needed another place to eat that was more intimate," Kayne says. Breakfasts, weeknight meals, and even casual dinners with friends take place around the kitchen island. The reclaimed beams that anchor the home were hollowed out to create its surface, which Kayne also uses as a chopping block. "I love to cook," she says. "I take cooking classes once a month."
The Dream Playroom
Turns out this incredible playroom is not just fun, but it's also a necessity. "We live in a neighborhood where all the kids come to our house," Kayne says. Her advice for planning a playroom? Use your imagination, and don't make it too precious. A wall of built-ins hides baskets brimming with toys, and a garland by Confetti System is hung between clotheslines that showcase a rotating display of kids' art. "We have [the kids] help us so they have a hand in customizing the decor."
One of the best things about this house is that it's easy to live in with a family.