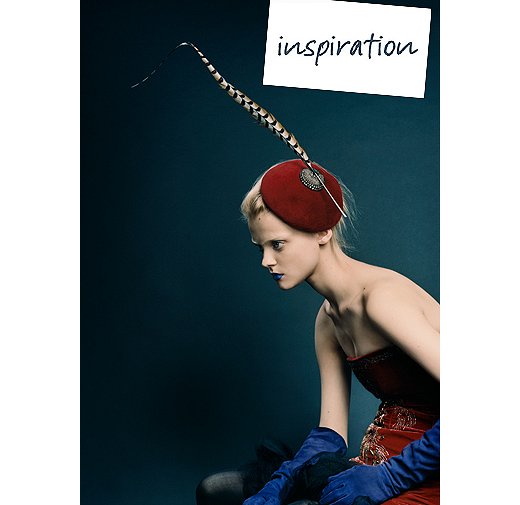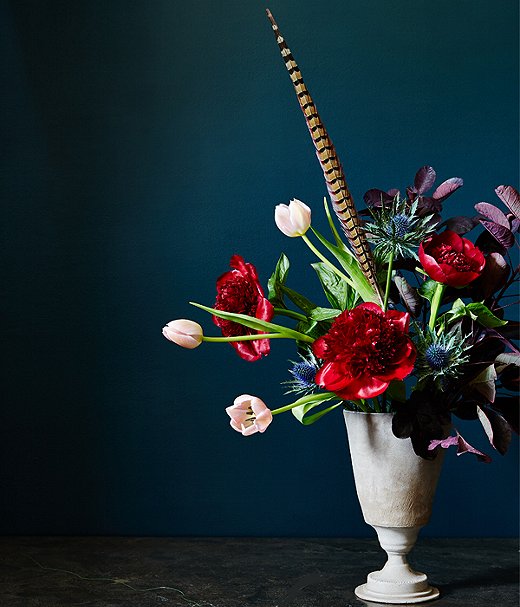 "I came across this photo on Pinterest and immediately fell in love," says stylist Meghan Guthrie. "There was just so much drama in it." Meghan decided to translate the photo into a similarly rich and dramatic flower arrangement.
The Flowers
"I loved the palette of the picture," says Meghan. "It was such a romantic combination of colors." Meghan chose flora with equally lush hues: peonies, tulips, thistles, andCotinus coggygria Royal Purple leaves.
The Vessel
"I was inspired by how the deep red and bright blue contrasted with the model's pale skin," says Meghan of the white vase she chose.
The Finishing Touch
To round out the shape and volume of the bouquet, Meghan looked to the most unusual detail in the photo: the feather in the headdress. "It was the part that inspired me the most," she explains. "I loved how the feather just punctuated the picture." So to mimic the look in the photo, Meghan added a pheasant feather to her bouquet for a singular finishing touch.
Meghan's Tip:
"Flowers are such an unexpected way to turn anything that visually resonates with you into something tactile and beautiful."