Sometimes a bowl of cereal simply won't do. These three brunch recipes from our friends at Sur La Table will get any special day off to a great start—and make any day a little more special.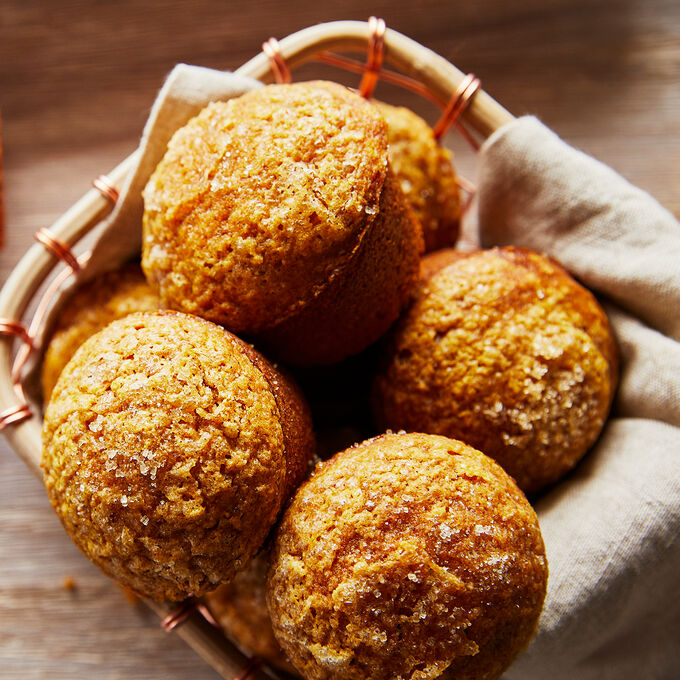 Pumpkin Muffins
Makes 12
Ingredients
½ cup vegetable oil
1¼ cups granulated sugar
2 large eggs
1 cup pumpkin puree
⅓ cup water
1 teaspoon vanilla extract
2 cups unbleached all-purpose flour
1 teaspoon baking soda
¼ teaspoon baking powder
¾ teaspoon sea salt
1 teaspoon ground cinnamon
¼ teaspoon freshly ground nutmeg
¼ teaspoon ground ginger
⅛ teaspoon ground cloves
Sparkling sugar (optional)
Instructions
Preheat oven to 350°F. Line a standard 12-cup muffin pan with muffin liners.
To a medium bowl, add oil, sugar, eggs, pumpkin puree, water, and vanilla extract; whisk together.
To a large bowl, add flour, baking soda, baking powder, salt, and spices; whisk to combine. Make a well in the middle of dry ingredients and add the wet ingredients. Whisk until incorporated; do not overmix.
Scoop or spoon batter evenly into the prepared muffin pan. If desired, sprinkle the tops of the muffins with sparkling sugar.
Bake in the preheated oven until a cake tester or toothpick inserted in the center of a muffin comes out clean, 25-30 minutes. Transfer muffin pan to a wire rack to cool.
Prosciutto, Kale, and Red Bell Pepper Skillet Frittata
Serves 6
Ingredients
8 large eggs
¼ cup half-and-half
1 teaspoon Dijon mustard
½ teaspoon sea salt, plus extra for seasoning
Freshly ground black pepper
1 ⅔ cups (5 ounces) grated Gruyère or Jarlsberg cheese
2 tablespoons extra-virgin olive oil
4 ounces prosciutto, torn into bite-size pieces
¼ cup minced shallots
1 large red bell pepper, cored and thinly sliced
1 bunch kale, stripped and torn into bite-size pieces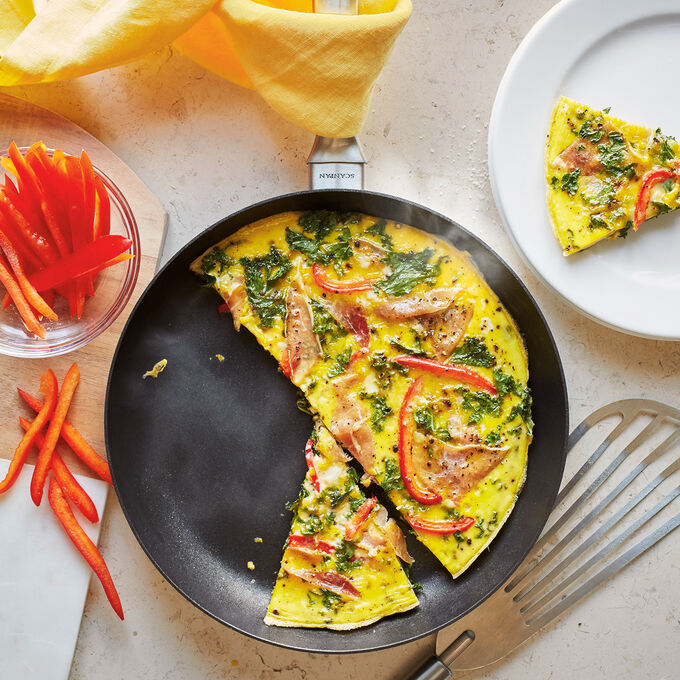 Instructions
Preheat oven to 350°F. Whisk the eggs, half-and-half, mustard, ½ teaspoon of salt, and ground pepper together in a medium bowl. Stir in the cheese.
Heat oil in a 10-inch ovenproof skillet over medium-high heat. Add prosciutto and sauté, stirring frequently, until crispy, about 5 minutes. Add shallots and sauté until translucent, about 1 minute. Lower the heat to medium, add the bell pepper and kale, and cook until the pepper is softened and the kale is wilted, about 5 minutes. Taste and adjust seasoning with salt.
Spread out the vegetables evenly, and pour the egg mixture into the skillet. Cook until the bottom is set, about 3 minutes, and then transfer the skillet to the oven. Bake until the eggs are set on top, about 15 minutes.
Place the frittata under the broiler a few inches from the heat source until the top is golden, 2-3 minutes. Remove from the heat and let rest for a few minutes; the frittata will pull away from the sides of the pan. Slice in the pan or else flip the frittata onto a plate and serve.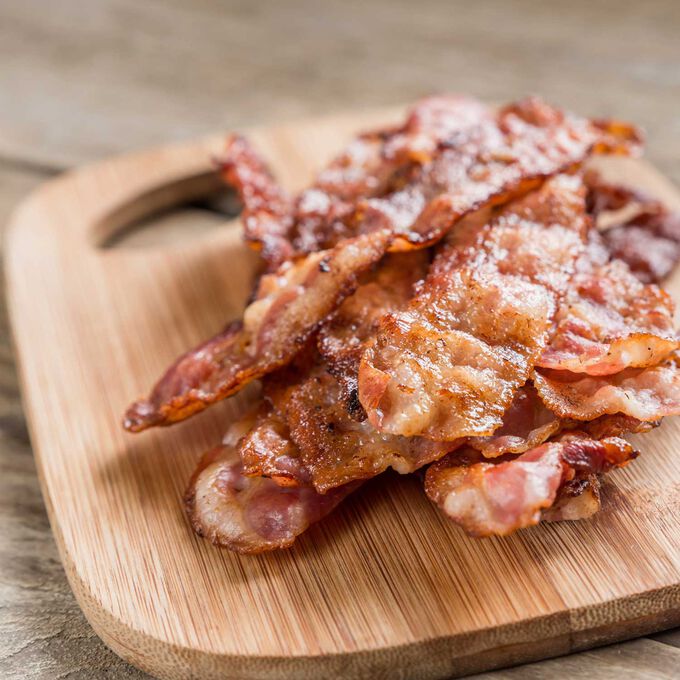 Brown Sugar Candied Bacon
Serves four 
Ingredients
8 ounces bacon
1/4 cup dark brown sugar
Directions
Preheat oven to 400°F and line a rimmed baking sheet with a silicone mat.
Place brown sugar in a shallow dish. Coat each strip of bacon with sugar, pressing slightly so sugar adheres to both sides. Transfer strips onto prepared baking sheet. Transfer to oven, and bake until crisp and sugar has caramelized to a deep golden brown, 15-20 minutes. Immediately transfer bacon to a wire rack placed on top of a paper-towel-lined baking sheet. Serve when cool enough to eat.