As the weather cools, we're getting used to the idea of spending more time indoors and enjoying the comforts of home. Weekend days and evenings spent by the fire will soon become routine, so we're also excited to get our mantels in tip-top shape, styled to perfection. We're taking a look at some of the most stylish fireplace vignettes for a little prefall inspiration. Read on.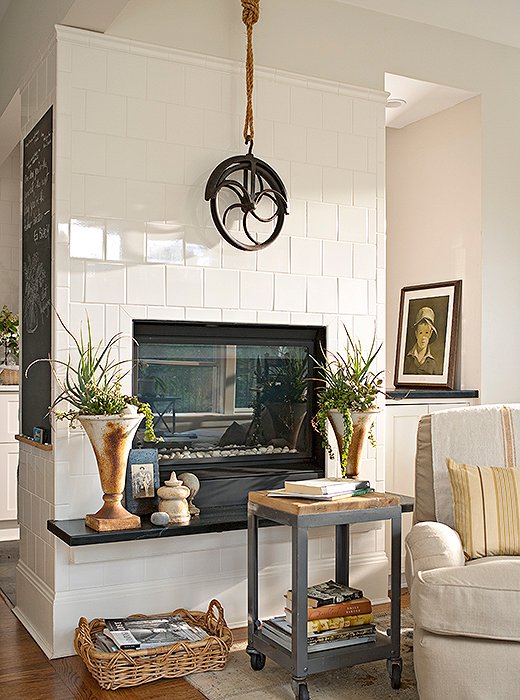 Get the Hang of It
If found and industrial are two words you often use to describe your style, a unique piece of architectural or industrial salvage could be a cool, captivating moment above your fireplace. We love how this antique wheel was hung by rope above a fireplace—it's a surprising moment that adds intrigue to an otherwise blank space.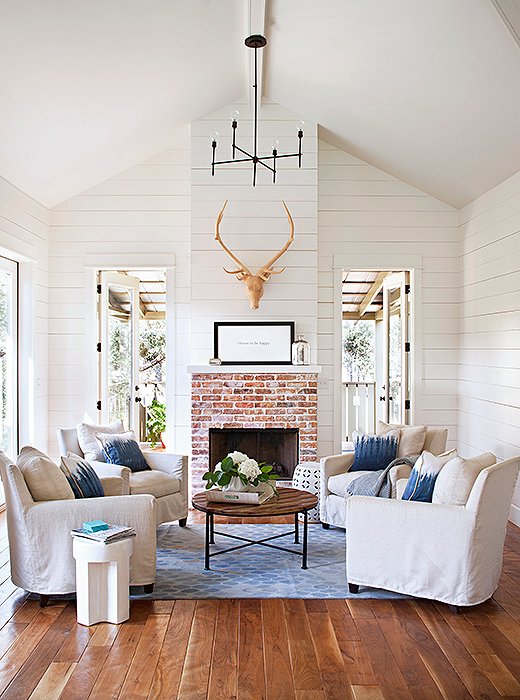 Show Off Your Trophies
A trophy head is a classic adornment for above the fireplace and a rustic alternative to art or a mirror. We love this animal-friendly trophy head carved from wood. And you don't have to live in a cabin or a ranch to feature it—as you can see, it's a chic addition to coastal-cool interiors too. If you like the look, be kind to Bambi and try a faux design or a vintage or antique trophy head or antlers.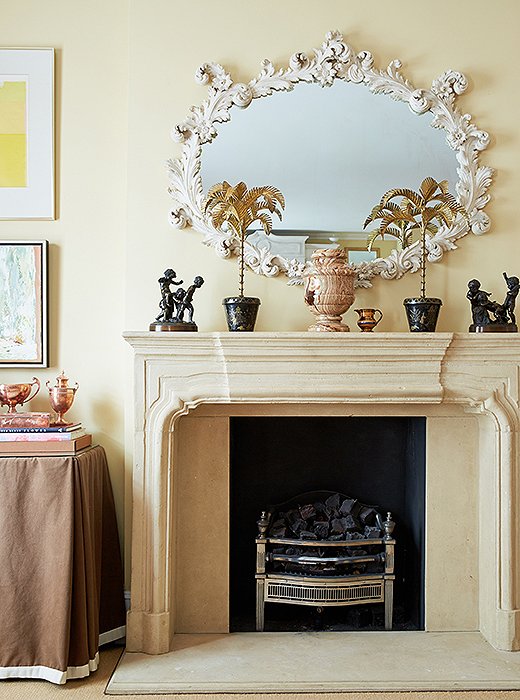 Make a Statement
A mirror is a foolproof option for above a fireplace, but if you're going to try this tried-and-true styling trick, opt for a statement mirror with major impact. We love the look of a rococo plaster or baroque gilt Italian frame for a traditional interior. For more-modern spaces, a large sunburst design could be an eye-catching choice.
Lean In
Framed art is always a fine choice for above the fireplace, but if you want a more laid-back or eclectic vibe, try leaning your artworks on your mantel instead of hanging them. The look provides a more casual aesthetic and allows you to easily change your display pieces as often as you feel inspired to. Just be sure to select frames in varying sizes and shapes to create dimension.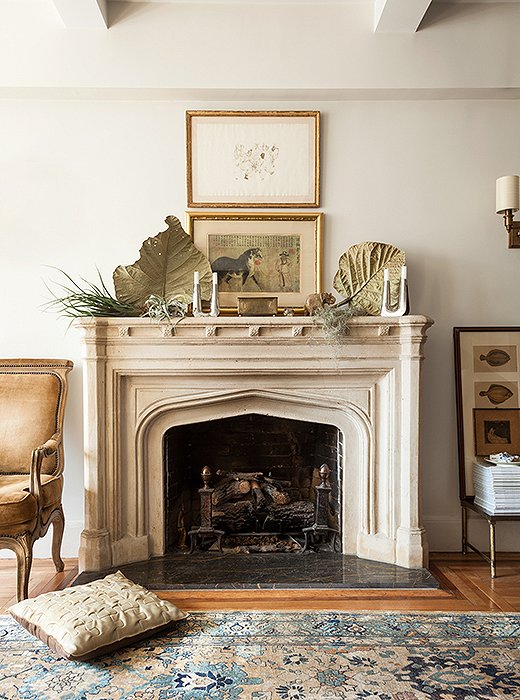 Take Two
Large-scale art can be costly, and hanging a small framed work above a fireplace can sometimes look amiss. However, a pair or set of small or medium works hung one on top of the other or side by side can provide scale without breaking the bank. We love the idea of displaying unrelated pieces of art in matching frames. Bonus points if you style up your mantel with oversize leaves and other lush accents!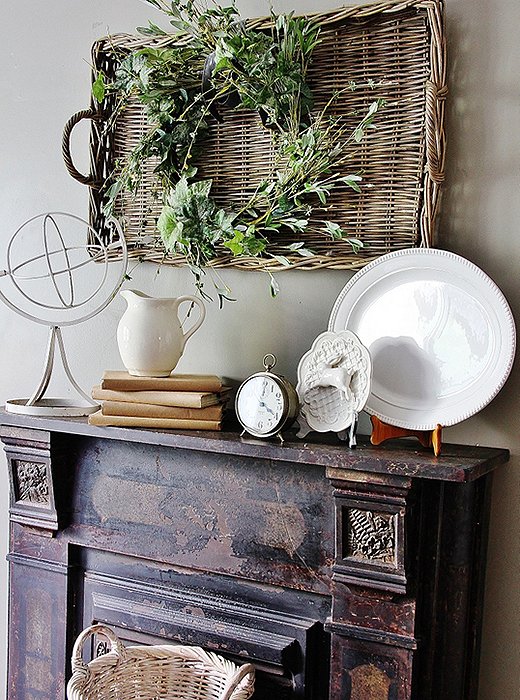 Make It Tray Chic
For French country or shabby-chic interiors, we love a woven tray or basket hung above the fireplace. If you really want to go for a "collected" look, layer on some of your favorite accessories from around the house: Vintage books, a natural wreath, and antique pottery are all great candidates.
Light It Up
If you're seeking elegant simplicity, a smattering of small votives and a few of your favorite accents will go a long way toward creating a romantic vibe by your fireplace. For more impact, line the length of your mantel with votives of varying heights or candleholders in a single hue or shape and size. Good things come in threes, so a trio on either side is a reliable styling trick.
Go Big or Go Home
A large painting, photograph, or a print can make a gorgeous focal point above your fireplace. Choose something that complements your room's aesthetic, or be a little rebellious and opt for something that contrasts with the general vibe. To draw even more eyes, install a picture light above your artwork for a museum/gallery effect.
Corral Your Ceramics
You can create a statement with multiples of practically anything under the sun. If you don't yet have a collection going, ceramics are a great place to start, as you likely already own a few. We love the look of this white ceramic party happening on this mantel. From gravy boats to glove forms, the white porcelain pieces go very well together.
See Shells
Live in a coastal home and ready to make a commitment? This shell mosaic treatment is one of the most dazzling ideas for above a fireplace we've come across. It's also quite serene—a beautiful design for a relaxing beach house. You can finally put that shell collection of yours to good use!
Catch a Wave
Love to surf? Or wish you could? Dust off that old surfboard of yours and hang it up high where people can see it. There's something about a surfboard that adds an instant good-times vibe to any space you put it in, no matter how simple it is. If your board's bright or rocks a cool pattern, even better. We love this idea for spaces with especially high ceilings, as it's a quick and stylish way to fill up dead space.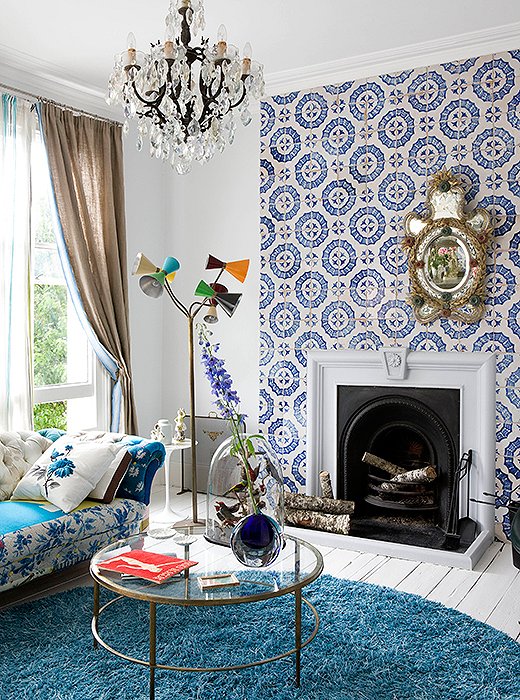 Go Tile Crazy
A simple and permanent way to create interest above your fireplace without accessorizing or letting dust collect on your mantel is to tile the wall behind it. Antique Mediterranean tiles have a romantic allure, but there are plenty of new graphic cement tiles that can provide a more modern, high-impact look. We love how the mirror is hung asymmetrically above this fireplace; it takes the eclectic room to the next level.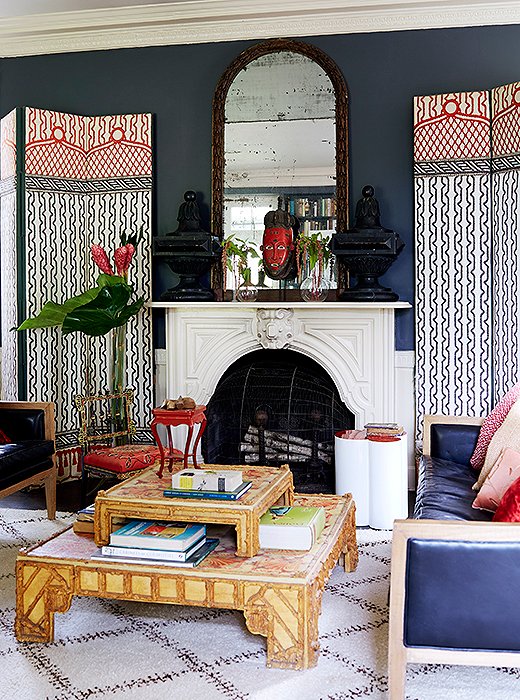 Create a Jar-ing Effect
Flanking your mantel with a pair of oversize ginger jars, other vessels, or finials is an easy way to add height and drama to the space above your fireplace. Classic blue-and-white ginger jars are a chic choice for those of you with a traditional design spirit, but we also love the unusual quality these architectural elements provide. Whatever accent you choose, symmetry is your friend.
Select Sophisticated Sconces
Sconces are a classic adornment for above the fireplace. Not only will they light up whatever you choose to style your mantel with, but a pair of sconces can also provide balance, structure, and formality to an otherwise eccentric assortment of decorative accents.