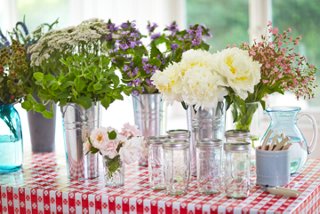 Getting Started
When a few friends asked One Kings Lane stylist Meghan Guthrie for advice on creating arrangements, she decided it would be easier (and more fun) to actually show them. "Why not throw a flower-arranging party and bring everyone together?" Meghan thought. We loved the idea so much we had her snap photos of the session.
She hit the farmers' market and local grocery store for some in-season stems. Then she set up a workstation in her space. "I bought a case of mason jars to use as vases and separated all the flowers into buckets on a table. This way they're easy to grab, and you also see the distinct beauty of each flower."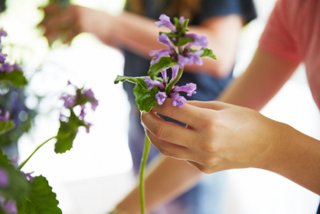 Pick Your Palette
As soon as everyone arrived, Meghan had each person decide on a color scheme for her bouquet. "For the party, I kept the overall palette tight with four colors—white, purple, pink, and green—so it's focused but easy to mix and match," she explains. "It was so fun to see everyone's color choices. My friend Meredith went with a lot of purple, which is kind of bold, girly, and very her."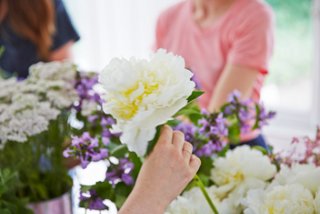 Choose a Focus Flower
Next Meghan had everyone pick a flower to be the focal point of her arrangement. "My friend Laima called this 'the shining star' of the bouquet," laughs Meghan. "The golden rule is to use an odd number of the same type of flower," she adds. "This way the arrangement has a balanced look."
Tip: Try placing a note card or slate with the flower's names so that beginners know what blooms they are using.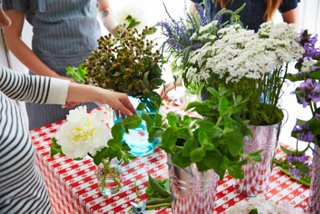 Start with Greenery
"Once everyone picked out their colors and flowers they were excited to start arranging, but no one really knew what to put into their jar first," Meghan recalls. "The key is to start by adding greenery to create a base. Then add your 'shining star.' I loved watching everyone start helping each other and giving suggestions."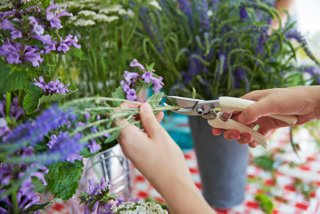 Trim Stems and Leaves
When trimming stems, always remember to also snip off any leaves that will come into contact with the water—otherwise they'll "cause bacteria and reduce the longevity of your arrangement," explains Meghan. "Meredith was using long stalks of lavender, so we snipped off two inches of the stems and then most of the leaves so that each piece stood at a nice height in her bouquet."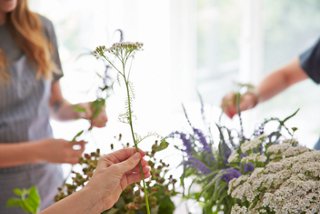 Play with Height
Let the flowers be what they are. "If a bloom has a stiff stem that makes it stand straight, let it tower above your 'shining star,'" says Meghan. "Or let flowers that naturally bend bow just below your main bloom. This will help give the arrangement some movement and shape."
Tip: "Keep rotating your arrangement as you build it so that you can see where you need to add more height and volume from every side," Meghan says.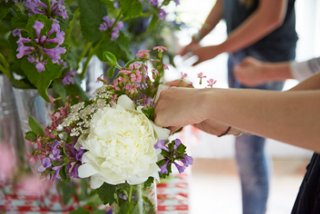 Add in Flourishes
Finally, add the flourishes. "Here is where you fill in any gaps with a little more greenery and any smaller blooms you have remaining," says Meghan. "You are looking to make the viewer's eye circle around your arrangement and not stop on one point." Don't be afraid to try something and then take it out if it isn't working. Meghan adds, "As Laima pointed out to me, 'I like how there are no mistakes—you can always add more and take out.'"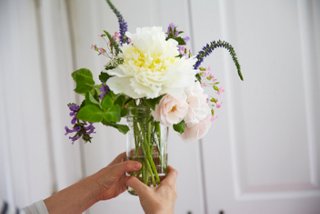 Do a 360 Check
When you think your arrangement looks visually full on top and all around, lift it up and take a look at it from all sides "to make sure there are no holes, gaps, or wilting flowers," Meghan says. "These arrangements are meant to look and feel organic."
Enjoy the Differences
"My friends were all surprised by how easy and pressure-free arranging their own flowers could be," Meghan says. "It was so fun to see how everyone approached their own bouquet and how each one reflected the person's own style and personality. No one way is ever the best or only way to do it." Judging by these pretty bouquets, we couldn't agree more.