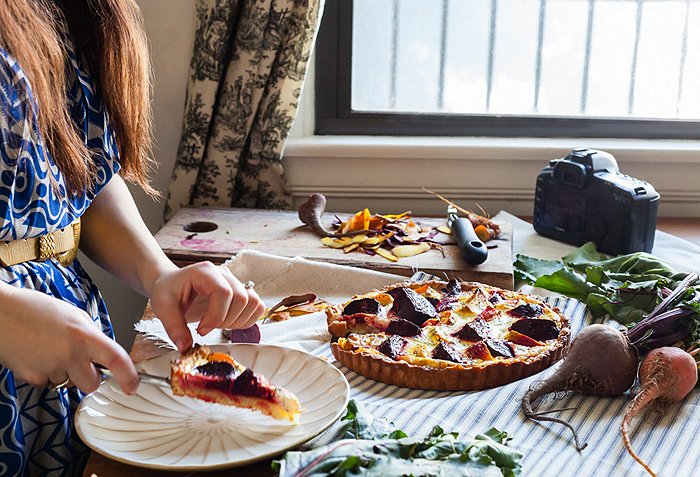 Are you that person who makes your pals wait to dig in while you capture the perfect #onthetable snap? Or perhaps your weekends are spent perfecting recipes? If so, one of our favorite bloggers, Eva Kosmas of Adventures in Cooking (one of Saveur's Best Food Blogs), is here to share her expert tips to help take your foodie game from pastime to full-time.
OKL: You are so passionate about both developing recipes and photographing food. Is there one discipline that came first?
EK: My parents owned and operated a Greek deli/restaurant in Oregon. Every day after school, my siblings and I would come to the restaurant. I started to lend a hand when I was about seven years old and have been cooking every since. In terms of photography, I got my bachelor's degree in film production here in Los Angeles. After graduation I started my cooking blog as a passion project. Adventures in Cooking has always been my way to share my recipes with friends and family. I started applying my photography/composition skills to food a few years into blogging—when I did it was a total epiphany. To be able to fully realize my concept from beginning to end was the full package.
OKL: How do you concept your recipes?
EK: To be honest, I'm totally reliant on my Google Calendar. Because I buy and cook ingredients with the seasons, when I'm out enjoying or thinking about food (which is all the time), I immediately put it into my calendar, creating an "event" complete with the dish name, and putting any styling notes or ingredients that pop into my head in the description field. Once it's documented in my mobile device, I can just shuffle the recipes according to what's available at the market!
OKL: What dishes are you looking forward to making this spring?
EK: A snap-pea salad! I haven't made a salad for my blog in years, but this year I have some heirloom snap peas growing in my garden that I am really excited about (one of them is blue!). I'm also looking forward to making any and all things rhubarb; there's just something crazy delicious about its sweet-and-sour profile that I can't get enough of.
OKL: For those wanting to chronicle their obsession with food, what are your recommendations?
EK: Practice, practice, practice. The more you write, the easier the words will flow onto the page. The more pictures you take, the stronger your instinct will be for lighting and framing. The more you cook, the more confident you will feel in the kitchen and the more willing you will be to experiment and step outside your food comfort zone—which is where the magic really happens.
OKL: With the rise of Instagram, what are your tips for photographing food at home or out at a restaurant?
EK: Use natural lighting whenever possible—that is my number-one recommendation! Artificial light always makes food look kind of yellowed, and it casts a lot of unflattering overhead shadows. Also, I highly recommend downloading the VSCO app; it has an amazing range of filters. If you want to get really into mobile-phone photography, Photojojo makes some really awesome lenses that you can attach to your iPhone that allow you to capture shots outside of the limitations of the iPhone's standard lens.
OKL: What are your favorite  restaurants in Los Angeles?
EK: Marugame Monzo for the homemade udon noodles! Sugarfish, Waterloo & City, and Hugo's Tacos (especially the Honey Chipotle Salsa!).
Get cooking with Eva's Roasted Beet and Goat-Cheese Tart recipe, and make sure to share your #onthetable snaps with us on Instagram @onekingslane!