Now that the dark winter days are giving way to the light of spring, we all want to show a fresh face to the world (or at least the street). A long-neglected outdoor space like the front porch can be transformed with a fresh coat of paint on the door and the addition of a few accessories. My friend Milo's house got a much-needed dose of curb appeal.
Here's my step-by-step guide to this project…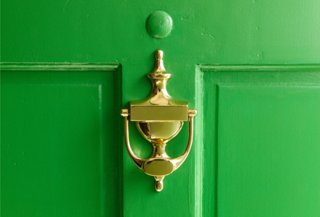 An Eye-Catching Color
A bold shade of paint on your door draws the eye to it and extends a cheerful welcome. I chose Benjamin Moore's Yellow Green because it is a slightly pumped-up take on a classic green hue.
Tip: I like to use exterior-grade, high-gloss paint for outside doors because of its washability and durability.
 A Polished Door Knocker
Like an outfit, a door benefits from the addition of a few smart accessories. Falling right at eye level, this brass door knocker adds a polished touch to the entrance.
Tip: Most knockers install with two screws secured through the door. It took me less than 10 minutes to hang this one.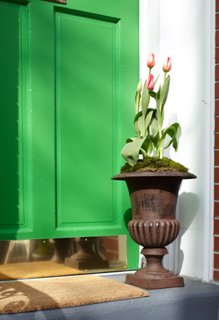 A Sparkling Kick Plate and a Classic Sisal Doormat
The kick plate is an often-forgotten addition designed to protect the bottom of the door from scuffs and the elements.  Practicality aside, I think it's just plain sharp-looking, especially when paired with a classic sisal doormat for a touch of organic texture.
Artful House Numbers
I love these custom vinyl decal house numbers from Tweet Heart Wall Art. They were so easy to stick on and are available in an almost endless variety of fonts and colors. I chose a classic font in gold to complement the historic architecture of the home. An added bonus is that they will stick to just about anything, so even if you don't have a transom window like Milo's, you can easily stick them on the door or the molding.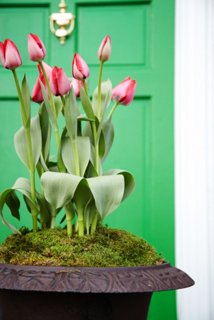 A Romantic Urn
This lovely cast-iron urn lends architectural detail to the stoop and is extremely versatile. In spring, I love the look of tulips emerging from a mound of green moss. No worries if you don't have a green thumb; I placed a store-bought pot of tulips inside the urn and covered the evidence with moss.
After stuffing a little newspaper around the tulip pot to help hold it in place, I used preserved moss to create the mound because it comes in small sheets that are easily arranged around any flower. An added benefit of covering the soil with moss? It helps the plant retain moisture.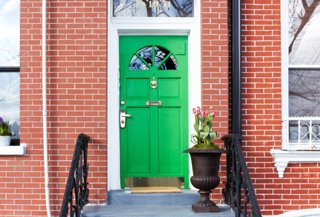 That's it. Almost-instant curb appeal… no contractor skills or hard labor required. I bet you'll even inspire a few neighbors to up their game.
In need of a stylish solution to a vexing decor challenge? We're here to help! Email Megan at editors@onekingslane.com and you may inspire her next project. 
(Photography by Lesley Unruh)