It's that time of year where we're spending more time outside than in. And with a little vision and a couple of choice pieces, your plain porch can easily be transformed into your dream outdoor oasis, whether it's a sunny, comfy nook for one or a breezy outdoor living room that can fit the whole family.
Get Into the Swing of Things
By their very nature—open-air, breezy, and sun-kissed—porches are meant to function as laid-back lounge pads where you can lose a few hours to a good book or a good conversation with a visiting friend. This is why the swingingist of seats—whether a structured outdoor swing or loosey-goosey hammock—are a porch's best friend. Styles can be freestanding or mounted, but either way they conjure up memories of the swings we used to delight in on the playground—and who doesn't occasionally want to be a kid again? Top yours with a light throw and a couple outdoor pillows for a little extra oomph.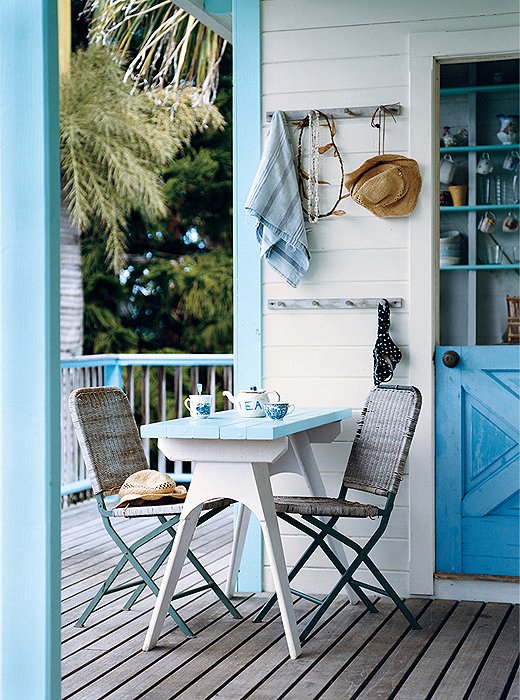 Make Something Out of Nothing at All
So much of good design is recognizing the opportunity to create a beautiful moment in an unobvious place—and this goes for your outdoor spaces too! With the addition of a bistro table and a couple of smartly placed coat racks, a sliver of wall transforms from just that into a picture-perfect spot for a morning cup of joe. Other easy ways to create outdoor moments: a chair + a handful of planters, an outdoor rug + floor pillows, and a bench + a garden stool.
Take The Shape of Your Space in Stride
A long, narrow porch can still very much be long on style. Lining everything up against the wall, from chairs to flower-filled planters to side tables for holding those summertime Moscow mules, gives you plenty of seating and also runway for foot traffic. Stylistically this works for mismatched chairs, as long as they're in the same color palette, as well as it does for a set of matching seats. Conversely, if your porch is square shaped, consider a full-size dining setup (more on these below). Bonus points: Finishing the thought with decorative accents—antlers, candles, pillows—will make your outside space the style equal of what you've got going on inside.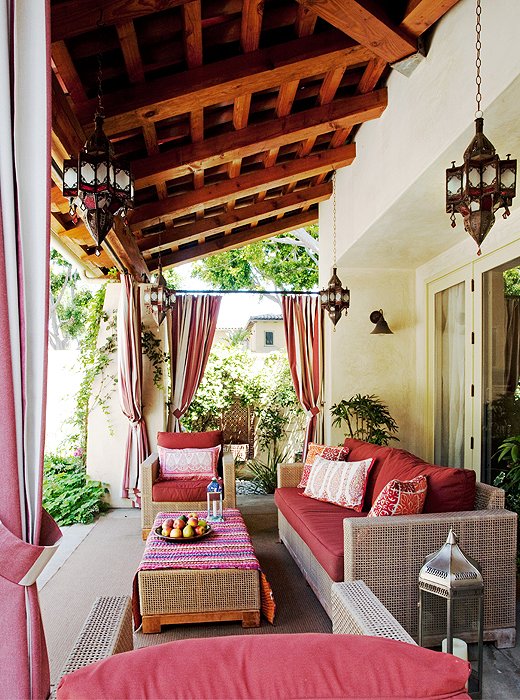 Create an Outdoor Living Room
Design lovers with sizeable porches, this one's for you. Major alfresco square footage gives you the ability to fully achieve that coveted indoor-outdoor vibe. Approach the furnishings as you would those in your living room—an outdoor rug to define the space, a couch or loveseat for lounging, a couple of single-seater chairs because every sofa needs stylish sidekicks, and a coffee table or ottoman for resting feet or drinks. When considering materials, look for teak, synthetic rattan, and powder-coated aluminum.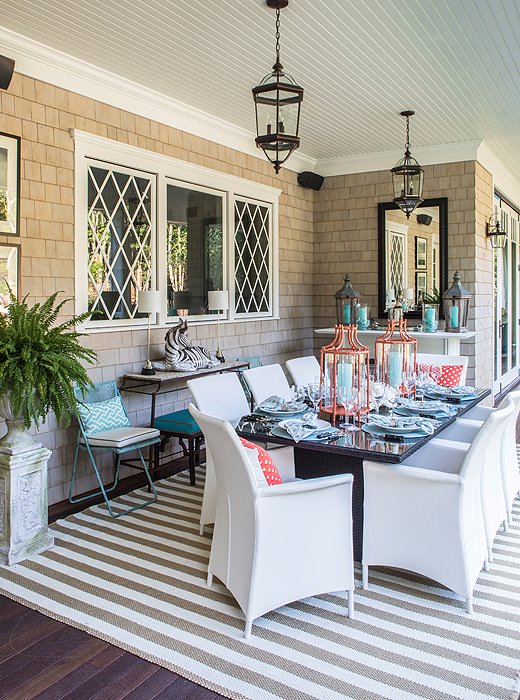 Opt for Alfresco Dining
When the weather's warm, there's no greater pleasure than eating outdoors, whether it's a quick cup of coffee and piece of toast in the am, or a multi-course soiree in the evening. An outdoor rug and sturdy weatherproof chairs and table approximate the look of a proper dining-room set-up, and can stay outside full-time through multiple seasons. When the table's not set for a meal, prevent it from looking neglected with an arrangement of small plants in different vessels. Worried it's too buggy to make it through a whole meal? Check out these mosquito-repelling plants!