Is there a space dreamier—or better for enjoying the beauty of the season—than the garden conservatory? Conceived in the 16th century as shelters for growing produce in the winter months, conservatories have come to stand out as elegant garden structures of their own, embodying function, style, and a perennial source of garden ideas. Here, we've rounded up a few of our favorites, from a dining room to a plant-potting space, and broken down the looks to help you create your own garden oasis at home—so you too can have your time in the sun.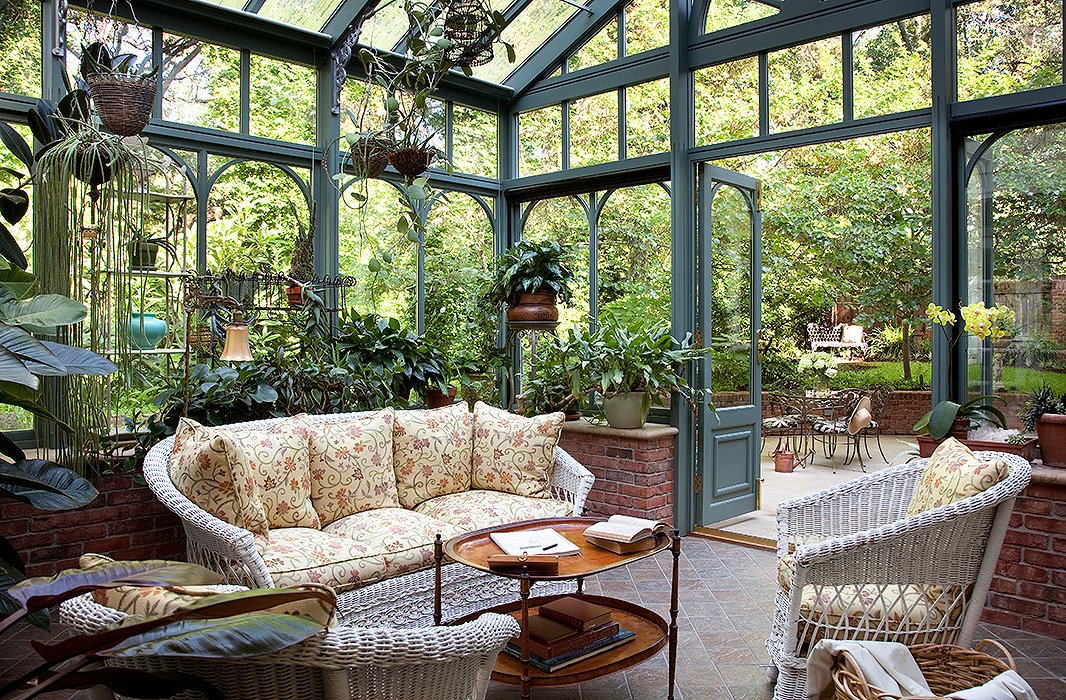 The Traditional Sunroom
The look: Filled with classic sunroom pieces (wicker furnishings, hanging plants), this space is perfect for the traditionalist who seeks both a secluded place to escape and an intimate spot to entertain friends.
How to bring it home: It's all about the mix here—get the best of both worlds by using indoor and outdoor furniture, giving the space a layered look that feels like an inside garden. Newer pieces and granny-chic vintage styles (like the swoon-worthy floral cushions here) will lend just the right amount of panache and personality. Finish the space off with plants—lots of them. Hanging grasses, potted orchids, large-leaf trees… all things growing and green are welcome.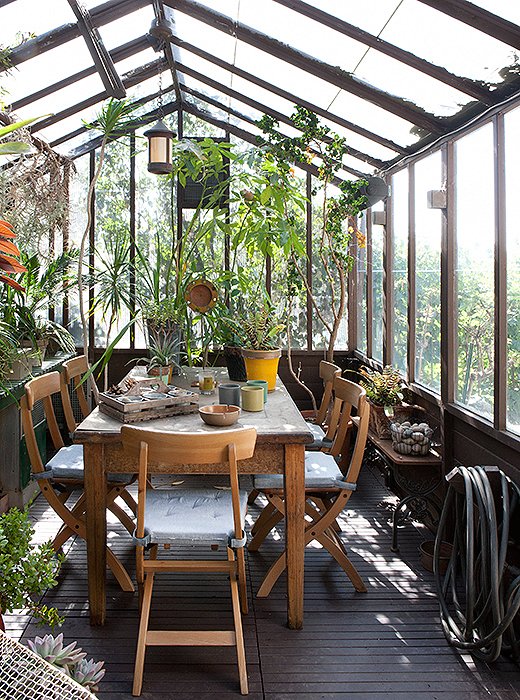 The Practical (but Pretty) Potting Shed
The look: Sure, potting can get messy, but that doesn't mean it has to look messy. This space pulls double duty, serving as a roomy planting station and—after a quick sweep and a few strands of string lights—a magical spot for hosting dinner parties.
How to bring it home: Because of all the potting equipment (and plant soil), use pieces that will stand up to wear and tear. Outdoor furnishings, especially those made of teak and other hardwoods, are perfect here—they're easy to clean and built to last out in the elements. But you don't have to forgo comfort or stylish flourishes. In fact, sturdier pieces can live quite beautifully alongside finishing accents such as all-weather chair cushions, a garden bench, or potted succulents.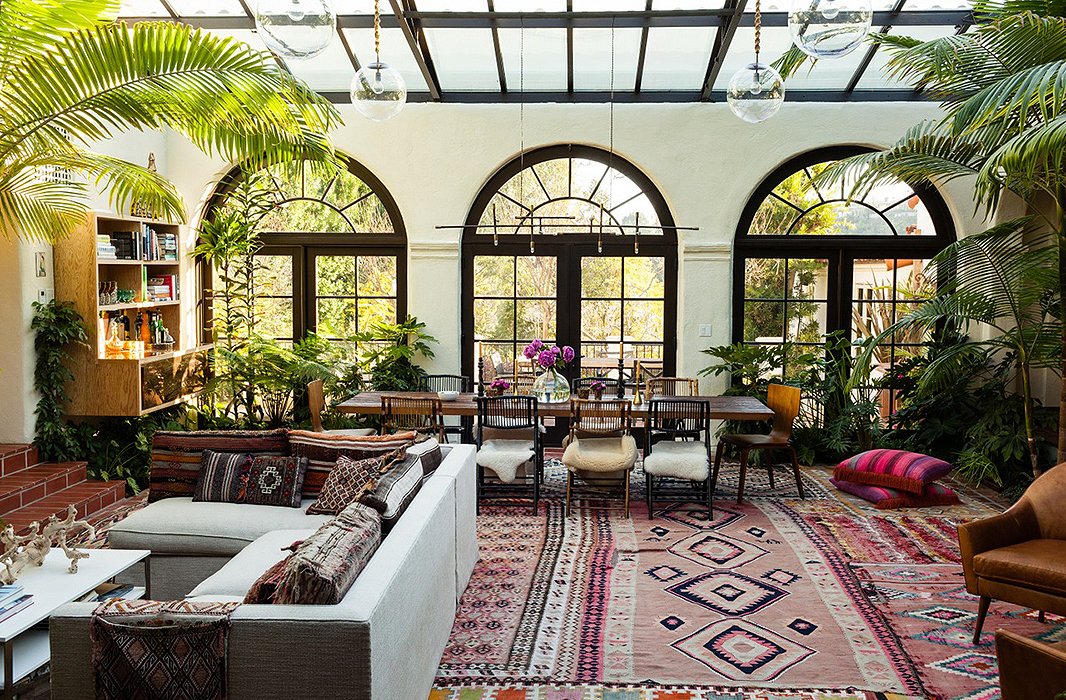 The Eclectic Hangout
The look: Featuring a full dining table, two sitting areas, and space to spare (plus an envy-inducing patio right outside), this light-filled, open-plan solarium is the stuff of dreams. We love its bohemian mix-and-match vibe, which lends the perfect amount of warmth to the cavernous space.
How to bring it home: Pile on the kilims. In lieu of one large rug, try layering a handful of vintage styles to create a totally unexpected but impossibly chic look. Since you're going so big on textiles, keep it simple when it comes to furnishings, choosing sleek and neutral pieces that won't compete with the patterns. Place the plants, from low-lying ferns to towering palms, toward the edges of the room to keep things clean and make it feel just like an eclectic oasis.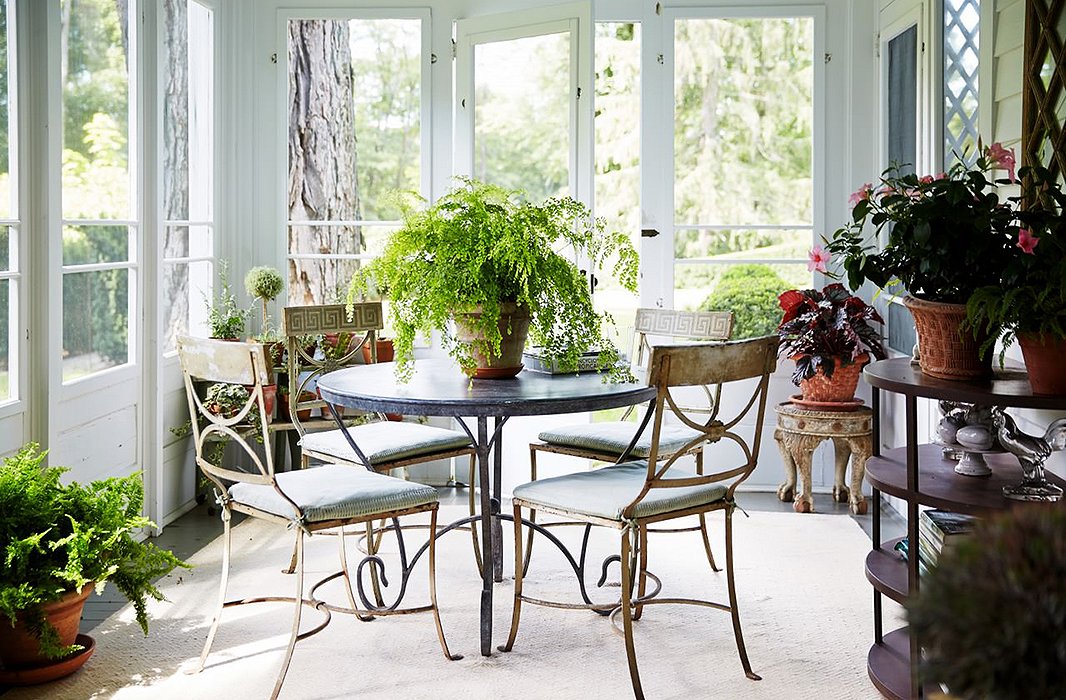 The Light-Filled Bistro Corner
The look: You don't need a huge space to enjoy the beauty of a conservatory. Room for a garden table and chairs—plus plenty of potted plants, of course—is all you need to create the perfect spot for morning coffee or an evening glass of wine.
How to bring it home: Start with a durable foundation, such as an outdoor or natural-fiber rug, that spans the length and width of the space to maximize the size of the room. Even if it's a true indoor space, we love the look of outdoor furniture here. The weathered-iron details of the dining table and chairs pair perfectly with the lushness of the greenery and florals—a splendid way to bring the bounty of the outdoors in.