Classic, iconic, and possessing a real sense of history, ginger jars are one of decor's most well-known vessels. Originally conceived as storage containers in ancient China, they took on a more decorative function once they began to be imported to Europe during the 17th century's fervor for all things chinoiserie. They've managed to maintain their popular appeal throughout the years, and you'll find them in all manner of designer homes and in countless magazine spreads. Here, discover seven chic ways to work these gorgeous pieces.
As a Pair
We can't say enough about the power of pairs. Doubling up any object naturally draws the eye, creating an effortless sense of order that looks clean and balanced but not overly decorated. Pushed together, a duo of ginger jars makes for an orderly vignette; separated, they can flank a lovely mirror or your favorite piece of art. Try a pair of mismatched styles for a more varied look.
Topping a Pedestal
Though they're often overlooked outside the interiors world, decorative pedestals are designer go-tos; there's no better way to spotlight a beloved objet. When placed on a pedestal, even the simplest ginger jar is elevated to museumlike status. To perfect the look, take a cue from our favorite decorators and think in contrasts, choosing a clean-lined pedestal that sets off the ginger jar's shapely silhouette.

Standing Alone
Think of a ginger jar and what comes to mind is likely that always-classic blue-and-white chinoiserie. But these vessels come in a variety of shapes, sizes, and shades. In a room full of color and pattern, a supersize, solid-color ginger jar stands out. The biggest versions have enough gravitas to play off other stand-alone items, such as a single accent chair or a garden stool, or two can flank a mantel or a door (even your front door!) with aplomb.
Put to Work
Good looks aside, ginger jars were originally used to store and transport spices (no surprise, given their name). In a kitchen, they're a gorgeous step up from basic canisters, and—depending on their material and the seal of their lid—they can hold anything from dry goods to tea bags.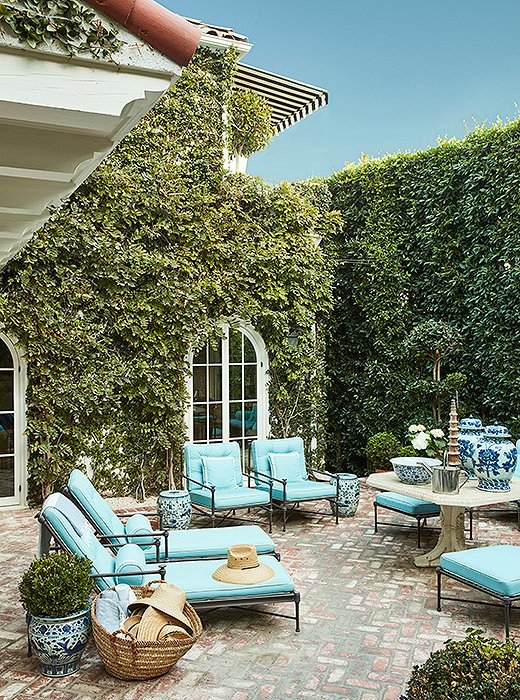 Accenting the Outdoors
The fresh palette of a blue-and-white ginger jar makes a perfect complement to the vibrant green of the great outdoors. Try using these pieces as planters flanking a patio door or adorning a tabletop—just make sure the ceramic is weatherproof if it'll be fully exposed to the elements.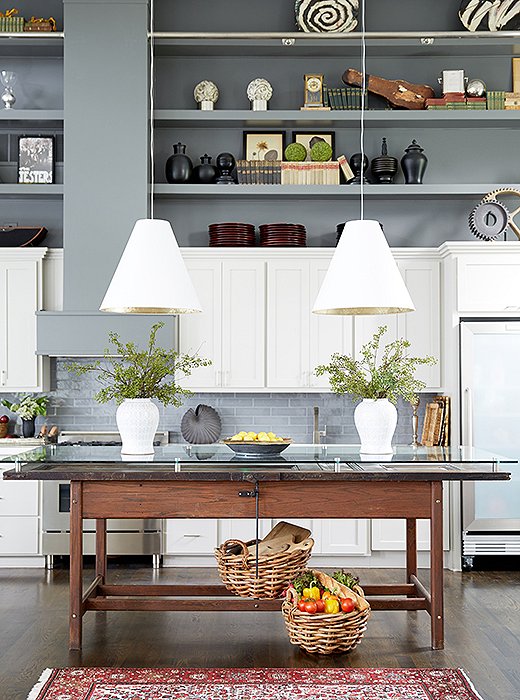 As a Vase
Repurposing home decor items in unconventional ways is a top designer trick, so consider following suit and turning your ginger jar into a shapely vase. Simply remove the lid (and stow it away for safekeeping and future use!) and fill with your botanical of choice. Whether blooms or branches—cherry blossoms are especially lovely here—it's a look that's certain to make a classic, statement-making centerpiece. Note: When shopping, just keep in mind that some ginger jars have drainage holes at the bottom.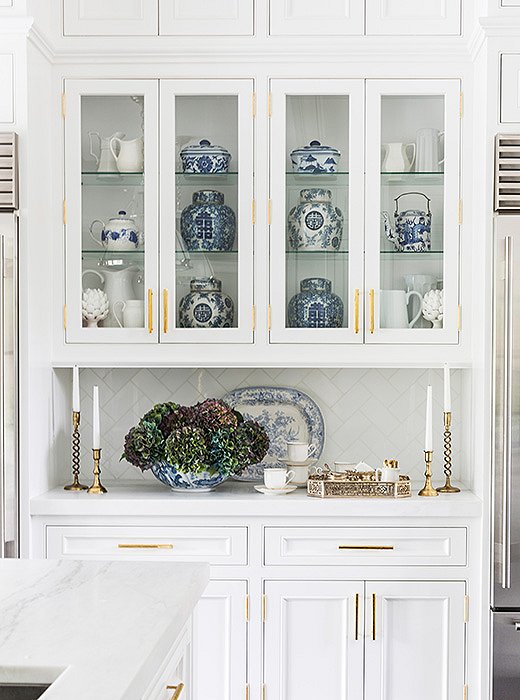 Mixed and Matched
When it comes to ginger jars, we say the more, the merrier. Because of their curvaceous shapes and timeless patterns, it's easy to mix and match pieces across motifs, styles, and sizes to create a layered look that still feels perfectly put together.