Trending for a majority of the past decade, the bohemian look is still going strong. But as time passes, we're seeing more and more boho interiors with polish and precision rather than eclectic spaces that look unplanned and cluttered. So how do you achieve a glamorous bohemian space? We dove into one case study to find out.
A Pinterest influencer with nearly a million followers, blogger Alexandra Evjen of AVE Styles recently called upon virtual interior design platform Decorist to help her transform her master bedroom in Phoenix, AZ. Decorist paired her up with Jessica McCarthy, one of its Classic-level designers whose self-described style is "modern eclectic," and Jessica and Alexandra worked together virtually to bring the space to life.
Alexandra tells us her goal was to create "a modern and comfortable room that made us feel like we were in a resort every time we woke up." Jessica sought to design a space "that was a mix of both masculine and feminine" for Alexandra and her husband "while still remaining bohemian with a bit of glam." She also looked to the sandy shades of the Arizona desert for inspiration. Read on to learn how you can get the look.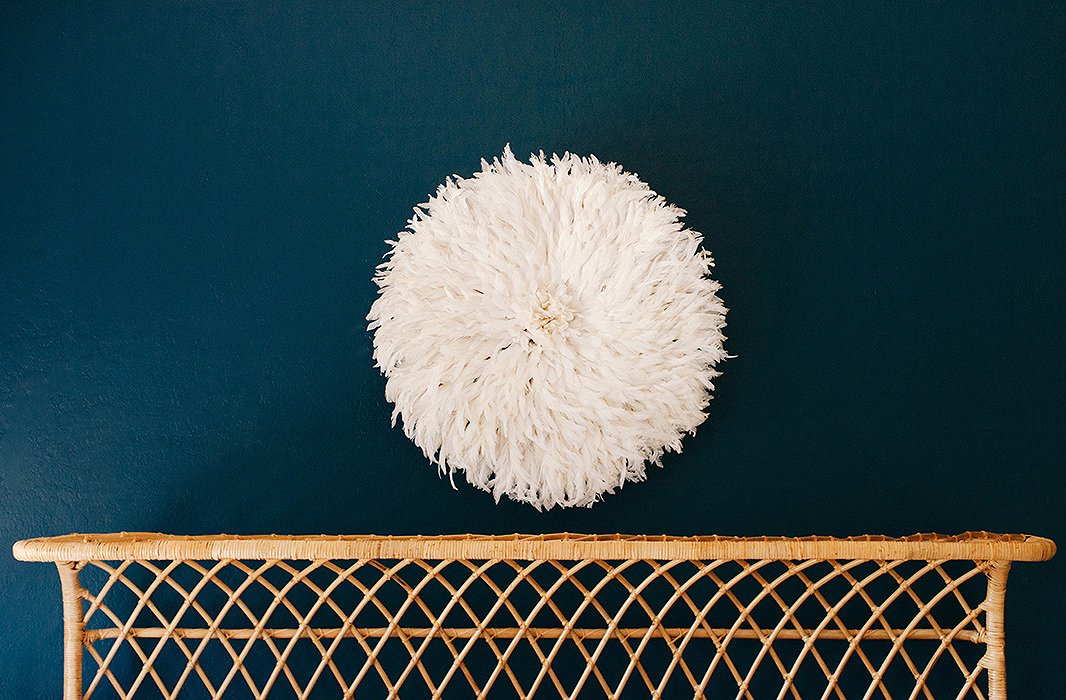 Step #1: Choose a Bold Paint Color
Because the rest of the space was neutral, Jessica wanted to use a bold paint color. After much back and forth, she decided on Nocturnal Sea by Dunn Edwards, a deep peacock blue. "I think that a lot of people are afraid of color, but seriously, do not be afraid to go bold," she says. "A helpful tip is to make a majority of the space neutral and pick one accent color and run with it. Also, painting just one wall instead of the whole space is much less overwhelming and easy to change."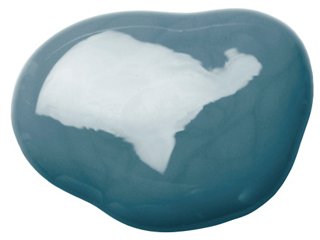 Nocturnal Sea by Dunn Edwards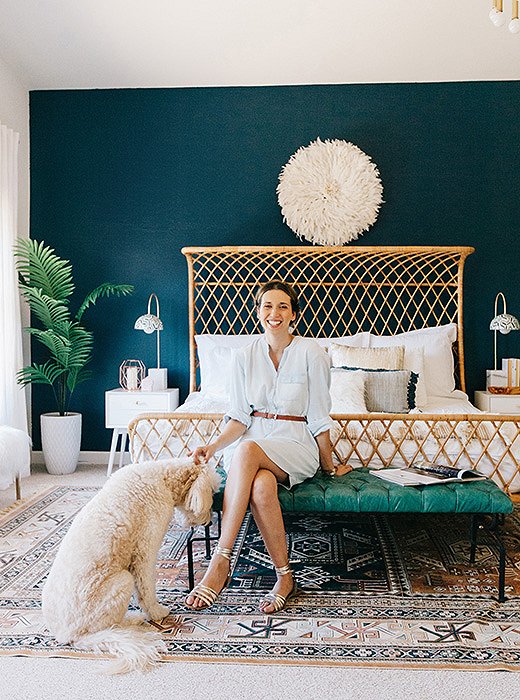 Step #2: Lay Down a Patterned Rug
When it comes to rugs in a bohemian room, "the more pattern, the better," Jessica says. The designer finds some clients are intimated by patterned rugs, so she provides a few guidelines for choosing the right one. "If your space is white and neutral, you can pick something with more color, such as a hot-pink vintage rug, because of the way it will contrast with the rest of the space," she explains. "If you have colorful walls and accessories, go for a more neutral rug. As long as you are pulling the colors from your space into the rug or picking something completely contrasting, it will always work."
If you're feeling playful, layering rugs can contribute to the bohemian look. "We added so much dimension in this space and distracted from the wall-to-wall carpet by layering this rug under the bed," Jessica says.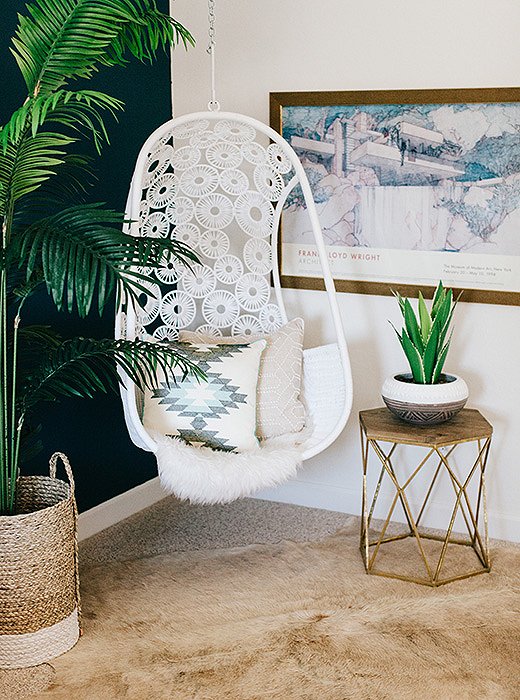 Step #3: Add Texture to Your Walls
Instead of a traditional gallery wall or "a large piece of art that you typically see in a bedroom," Alexandra wanted to go in a different direction. "I loved the idea of something textural as the focal point above the bed—that is where the juju hat came into play," she says. Something natural or woven—like the juju hat or a hanging textile—is a great way to bring texture to any space.
Because "art is so personal," Alexandra says, it can be tricky for a designer to shop for art for a client. Luckily, Jessica adds, "Alex brought out an amazing vintage painting she already had that ended up fitting in perfectly with our color scheme."
Step #4: Find a Statement Piece
Alexandra's curved rattan bed is decidedly the focal point of the bedroom. "The bed is my favorite part of the whole room," she says. "It's so unique, warm, and modern." If you want to go boho-glam in a home office, perhaps a statement desk is what you need. In a dining room, it might be a chandelier or a dining table. Whatever the case, make sure you find one showstopping piece.
That said, you can still integrate other statement pieces throughout a space, as Jessica and Alexandra have with the hanging chair, the fur stools, and the patterned rug. "Because everything in this space is pretty neutral aside from the pops of turquoise, it allows the space to look cohesive from one end to the other," Jessica says.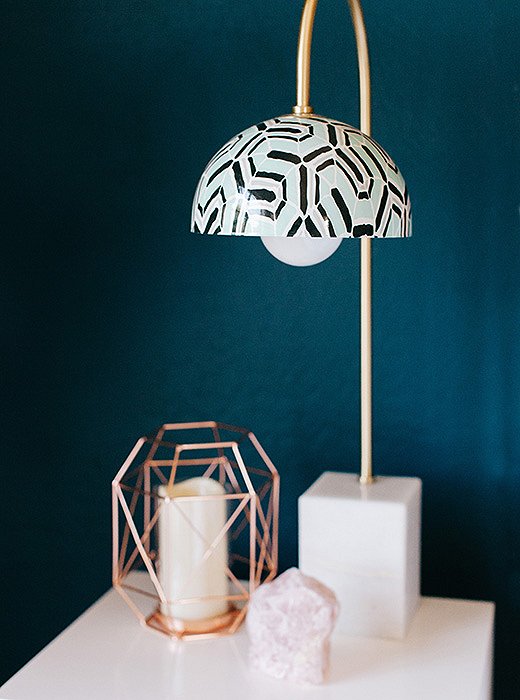 Step #5: Sprinkle in Glamorous Accents
"It is always a goal for me to add some glam to every space I design. With this space in particular we used brass to achieve the look," Jessica says. The designer integrated the metal throughout the space in small doses, such as in the curtain hardware, the ceiling fixture, the table lamps, and the geometric legs of the side table. She also replaced the knobs of Alexandra's nightstand with brass-trimmed ones. "It's not overdone, but it has the right amount to make an impact."