For eco-friendly-living guru Danny Seo, being green at home is as much about reusing and reviving old pieces as it is about switching to LED light bulbs: "One of the greenest things you can do is opt for vintage pieces and re-imagine them in new and interesting ways," he says. All of the proceeds from this special Earth Day sale, featuring Seo's own antique and vintage items, will benefit Baby Buggy, a charity that provides essential services to families in need.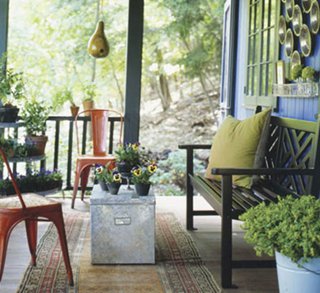 Go green by…repurposing
Instead of adding to landfills, give used or vintage pieces renewed purpose. "There's this misconception that the only way to 'go green' in your home decor is to look to new things, not old ones," says Seo. Here, he gives an old galvanized box new life as a chic coffee table.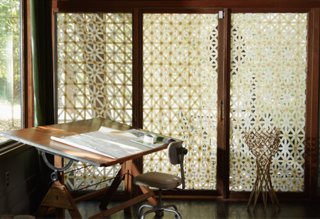 Go green by…innovating
Trash can become treasure with the kind of innovative thinking Seo champions in his new book, Upcycling. "Upcycling is basically a form of recycling that elevates something it to a better level than before" says Seo. These impractical sliding glass doors provided no privacy, but a bit of masking tape solved that and turned them into the room's focal point.
More go green ideas
Think big picture: "If you are in the market for a new refrigerator or major appliance, always go with Energy Star-rated models."
Break small habits without trying: "Change your default font to Century Gothic when you print since it uses the least amount of ink of all fonts."
Get rewarded for being green. "Free membership site Recyclebank.com rewards people for their green behaviors. It's like frequent-flier miles for living a green life."
"One of the greenest things you can do is opt for vintage pieces and re-imagine them in new and interesting ways."
—Danny Seo