While hipsters and Hollywood heartthrobs (Leo was spotted on the patio) flock to this West Hollywood hot spot for the "I can't believe its vegan" Mexican food, we were equally smitten with the decor. So it was no surprise when we discovered Wendy Haworth and Scott Shrader, (pictured at left) were behind the designs. While the takeout dishes will disappear pronto, the decorating ideas we spied inside and out at this Calexico mod space will live on.
Save
Save
Save
Save
Save
Idea #1: Try an Antiqued Mirror
This antiqued mirror is actually made out of multiple panels, so you can customize it to your space. The finish casts a perfect patina, adding to the vibe Haworth wanted to achieve: "simple, welcoming, and uplifting."
Idea #2: Supersize the Shelves
Think of shelving as both decorating opportunity and smart storage, and great things happen. The curation of bottles and jugs at the bar feels more elevated than mere barware. Chef Chandra Gilbert describes the effect as "traditional and clean."
Idea #3: Try Of-the-Moment Tile
Tile is having a moment… in part because of places like Gracias Madre. "I love that tile! We found it in Mexico City," says Haworth. "It's designed by graphic artists in Oaxaca and really drove the rest of the design." We love its use on the bar, but smaller spaces like a bathroom floor or a backsplash are great spots for it as well.
Idea #4: Mismatch the Seating
We love this combo of a long, linen-covered bench and rattan-and-iron chairs that lend what Haworth calls "an organic and natural feel to a space." You could get the same vibe with upholstered chairs and a long wooden bench.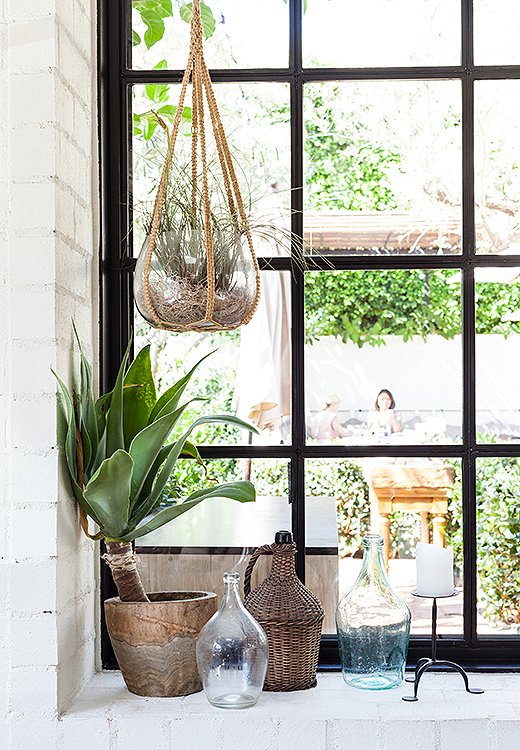 Idea #5: Work That Windowsill
Designers really know how to use every inch of a room. No surprise that Haworth used the deep sills at the restaurant to create a still life of sorts. The glass vessels fill with light and plants thrive in such a sunny spot.
Idea #6: Broaden Wall Horizons
Looking for some artwork for your walls? Instead of heading to an art gallery, gather some finds from a recent trip. Haworth sourced this mirror and cross on a whirlwind trip through Mexico—from San Miguel de Allende to Tulum.
Idea #7: Elevate Your Outdoor Style
It's no accident that the outdoor space blends so well with the inside. "Wendy and I selected materials that we felt worked together," says Shrader. Great advice for any outdoor space. Another great tip? Using mature plantings. "The 100-year-old olive trees create the feeling of an old garden while providing shade."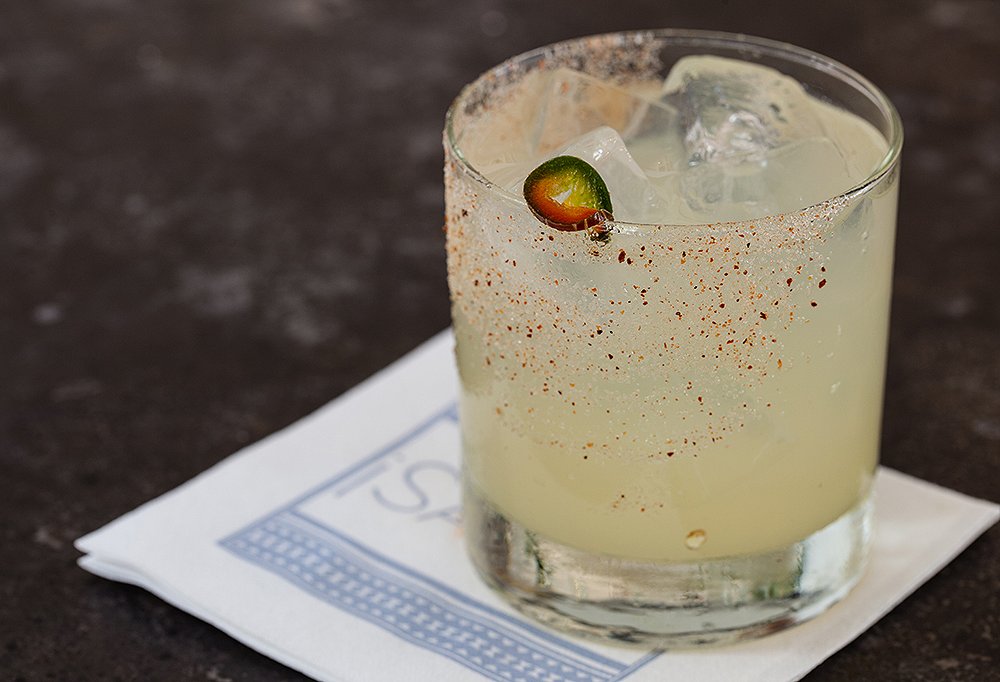 Bonus Idea: Drinks on the House
Gracias Madre was gracious enough to divulge the recipe for one of its most popular cocktails, the Purista Picante. Sip. Smile. Enjoy.
Ingredients
2 oz tequila blanco
1 oz fresh-pressed lime juice
0.5 oz organic agave nectar
1 pinch kosher salt
2 dashes orange bitters
2 dashes habanero bitters
Directions
Take a double rocks glass, and with a lime wedge, wet half of the rim. Using a combination of equal parts toasted chili arbol and smoked sea salt, rim the glass halfway. Separately, add all ingredients to a cocktail shaker with ice. Shake and strain into the empty glass. Add fresh ice. Garnish with a pepper slice.