When photographer Gray Malin (center) and his husband, Jeff Richardson (left), bought their first home, their existing furnishings felt awkward and sparse in the new space. Using pieces from One Kings Lane, decorator Orlando Soria (right) of Homepolish transformed the living room and the backyard into sophisticated spaces with a playful nod to the homeowners' tastes and personalities.
THE LIVING ROOM
Before
"Empty, awkward, cold, with a lack of furnishings," is how Orlando describes the pre-makeover space. "They had furniture that didn't make sense in their new home."
After
"We wanted to leave color out of the furniture and bring it in through artwork and accessories," Gray says. "This way we can rotate those items seasonally to reinvent the room through color. There's power in picking bases that are not heavy in pattern."
Tip: Orlando's Recipe for Perfect Bookcases
Spread coffee table books throughout; lean art and photos in a mix of textured frames; and finish with sculptural objects and boxes and trays, which add color and corral small items.
Orlando had to find clever ways to work with the long and narrow structure of the living room. "In a small or dark space, it's great to have sheen and reflection to bounce light around," he says. Lacquered end tables, the brass coffee table, and mercury-glass lamps provided just that.
Most clients are terrified of color; instead this was a challenge to not make it look like Candyland.
The challenge for Orlando was to incorporate Gray's love of brights while giving the room a refined feel. "Gray wanted the space to feel grown-up, but his personality is fun," Orlando says.
"Orlando pushed these chairs on me," says Gray, who felt they were too modern. A counter to the room's colorful art and accents, their quiet elegance played out the "coastal sophistication" theme Gray sought. "A lot of my work centers on luxury beaches around the world," he says. "The whole concept was to create a space inspired by art."
Tip: Don't Forget the Windows!
The blue border on the Roman shades is equal parts prep, quirk, and classic decor. "They were a game changer," Gray says. "I never would have sourced those on my own."
THE BACKYARD
Before
Gray had some contemporary furniture he was not excited about. Though he wanted tons of seating, the long, shallow deck posed a challenge.
After
Orlando diagnosed Gray's love of color immediately. The goal was for the deck to feel color rich rather than color crazed. "I'm such a huge fan of indigo," Orlando says. "It can be masculine and feminine, so it felt appropriate in a home where two men live.
"Gray and his husband are ultimate entertainers," Orlando adds. "This is a space designed for summer cocktail parties—relaxing and sitting with a drink while talking to friends."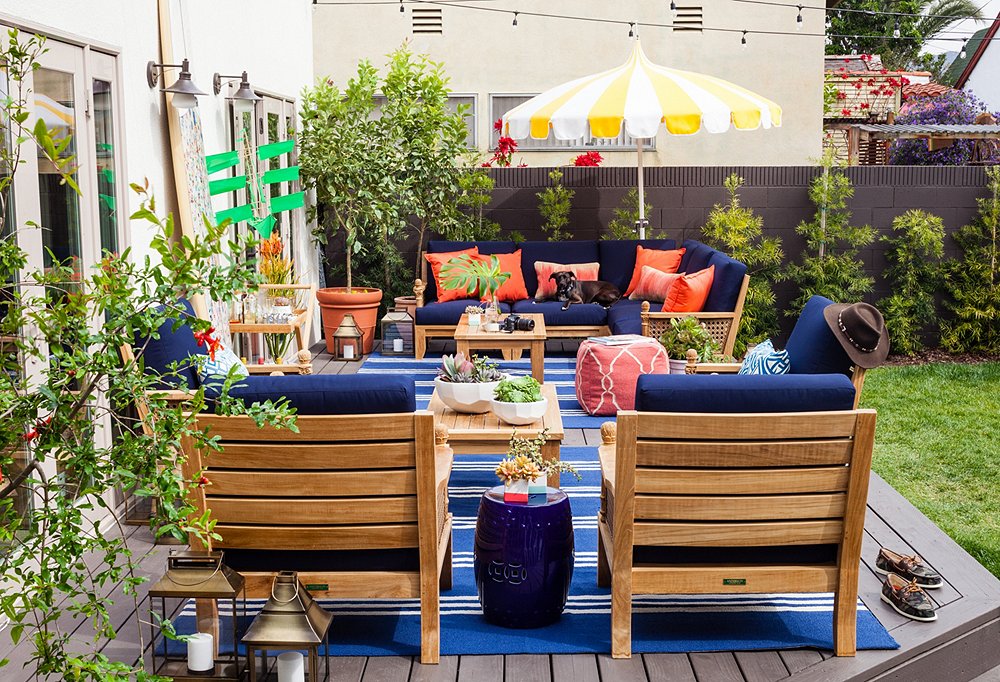 The preppy side of Gray was instantly drawn to this teak furniture with finials, which Orlando says "brought a formality to the outdoors." Space limitations made it impossible to create one large seating area, so instead they made two smaller ones. The sectional is for lounging and the chairs and table for more-formal socializing. A pair of rugs ties everything together.
Tip: Plants Are Part of Design
"If your space feels like it's lacking something, often it's lacking life," Orlando says. Succulents and citrus trees in pots of varying shapes were clustered on the deck for a lush, alive, and inviting feel.
"We wanted to add as much of Grey's personality to the outdoor space as possible," Orlando says, "so we looked to his own items and accessories to infuse it." Hanging art or displaying accents outdoors may seem counterintuitive but it's the best way to play up the "outdoor room" vibe.  This surfboard and kite were natural choices since both are weatherproof.
The permanently installed string lights run from the house to the back fence. An array of lanterns in varying heights (strategically placed to be visible but not in any walking paths) light from below. "It feels magical," Gray says. "Everything is sparkling; it barely feels like a backyard."
Tip: Appreciate Your Space
"We worked so hard and saved money to have our own yard," Gray says. "To take your outdoor space to this level is such a dream. The deck is now an escape where you feel completely transported."