There's no better way to signal the start of the holiday season than by adding greenery to your home. But you don't need wreaths or garlands to start decking the halls. We asked in-house stylist Michelle Wong to gather an abundance of seasonal greenery and create three arrangements that put an unexpected twist on the traditional holiday trimmings. From a sculptural bouquet overflowing with eucalyptus to a modern centerpiece lush with juniper branches and pine, these arrangements put greenery beautifully in the spotlight. Read on for Michelle's tips for creating lavish greenery arrangements that bring in the spirit and scent of the holidays.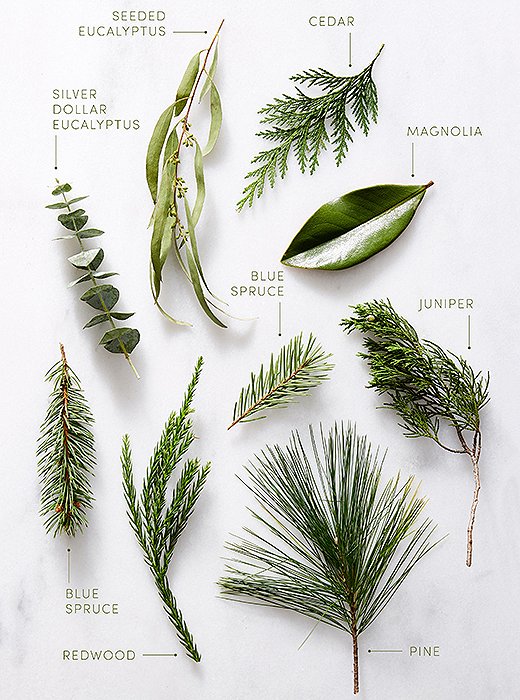 A Glossary to Seasonal Greenery
Michelle relied on greenery staples such as pine, magnolia, and juniper to create her arrangements. Each of these traditional types brings something to a bouquet or centerpiece, whether it's the sculptural quality of eucalyptus or the scent of pine, so try experimenting with shapes and fragrance combinations.
Cedar: These fragrant branches fill out arrangements and add body.
Eucalyptus: The delightfully scented stems accentuate height and structure.
Juniper: The leaves are perfect for adding volume, while the berries can be used for texture.
Magnolia: The large leaves and long branches make it easy to create a fuller, larger arrangement.
Blue Spruce: A great addition to smaller centerpieces.
Pine: This winter favorite drapes beautifully.
Redwood: The Western staple adds texture and shape.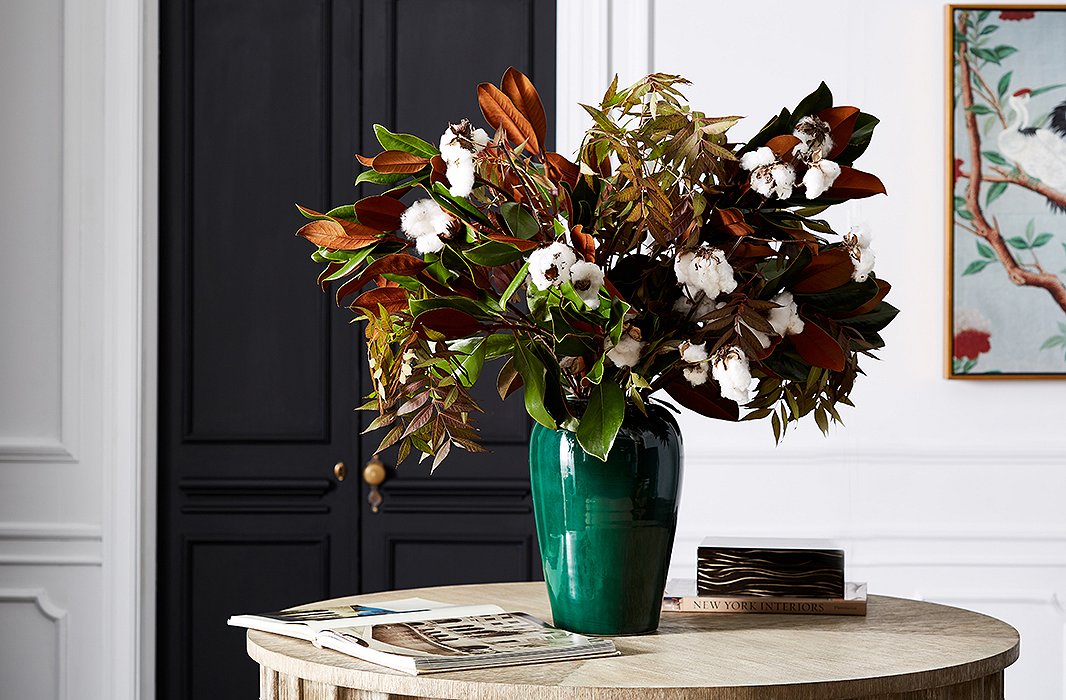 For an Elegant Focus
The greenery: Magnolia leaves, a Southern favorite, create a large-scale arrangement that looks fully sophisticated from every angle. "Magnolia leaves are very grand," says Michelle. "And you don't need many stems to make a full arrangement."
Fill it out with… branches that add color and texture. Michelle chose pistachio branches and cotton stems to complete the look.
Our vessel of choice: A traditional ceramic ginger jar vase, which adds height and complements the glossy magnolia leaves.
The perfect setting: A center table in an entryway, where the arrangement's classically balanced shape makes a grand and gracious first impression.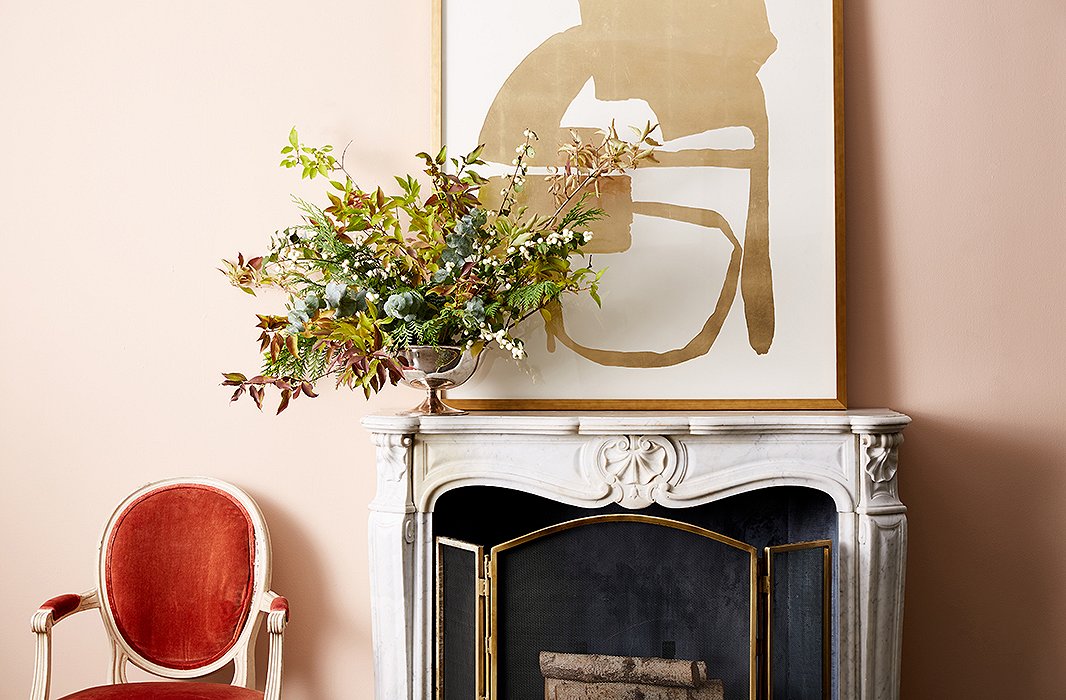 For a Lush Spectacle
The greenery: Classic eucalyptus gives height and texture to this striking asymmetrical design, while leafy cedar adds volume. Both bring an amazing scent to the arrangement.
Fill it out with… bold branches and berries. Forsythia branches were layered in first to create structure, and Michelle finished the bouquet off with snowberry for color and texture: "The white berries give it that perfect wintry feel."
Our vessel of choice: A shallow footed silver bowl filled with floral foam to anchor the branches. "The low vessel lets you make dramatic shapes that are full, directional, and arching," Michelle says.
The perfect setting: The living room, where it makes a romantic statement on the mantel. "I wanted it to feel sculptural, almost as if it were a piece of art on your wall," she says.
For a Dynamic Centerpiece
The greenery: For lots of texture, there's no beating white pine and leafy juniper. And because they bend beautifully, you'll have a balance of height and volume at the base.
Fill it out with… a single large bloom. Michelle picked protea, a flower with large leafy petals that settles in beautifully with the greenery but also holds its own.
Our vessel of choice: A tall modern vase that complements the colors of the greenery and keeps things light.
The perfect setting: The dining room, where the fresh scent of pine and juniper plays up a serene atmosphere in the gathering spot. The airiness of the arrangement makes it ideal for crowded holiday tables, and it works equally well on a console or a sideboard.
One Kings Lane stylist Michelle Wong is a New York-based foodie and passionate party planner. When she's not styling a beautiful room or setting a gorgeous table in our photo studio, you can find her hosting dinner soirees in her downtown apartment, noshing her way through the city, or taking in the best of NYC's bars and restaurants.