Most of us deem this backyard classic just one more fab way by which to chill horizontally during the summer months (see also: beach towels and chaise longues). But hammocks were born of necessity a thousand years ago in Central and South America, where versions made of braided tree bark were strung between trees to keep slumberers cool and away from (most) creepy-crawly jungle critters. Side note: Head to rural areas down there today, and you'll find that hammocks remain many families' "bed" of choice.
From that point forward, hammocks have popped up regularly throughout history. They were adopted as navy berths from the 1500s to the 1900s (legend holds that Christopher Columbus introduced hammocks to Europe after spying them in the Caribbean). They protected workers from yellow-fever-infected mosquitoes during the construction of the Panama Canal. They were carried by U.S. soldiers during the Vietnam War. And it was around the turn of the 20th century that this utilitarian apparatus became a popular leisure accessory that's never gone out of style.
Now that we've passed along their backstory, we thought we'd share a few gorgeous ways to work them into your decor, because—whether they're hung indoors or out—nothing has your back quite like a hammock.
Casual Contemporary
A hammock can bring a much-needed dose of softness, not to mention comfort, to industrial spaces that are heavy on the metal and glass. When space is at a premium, they can accommodate the desire for a place to lounge while taking up next to no room.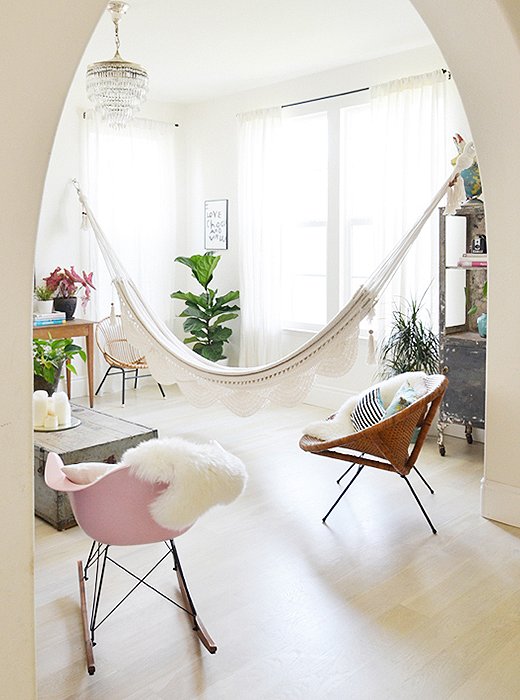 Brave Bohemian
Hammocks pair perfectly (especially when tasseled) with a mixture of flea market finds and modern lines. Strung up inside, they can function as the ultimate boho alternative to a sofa.
Luxe Mod
In sleek rooms with intentionally few furnishings, hammocks function as eye-catching art pieces (plus extra seating). Their size adds instant drama, but their use is inherently laid-back.