If there's one thing we firmly believe here at One Kings Lane, it's that you should love where you live. We were thrilled to recently have the opportunity to work with the Hartland Hotel, a location providing affordable supportive housing to those transitioning out of homelessness, located in San Francisco's Tenderloin neighborhood. The task: Give the location's common area a design makeover that residents would love coming home to.
In keeping with the local spirit of the project, we asked Crystal Palecek of the SF-based Rue magazine if she'd donate her design eye (and time) to the project, and the result exceeded our wildest expectations. We sat down with Crystal to find out what inspired her stunning scheme and why she believes in the transformative power of good design.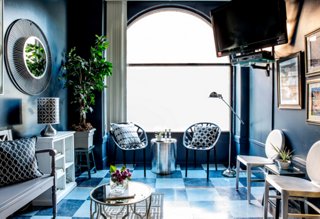 What made you want to take on this project? 
When the team at One Kings Lane reached out to me about the Hartland Hotel design project, I knew instantly that I wanted to be involved. It was a cause that really resonated with me. I believe wholeheartedly that bringing beauty to a space makes those who live in it feel more beautiful inside. Good design and soulful interiors have a way of growing one's happiness, productivity, and overall well-being—something everyone deserves. To be invited into the Hartland Hotel and really get to know the tenants was such an honor.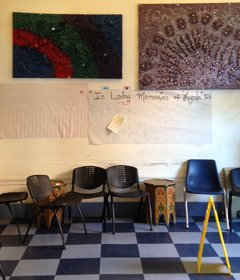 Before:
The space, which residents use to watch TV, read, or just hang out, was in need of additional seating and a design plan that was comfortable yet functional.
After:
Crystal tempered the vibrant blue paint she chose for the walls with some large pieces of artwork. By limiting the palette of the various seating styles to blue, black, and white, she created a mix that felt intentional, not haphazard.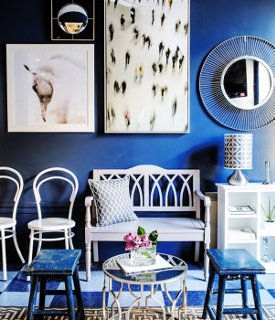 What was your inspiration for the design scheme? 
Because this project came with a few design challenges (upholstery and rugs weren't allowed due to upkeep reasons, and the small space had to seat 12-15 people), I had to figure out a way to make it work functionally but still feel inspiring. A few hours of combing on One Kings Lane, and a design scheme and color palette became apparent.
How did you work with (or around) the space's existing elements?
Since the existing blue checkered tile floor wasn't going anywhere, I took color cues from that and brought the hue up onto the walls. Though it began as a challenge, the end result creates an intentional look. From there, I wanted to create a warm environment that felt both cozy and calming but still had the pizzazz of the surrounding neighborhood in San Francisco.
What had the biggest impact when it came to making over the space? 
Definitely the blue walls! I used Benjamin Moore's Hudson Bay and love the way it turned out. It was a bold color choice, but I'm glad I made it. Admittedly, some of the tenants were a little skeptical when they saw the dark color go up on the walls, but as they began to see my vision come to life, I heard nothing but positive feedback. It's amazing how much a new coat of paint can change the feel of an entire space.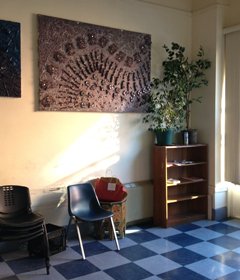 Before:
A unused corner wasn't taking advantage of the ample sunlight streaming in from the nearby picture window.  
After:
Crystal used a mirror to bounce light from the window around the rest of the space. A new bookcase was brought in to hold reading material, which could be enjoyed into the evening thanks to the addition of a table lamp.  

What was your strategy in terms of art for the space?
I love the high impact of an art wall in a space. Because the walls are dark, I pulled light-colored pieces so that they would really pop against the blue. From there, I stayed within a certain color palette, my signature neutral tones, for the rest of the art I chose. I was also sure to mix in a few mirrors. With a dark color on the walls, mirrors help bounce the light around the room so that it still feels sunny and bright.
Were there any design details that stood out for you? 
The most special piece in the space is a custom art piece by San Francisco artist Timothy Lamb that reads "Home Is Where the Hart Is," which is the motto for the Hartland Hotel. Working with Tim, who also happens to be the boyfriend of Rue's very own Kelli Ryder, was an absolute dream from start to finish. He is such a talent! When the tenants first saw the custom piece, they went absolutely crazy for it, which was pretty awesome to witness.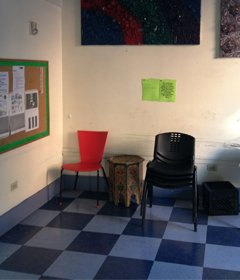 Before:
An underutilized wall (with a prime view of the television) was in need of additional seating.    
After:
Crystal created a small seating area with a pair of matching chairs, a side table, and a table lamp. On the wall hangs a custom piece of artwork bearing the motto of the Hartland Hotel.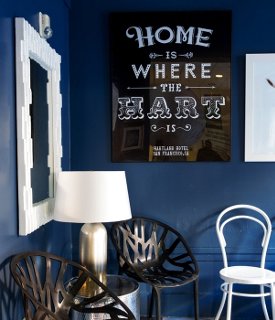 How do you think this project speaks to the impact design can have on someone's life?
I've always been fascinated by that aspect of design, which is the very reason I do what I do for a living. I hope that the new design scheme in the space helps the tenants enjoy a deeper sense of home, beauty, and inspiration. I saw firsthand the way the tenants' faces lit up as they observed the space take shape, and for me that's what it's all about: bringing a slice of beauty to someone's world. If I can in some way help bring that to others, whether it's through inspiring spaces in Rue magazine or lending my design eye to a project like this, then I am so grateful. Nothing feels more rewarding to me!
Huge thank-you to Crystal and the Rue team! To see more images and learn more about the project, head over to Rue Daily! 
Photography by Aubrie Pick