It's no secret that I'm a major fan of taking design matters into my own hands, but sometimes the best course of action is to find professional hands to do the job. This month I'm deconstructing the process of having pillows made, from picking fabric to finding a seamstress, and everything else you need to know to get the job done.
Choosing a Size
First, it's important to figure out what size pillows you want and how many of each size. Keep in mind that pillow inserts are not readily available for all sizes. Here are a few common sizes to consider.
Square: 16″, 18″, 20″, 22″, 26″
Lumbar: 12″ x 18″, 12″ x 24″, 14″ x 36″
Boudoir: 12″ x 16″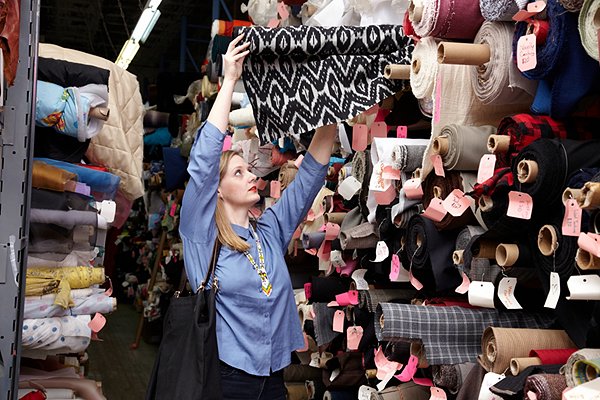 Picking Out Fabric
The basics: I prefer woven fabrics for pillows, especially cotton, silk, velvet, and linen. Repeated washing and drying of some fabrics can lead to shrinkage, so be sure to pay attention to care instructions when you're shopping. Fabric intended for home decor use is often dry-clean only. In addition, it's often much wider than standard fabrics, something to keep in mind when calculating yardage. Also, decide if you want to use one fabric for both sides or if you'd rather choose, say, a silk for the front and a linen for the back.
Prints and patterns: For a professional-looking result it's a good idea to match the design of your fabric at the seams. This is especially important with stripes, plaids, and geometric prints. The distance between where a pattern begins and ends before beginning again is referred to as the repeat. You may need a little extra fabric if you plan on centering a motif or matching up the pattern at the seams. Be sure to go over this in detail with your seamstress when the time comes.
Scale: Larger-scale prints traditionally look best centered on a cushion or a pillow. As a general rule, larger prints are better-suited to larger pillows and smaller prints to smaller pillows. However, mixing up the scale can look fresh and surprising; just make sure your choice looks intentional.
Calculating Yardage
For most decorative throw pillows you will need 1-2 yards of fabric, depending on the size and details you choose to include. There are lots of yardage calculators available online that allow you to enter the exact length and width of your desired pillow, along with the width of the fabric. I found this one on fabric-calculator.com supereasy to use.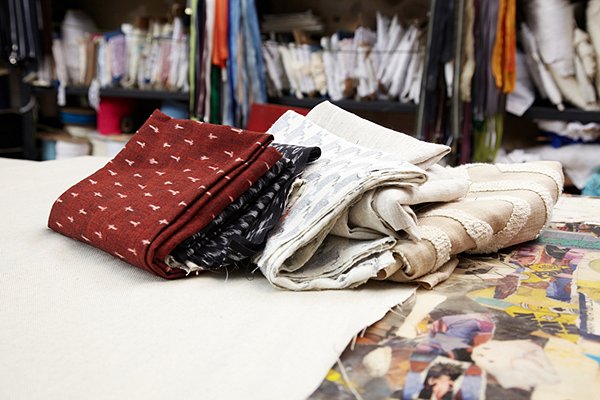 Finding a Seamstress
If you don't regularly work with a seamstress, it's worth establishing a relationship with one: A knowledgeable seamstress is an indispensable resource for a world of sewing projects. Finding a seamstress can be as simple as making a phone call or doing a little online research, but here are a few places I recommend looking for one.
Fabric stores: The vast majority of the people who work in and shop at fabric stores sew, and if you ask around, there are bound to be a dozen or so qualified professionals ready to take on sewing jobs.
Dry-cleaners: Many dry-cleaners also offer tailoring and sewing services. However, skill levels can vary, so make sure to take a look at their work beforehand.
Home decor shops: There's a good chance a proprietor of a decor shop will also know of local design resources. When inquiring at a designer-owned shop, however, you want to be sensitive. Designers are often protective of their connections, so let them know you're asking for personal use, and don't be offended if they decline to share the information. Having said that, it never hurts to ask, and if they do give you a name you can bet that person is top-notch.
The internet: Many sewers and designers contract their services through sites such as Etsy, and you can usually see examples of previous work and read reviews. I prefer to work with a local person, but if that's not an option, searching terms such as "custom decorative pillows" should generate a few good leads.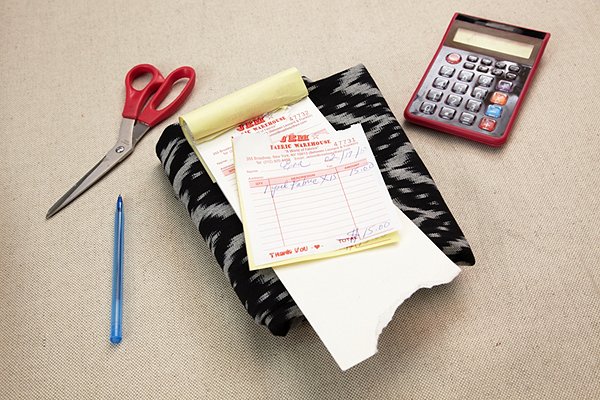 What It Costs
In addition to materials, you can expect to pay anywhere from $15 to $50 per pillow for labor, depending on the size and design. It's important to be clear up front about your needs, payment terms, and time frame. Some sewers will ask for a deposit to start the project. This is a perfectly standard practice, especially for larger jobs. When you're working with someone new, it's a good idea to start off with a smaller, less expensive project to test the waters.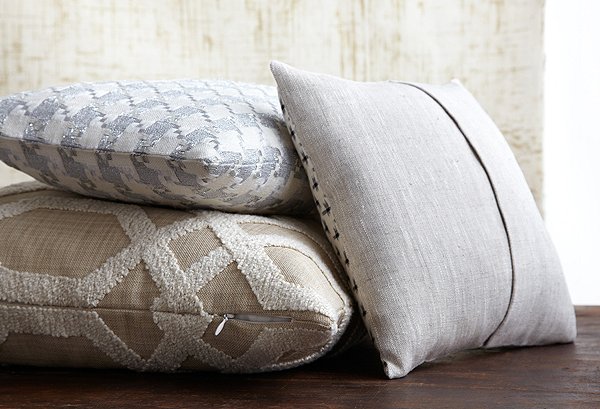 Choosing a Closure
No closure: Some pillows are simply sewn closed. This method makes caring for your pillow more challenging but is preferred when working with a delicate material. If you go this route, be sure to bring your pillow insert to your seamstress along with your fabric.
Sham closure: The simplest closure, it consists of an opening between two overlapping pieces of fabric. Most often this type of closure is found on the back of a pillow. This closure is desirable for bedding because it requires no hardware and the insert is easily removable.
Zipper closure: Zipper closures are most often installed in an inconspicuous spot near the bottom of a pillow or along a seam. I prefer the look of an invisible zipper on a seam for lightweight and medium-weight fabrics. A standard zipper functions well with heavier fabrics and looks best positioned near the bottom of the pillow, slightly about the seam, to prevent bulk along the bottom.
A Note on Inserts
When choosing a pillow insert, I definitely prefer a feather-and-down blend over synthetic. When properly cared for, down pillows can last a lifetime, and they will maintain their lofty, smooth profile much longer than synthetic alternatives.
Best of luck on your pillow projects!
In need of a stylish solution to a vexing decor challenge? We're here to help! Email Megan at editors@onekingslane.com using the subject line "A Stylish Solution" and you may inspire her next project.