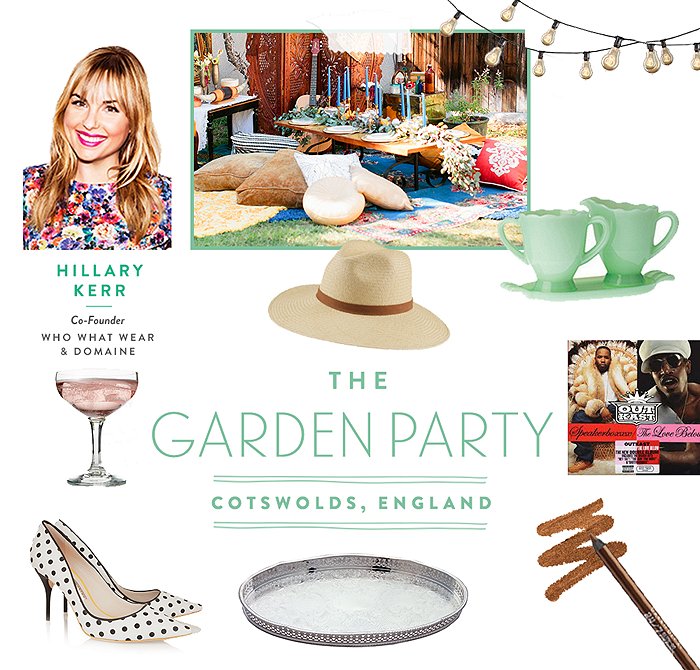 What do you love about a summer garden party?
Summer garden parties just always feel so magical to me. Between the warm night air, twinkly lights, delicious nibbles, and fabulous friends, what's not to like?
Where would your dream garden party take place?
In a perfect world, it would take place at a lovely old manor house in the Cotswolds, where there's also a gorgeous swimming pool for a post-party swim!
What tops your list of garden-party essentials? 
Flattering, romantic lighting is key, so I have lots of pretty lights hanging from the wisteria tree in my backyard. I also love the festive nature of rosé wine and champagne, which is why I have a galvanized tin tub that I fill with ice and my favorite bottles.
What would be the perfect drink to serve?
Rosé champagne in vintage coupes!
What's on the menu at this fabulous party?
I like the juxtaposition of casual food with more formal touches, like potato chips served with champagne to start. I've been making loads of roasted corn salads as of late, which everyone always loves. As for dessert, I think there's something so charming about individual ramekins of cobbler, so I'd make my go-to recipe: blueberry and nectarine cobbler with a pecan-and-sea-salt biscuit topping.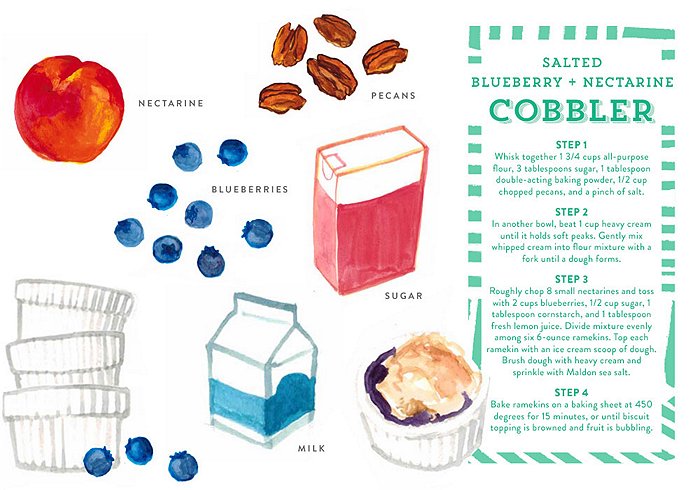 "For me, summer is all about…saying yes, whether that means taking a midnight swim or going for a spur-of-the-moment picnic. Embrace it all, especially if it calls for champagne! "
—Hillary Kerr, Co-Founder of Who What Wear & Domaine
Are there any special touches for your garden party table?
I collect vintage jadeite, and often repurpose appropriately shaped pieces, like a sugar and creamer set, to use as vases. I also firmly believe in the power of a gorgeous tray to elevate and organize even the most utilitarian things. You could use one as an impromptu outdoor bar cart, filling it with beautiful bottles and decanters.
Any staples on your summer party playlist?
Classic rock 'n' roll is definitely the foundation of my summer-party playlist, so there's lots of Fleetwood Mac, Led Zeppelin, and The Velvet Underground. Also, I seem unable to make a playlist that doesn't involve a song from Outkast.

Tune in to Hillary's complete summer-party playlist!
What's in your summer makeup bag?
The last thing I want to worry about in the summer is whether or not my eyeliner is smudging, so I'm quite obsessed with Urban Decay's 24/7 Glide-On Eye Pencils, especially the bronze or copper ones like Scorch and Smog.
You're the co-founder of one of our favorite fashion sites, so we're dying to know your summer wardrobe essentials!
I love a wide-brimmed straw hat for daytime, and am smitten with Janessa Leone's Gloria Hat; it's simple, but still makes a statement. Last, but not least, I'm totally dedicated to my Sophia Webster Lola Polka-Dot Pumps. The heel is only 3.5-inches high—which is quite low for me—so I can run around all night at a party and never think about my feet.
Huge thank you to Hillary! Head over of Who What Wear and Domaine for more inspiring fashion and home ideas.