When architect Chet Callahan set out to renovate, build, and design the perfect home for him and his family, he knew he needed to bring on someone whose creative vision would work with his own. Enter longtime friend and go-to designer Ghislaine Viñas.
Hidden amongst the rolling foothills of Los Angeles in Los Feliz, this property is special. The original house, built at the turn of the 20th century before Los Angeles was even Los Angeles, stands guard over the neighborhood. "We came across this house just by happenstance," says Chet. He and husband Jacinto Hernandez had begun looking for a new home in their neighborhood that had more room for their sons to run around—a notoriously difficult thing to find in L.A. 
"We were about to embark on this big project [at their former home] to created retaining walls and create some more space for the kids to play outside," Chet explains. When they came across this property, formerly known as the Cummings Estate after the man who built it, it felt like kismet. "It was just like 'How can we pass this up?'" In short, they didn't.
Chet had grand visions of what this house was going to be. He also knew that it would take work, and a team, to make it come true. And that's where Ghislaine came in. Their relationship was a true partnership. "The story of the house came about as we were working through it," she says. "It was such an organic partnership." Together, Chet and Ghislaine, with the help of landscape architect Judy Kameon, set about bringing this house back to its former glory and making it fit for his young family.
To create more space for his family, Chet added an extension out the back and opened up rooms within the house. He chipped away at some of the additions made over the years that didn't fit the stately profile of the home. He also brought everything up to speed for the modern era, adding in state-of-the-art systems to replace turn-of-the-century mechanics. The architectural showstopper is the winding staircase that leads to the attic. Chet tapped Adrian Kay Wong to paint the mural, whose colors include many of the hues found within Chet and Jacinto's art collection.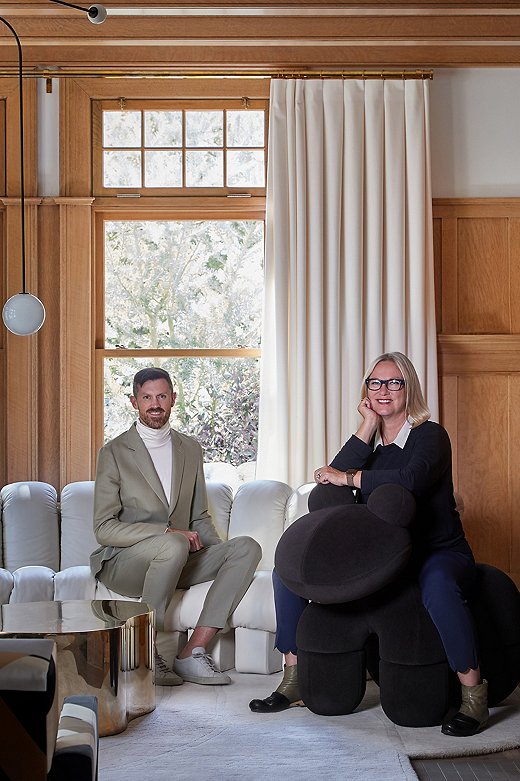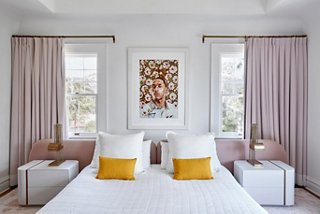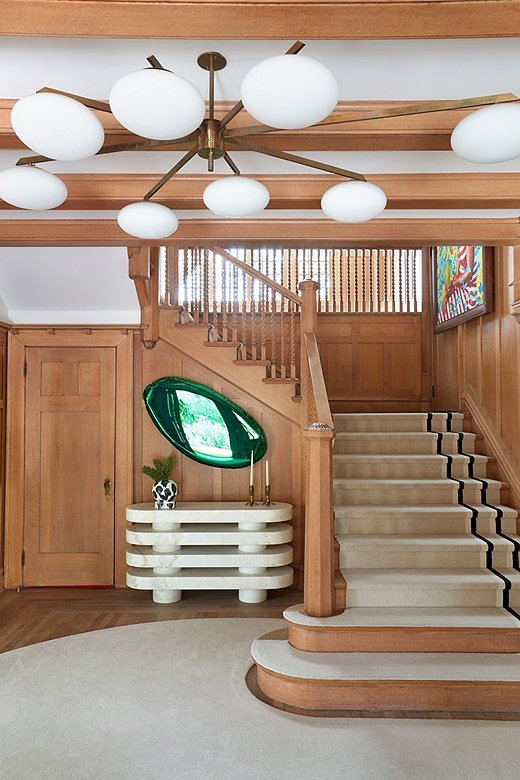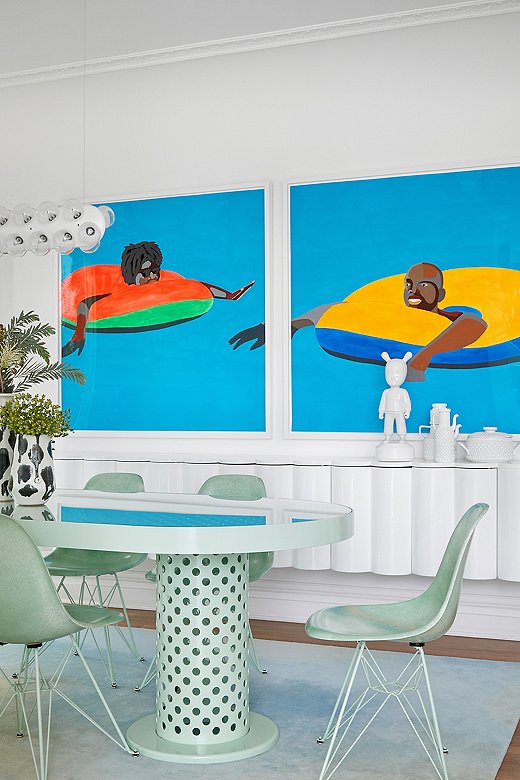 Their collection is an expansive library of works that reflects people of all backgrounds and ethnicities; it is also a labor of love. "We started collecting very early in our relationship," Chet says. As their family grew, they saw diversifying their art collection as a way to bring in other stories and points of reference for their sons. "Our art collection became a way for us to expand our family in a way and start to show representations of other people from other parts of the world, with other skin tones." Most notably, a portrait by American artist Kehinde Wiley hangs in the stairwell of the entryway. The paneling that flanks this part of the house creates a nice juxtaposition between the history of the space and the life of its new caretakers.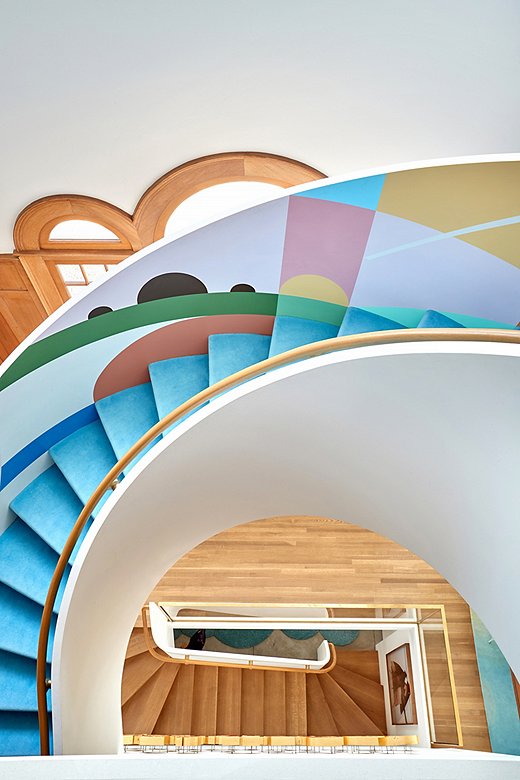 The influences of Chet and Jacinto's collection can be seen throughout  Ghislaine's work. The colors are vibrant, and the forms are fresh. Her color palette reflects the modern vibe so evident in works by Wiley, Derrick Adams, and Elliott Jerome Brown Jr. Pastels mix elegantly with the modern forms Chet and Jacinto favor. Stark edges meld gently with rounded corners, while an ethos of livable design runs through the entire project.
In the living room, a curved bubble sofa that Chet and Jacinto had their eyes on for ages served as the starting point for Ghislaine's design. She then worked to find the perfect complementary pieces. "It was like casting for a very unusual, eccentric play," she says. "It took a lot of layering and understanding."
At the heart of this project is a story of two collaborators coming together to realize a unified vision of modernity in a historic setting. From the outside, visitors are greeted by an imposing historic structure that implies something wholly different from the interior vision that was brought to life. Together, Chet and Ghislaine created something truly beautiful and unlike anything else around.