Few things are as festive as a gorgeous "help yourself" bowl of holiday punch. To take the guesswork out of what to serve, we partnered with the spirits experts over at Punch, who tapped some of the best-known bars in the industry for their favorite punch recipes. Each one is beyond perfect for the holiday season. So this year, skip playing bartender at your party and just mix up a big batch (or two, since they're sure to go fast) of one of these delicious beauties.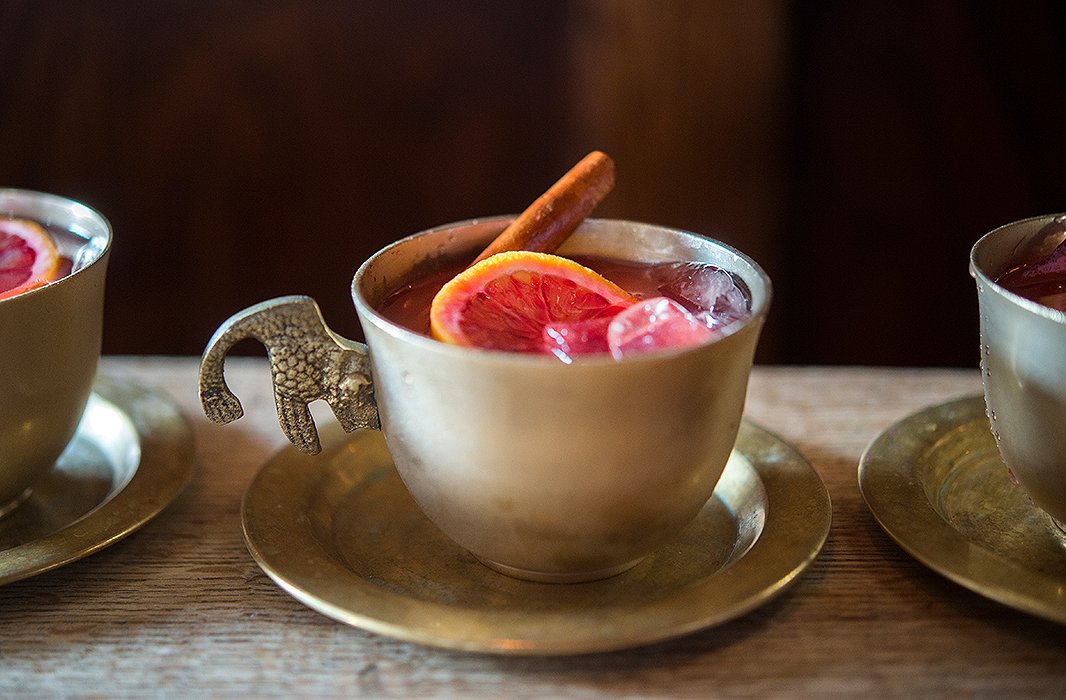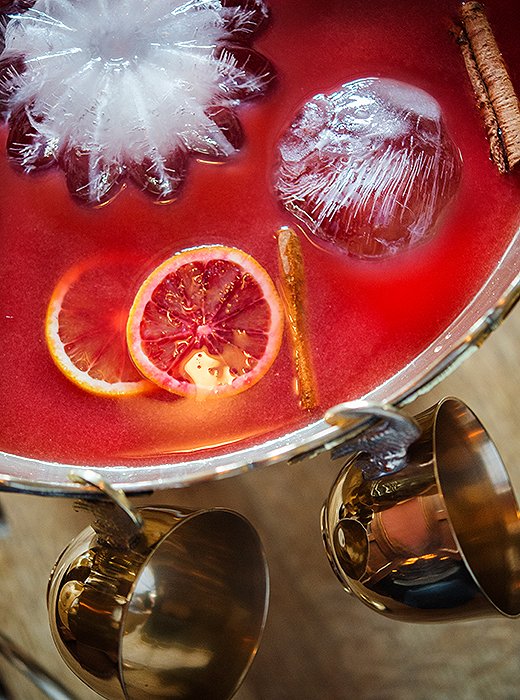 Jeff Galli, Prime Meats | Brooklyn
At Prime Meats in Brooklyn, the punch offered on the menu changes daily and is mixed together by the opening bartender based on inspiration from "seasonal ingredients, syrups or tinctures at hand, and even the weather," says Jeff Galli.
New York's unseasonably mild December inspired this holiday punch, a union of citrus, spicy barrel-aged gin, and peach-cinnamon shrub, Galli says, "to remind you of Christmas and a long summer night all at once."
INGREDIENTS:
Servings: 10
16 ounces fresh blood-orange juice (strained to remove pulp)
8 ounces cinnamon-ginger-peach shrub (See Editor's Note)
8 ounces Cocchi Americano
8 ounces dry sparkling wine
4 ounces gin, preferably Greenhook Ginsmiths Old Tom Gin
Garnish: blood-orange wheels, cinnamon sticks
DIRECTIONS:
Combine all ingredients in a punch bowl. Add large ice chunks, and garnish with blood-orange wheels and cinnamon sticks.

Editor's Note:
Cinnamon-Ginger-Peach Shrub
Adapted from a Michael Dietsch recipe
3 pounds ripe organic peaches
2 cups turbinado sugar
1 6-8 inch piece of fresh ginger, sliced into pieces
2 cinnamon sticks, lightly crushed
1 2/3 cups light white-wine-based vinegar
Crush the very ripe organic peaches in turbinado sugar with sliced fresh ginger. Allow to sit, covered in the fridge, until the sugar is dissolved, about 24 hours. Meanwhile, add a couple of gently crushed cinnamon sticks to the vinegar. Allow to steep in a glass or plastic container for about 24 hours. Strain out the solids from the peach mixture through a chinois strainer, being sure to press out any extra juice. Strain the solids from the vinegar and combine it with the peach mixture. (It would be wise to hold some back the first time and taste as you slowly add the vinegar to achieve the proper balance.) Stir until incorporated and all sugar is dissolved. Allow shrub to come together in an airtight container in the refrigerator for at least 10 days (and up to many months).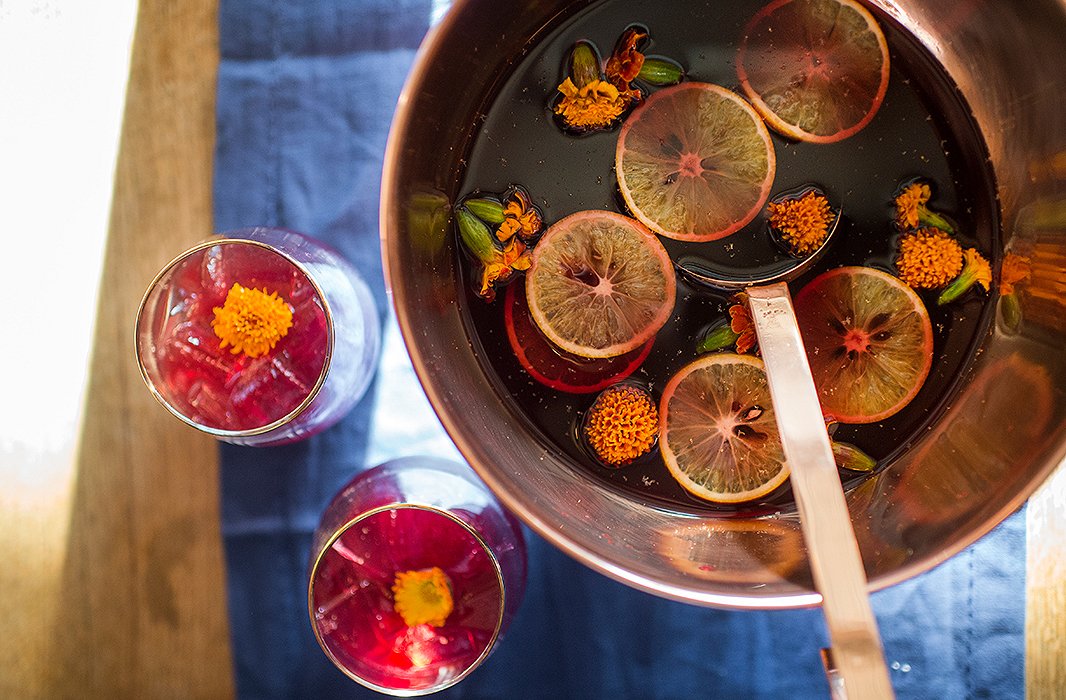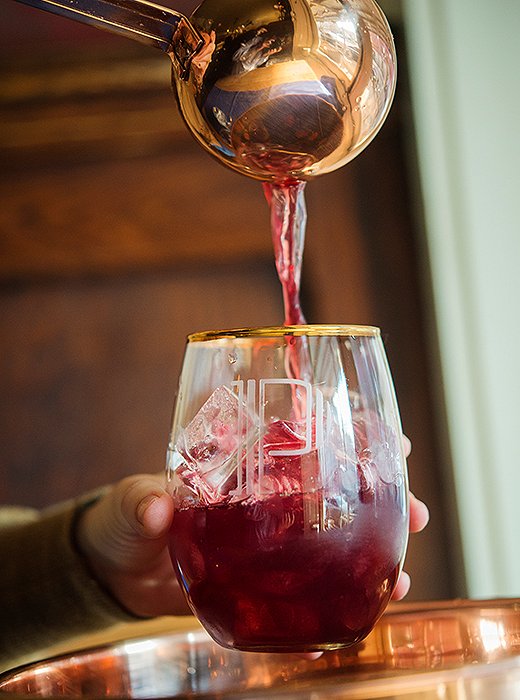 Davide Segat, Punch Room | London
The recipe for Hannah Wooley Punch was originally published in 1672, making it a true old-school punch and among the first punch recipes to be recorded on paper. Davide Segat, bar manager at London's Punch Room, has taken this English classic—with a tip of his hat to nearby Hawksmoor Spitalfields, one of the first cocktail bars of the craft-cocktail renaissance to bring the recipe back—and updated it with spicy Barolo Chinato. The resulting combination of traditional and new embodies the best flavors of the holiday season.
INGREDIENTS:
Servings: 15
10 ounces Hennessy Fine de Cognac
8 ounces Barolo Chinato
10 ounces nutmeg syrup (See Editor's Note)
26 ounces dry red wine, preferably merlot
10 ounces fresh lemon juice
approximately 5 ounces soda, to top
Garnish: red-currant strings or cranberries, edible flowers (such as violas), grated nutmeg, and orange wheels
DIRECTIONS:
Combine the first five ingredients in a punch bowl. Top with soda. Garnish, and ladle over cups with ice to serve.

Editor's Note:
Nutmeg Syrup
2 lbs white sugar
35 ounces water
1 whole nutmeg
Add sugar and water to a pan, then grate the nutmeg and add. Heat gently until the sugar dissolves.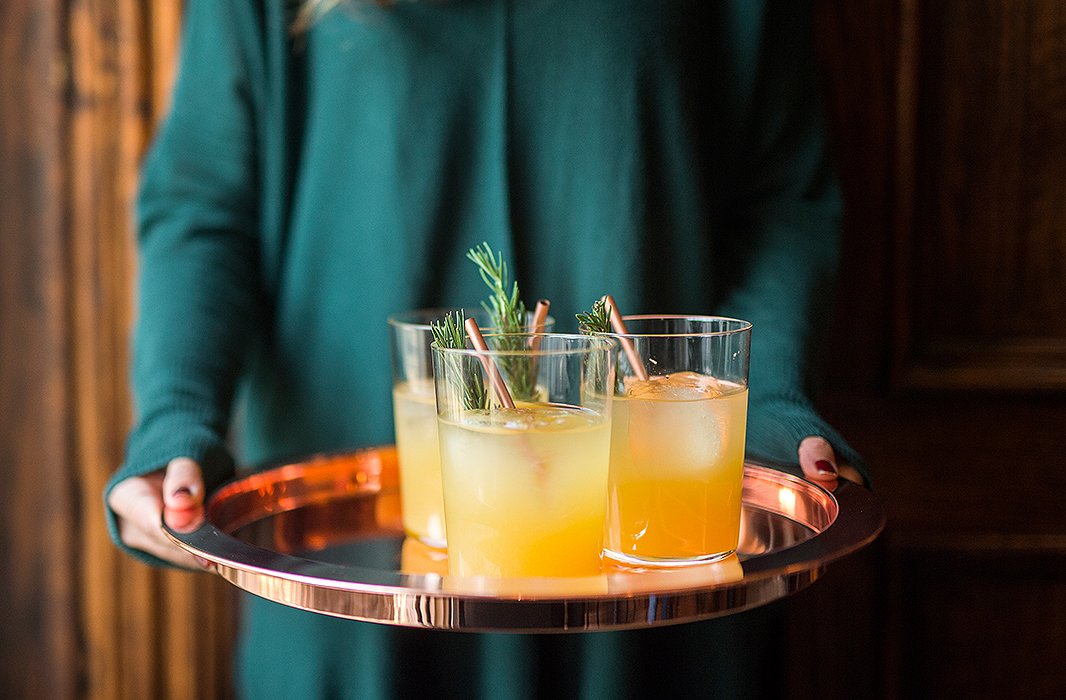 Dustin Drankiewicz, Punch House | Chicago
This contemporary punch from Chicago's Dustin Drankiewicz was inspired by the flavors of the Middle East, particularly those of popular dessert balah el sham, which features of walnuts, honey, and fruit. The blend of savory, cumin-scented kümmel, smoky reposado, and walnut-lemon oleo-saccharum is a decidedly contemporary take on punch, and one that can be served both hot and cold.
INGREDIENTS:
Servings: 18-24
10 ounces reposado tequila
3 ounces kümmel, preferably Combier
6 ounces lemon juice
12 ounces pineapple juice
16 ounces walnut-lemon oleo-saccharum (see Editor's Note)
Garnish: rosemary sprigs
DIRECTIONS:
To serve cold: Combine the tequila, kümmel, lemon juice, and pineapple juice into the punch bowl. Add oleo-saccharum and whisk aggressively. Ladle into cups over cracked ice, and serve with individual rosemary garnish.
To serve hot: Combine all ingredients as above into a crock-pot set to medium heat. Let the punch heat up, and serve with rosemary garnish.
Editor's Note:
Walnut-Lemon Oleo-Saccharum
10 lemons
1/2 cup sugar
1 ounce walnut extract
Peel each lemon, being sure to remove only the peel with none of the white pith. Add the peels to a bowl along with the sugar and the walnut extract. Using a muddler or a heavy wooden spoon, press the peels into the sugar; oils from the peels will collect in the bowl. Let the combination sit for at least 30 minutes at room temperature. Mix to incorporate all separated oil into the sugar, then remove the peels before using.
Martin Cate, Smuggler's Cove | San Francisco
A riff on Smuggler's Cove's ever-popular Hibiscus Rum Punch—which is itself a riff on the Caribbean classic Spiced Hibiscus Punch—this holiday recipe from Martin Cate combines aged rum and fresh lime with tart hibiscus syrup. Add a hefty pour of chilled champagne and preserved hibiscus flowers and you've got a prime party starter based on looks alone.
INGREDIENTS:
Servings: 12
18 ounces blended aged rum, preferably Appleton Estate Reserve Blend
12 ounces hibiscus syrup (see Editor's Note) or Jack from Brooklyn Sorel liqueur
4 ounces rich demerara simple syrup (2 parts sugar to 1 part water)
6 ounces lime juice
24 ounces champagne
Garnish: hibiscus flowers in syrup, drained, on lime wheels; mint sprigs
DIRECTIONS:
Combine first four ingredients and chill for two hours before serving. Twenty minutes before serving, add chilled ingredients to punch bowl filled with cracked ice. Top with chilled champagne and stir gently to combine. Garnish bowl with preserved wild hibiscus flowers resting on lime wheels and mint sprigs. Ladle into cups to serve.
Editor's Note:
Punch Hibiscus Syrup
1 cup water
1 cup dried hibiscus blossoms
1 lemon peel
1 cup sugar
Add water, hibiscus blossoms, and lemon peel to a pot and bring to boil. Add sugar, and stir to dissolve. Turn off heat and allow to cool before storing in the refrigerator in an airtight container.
For an individual serving of punch:
1 1/2 ounces blended aged rum
1 ounce hibiscus syrup or Jack from Brooklyn Sorel Lliqueur
1/3 ounce rich demerara simple syrup
1/2 ounce lime juice
2 ounces champagne, to top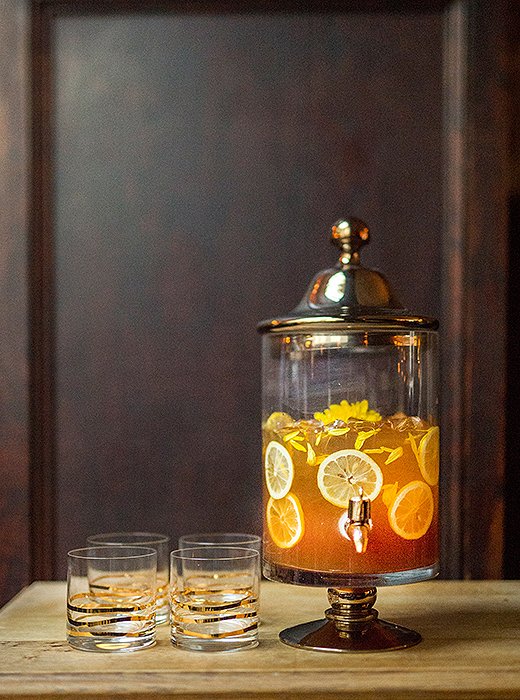 Caitlin Laman, Trick Dog | San Francisco
In her Dorothy's Delight punch, Caitlin Laman of Trick Dog riffs on a base of two quintessential punch ingredients—tea and brandy—and combines them with coffee liqueur and dry oloroso sherry for a rich, smoky, and slightly bitter punch ideal for kicking off an evening. Also good for getting the party started? "Make sure to drink the remainder of the oloroso as you are making the punch," says Laman.
INGREDIENTS:
Servings: 25
24 ounces brandy, preferably Tariquet VS Armagnac
8 ounces oloroso sherry, preferably Fernando de Castilla Oloroso
2 ounces coffee liqueur, preferably St. George Spirits' NOLA Coffee Liqueur
3 ounces lemon juice
10 ounces grapefruit oleo-saccharum (See Editor's Note)
14 ounces brewed rooibos tea
Garnish: lemon wheels and rooibos flowers
DIRECTIONS:
Combine all ingredients and let sit 24 hours. Rack off top and strain the rest. Garnish with lemon wheels and rooibos flowers. Ladle into cups over ice to serve.
Editor's Note:
Grapefruit Oleo-Saccharum
2 ounces grapefruit peel
1 ounce lemon peel
8 ounces sugar
Macerate grapefruit peel and lemon peel in sugar. Cryovac and let sit for 24 hours, or let macerate overnight in a plastic bag with as little air in it as possible.
For more amazing recipes, visit Punch.