As garlands go, magnolia is one of our all-time favorites! Those glossy green and velvety rust-colored leaves make for such a classic and chic holiday look. This year we decided to dial down the decorations but dial up the look by adding a hit of metallic to the ends. The result looks like it's been dip-dyed in silver! Ready to make one of your own? Hit play to watch this project take shape, and check out the full supply list and step-by-step instructions below.
Here's What You'll Need
A magnolia garland
Spray paint (we used silver, but any color will do)
Tape
Newsprint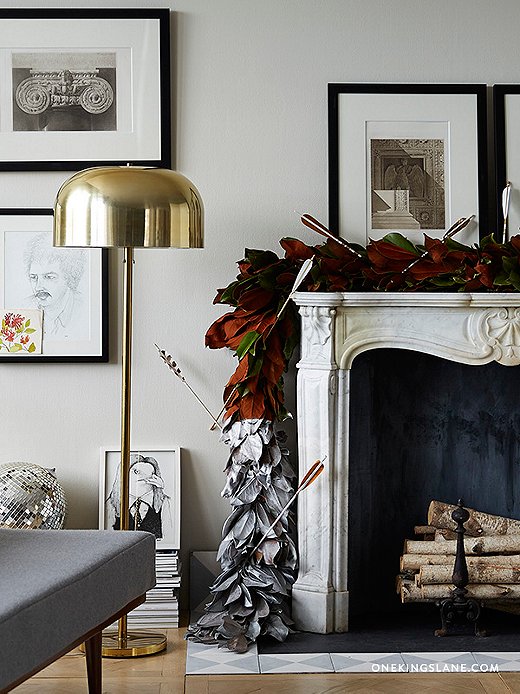 Wrap and Spray
Begin by wrapping the paper snugly around the garland, about 4 feet from each end, and securing it with tape. You want the paper to be fairly tight around the garland so that you get a crisp line. Once the paper is in place all that's left to do is spray. Be sure to flip the garland as you work so that you cover the exposed leaves on all sides. Let your garland dry for 15-20 minutes before you put it in place.
Tip: It probably goes without saying, but it's a good idea to work outside when you're using spray paint.
Place and Embellish
Now all that's left to do is remove the paper, get it in place, and enjoy! For yet another unexpected touch, we added a few decorative arrows to the greenery. Style bull's-eye!