1. On a Mirror
If you want your home to reflect your seasonal spirit, don't overlook your wall mirrors. Their frames make the perfect place to drape a garland. For this look the type of greenery you go with is key: Opt for something less structured, like cedar or pine, so that it hangs nicely along the sides.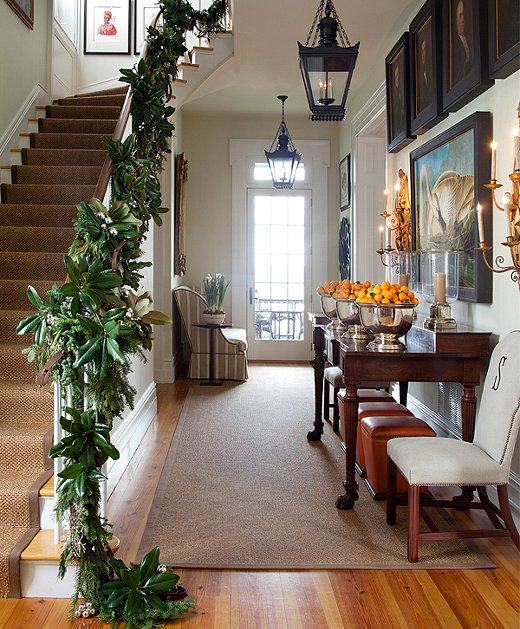 2. On a Banister
Their length makes garlands the perfect choice for outfitting a banister—and what better way to instantly put visitors in a festive frame of mind when they walk in the door? Adding a bit of drape when you swag leaves areas exposed for holding when going up and down the stairs, something to consider if you have older guests coming to stay. Just be sure to tack on a few extra feet when you measure for length.
3. On a Major Mantel
If you have a serious-size mantel, scale up your garland to match; otherwise it could end up looking a little on the sad side. We love the way designer Tobi Fairley punctuated this major greenery moment with clusters of citrus, another holiday classic.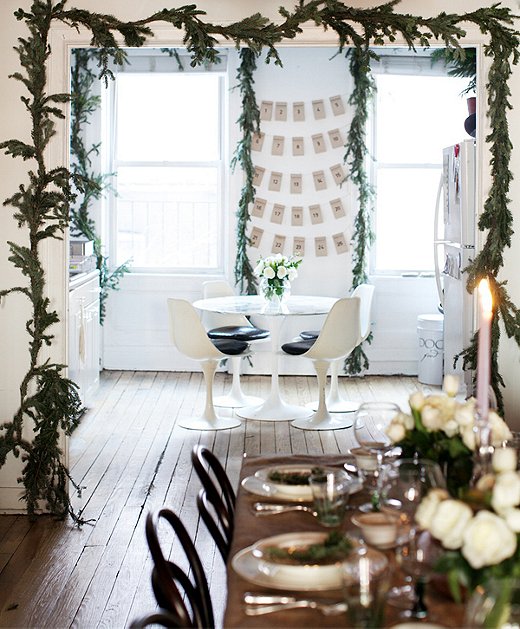 4. On the Architecture
Apartment dwellers may not have a statement mirror, banister, or mantel, but spots where a garland could go are all around you… literally. Don't overlook doorways and windows, which both look stunning framed up with a bit of greenery. Tiny nails are great for hanging, but if you'd prefer not to put holes in your wall, these clear, mini, removable hooks are a great alternative.
5. On a Modest Mantel
A petite mantel calls for a garland that functions as an accent, not an overpowering force, so think more basic than bushy. Using a garland on a mantel inevitably raises the question: to drape or not to drape? If you're feeling unsure here are three fail-safe options:
The Full Drape: over the top of the mantel and down the sides to the floor
The Half Drape: over the top of the mantel and halfway down the sides
The No Drape: sitting on top of the mantel, with no spillover down the sides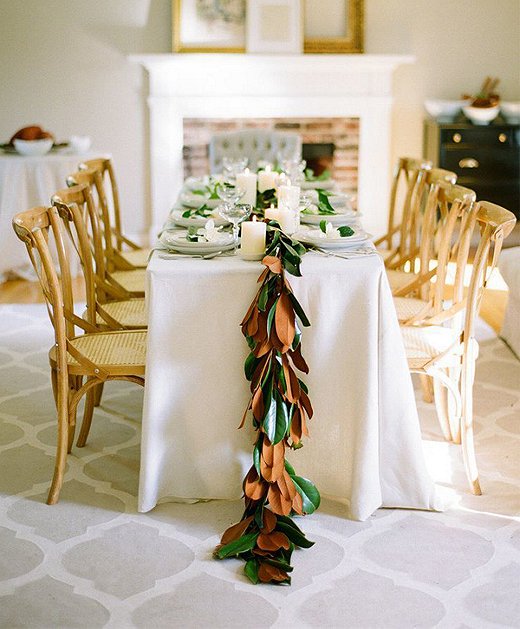 6. On a Table
Garlands make an instant holiday centerpiece when draped down the center of your table. Just nestle a few votives or pillar candles among the greenery and you're done. Any kind of garland looks great, but there's something so chic and understated about magnolia leaves, plus their scent won't overpower that of the food.