When it comes to a fabulously wrapped gift, we say let style be your guide! We mixed and matched papers, ribbons, and trims with the same goal as when putting together an outfit: to create an overall "look" that's uniquely you. Ready to score some holiday wrapping ideas and discover your gift-wrapping style? Grab some scissors and a roll of double-sided tape, and keep reading!
The Look: Chinoiserie Chic
It doesn't get more classic than this look. Pair beautiful, light-green wallpaper-inspired paper with a few gold ribbons tied in pretty bows, and you're done! Want to up the style ante? Try adding a tassel as a special topper—which holds up better during shipping, if you're mailing your gifts, than a fragile bow does.
The Look: Globe Trekker
For a well-traveled look, pair textured metal trim with wrapping paper featuring a bold and abstract pattern. For a more artful feel, skip the bow and just give the trim a clean finish with double-sided tape on the back of the package. Overlapping different ribbons and trims creates a look so layered, you won't miss the bow.
The Look: Golden Girl
The secret here is to go gold on gold and don't hold back. The result will be a lovely, ladylike package. Get as creative as you like with your ribbon and trim, since anything from luxe velvet to wispy beaded netting can give you this delicate, couture feel. Keeping a tight color palette of golden hues is really the key to this style.
The Look: Modern Bohemian
This look embraces the carefree, throw-caution-to-the-wind approach of patterned paper with patterned ribbon in seemingly mismatched colors. What takes it over the edge, however, is the addition of playful pom-pom trim on top of the ribbon for a truly special, tactile finish that makes a bow completely unnecessary. Just channel your own inner bohemian and have fun with unexpected combinations.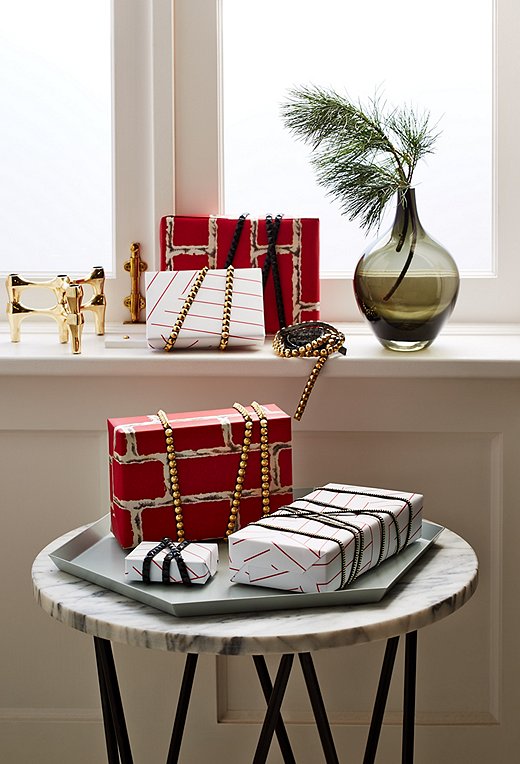 The Look: City Slicker
Paired with paper featuring a simple, modern design, studded trim makes for a stylish and überurban take on gift wrapping. For this edgy look, we wrapped the trim randomly around the package three times before securing it neatly on the back. This style works best on smaller gifts.
Pro tip: To hold extra-thick or textured ribbon or trim in place without a knot or bow, try using garment tape over your standard double-sided tape. 
To order any of the unusual ribbon trims featured in this story, contact info@mjtrim.com.