A New Nook
An alcove or a nook is nearly the perfect space to set up your home bar. Don't think just about the horizontal surface that you will need to place your decanters, glasses, jiggers, shakers, and other tools. Give the surrounding space a heavy dose of personality with statement pieces of artwork, lighting, and furniture. What other area of a home could handle a hung tortoise shell, a butterfly chandelier, and a zebra bench? Eclectic and highly personal pieces will also act as conversation starters until the libations kick in.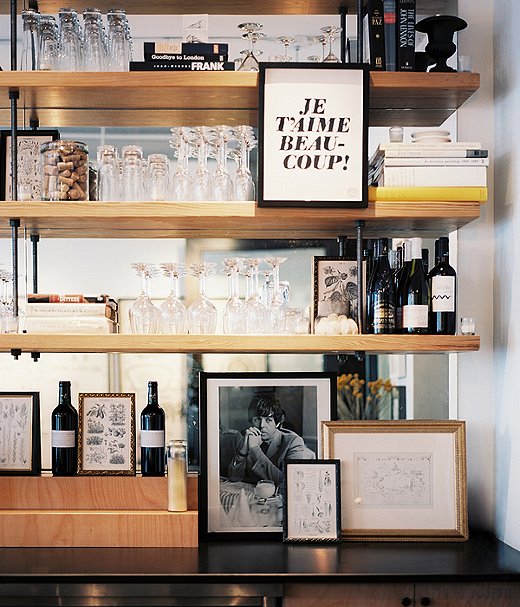 Express Yourself
In lieu of storing beloved items away in upper cabinets, we're big fans of open shelving. And when it comes to dedicating open shelving to a home bar, we're even bigger fans! Select a few areas of each shelf to your bar needs. Layer martini glasses, highballs, bowls of citrus, booze, and more on various levels and on opposing sides of each shelf. This also makes room for personal artwork, photographs, and recipe books to come into the mix. The eye will travel among your pieces and provide just as much of a beautiful decorating moment as a place to shake and stir. (Psst: If you don't have open shelving, don't be afraid to take cabinet doors off!)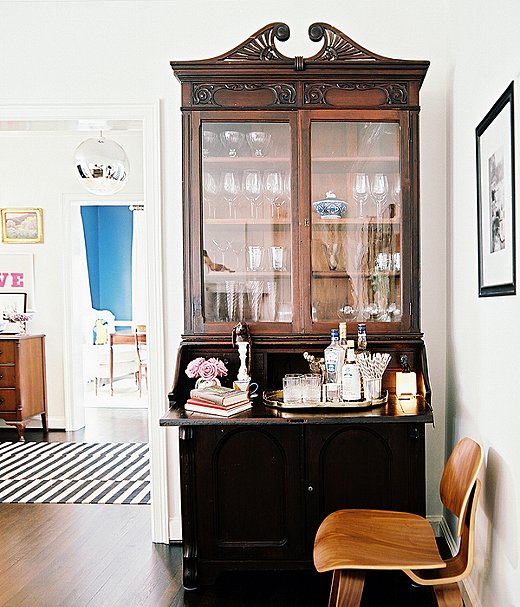 What's Old Is New
Whether you have preppy roots or a penchant for classical design, a well-loved antique secretary or cabinet can live a more popular life by filling its shelves with pitchers, coupes, tumblers, and beyond. We also love the idea of housing all the ingredients you need for an old-school cocktail of choice on the pullout shelf to create a moment suspended in time. Keeping the more-limited surface area and shelving focused will give the piece of furniture a new purpose.
Write It Off
Clear your computer and documents, leave the objets, and bring on the barware! What we love about using a desk as a bar is that it's a great small-space solution for entertaining you can leave out year-round. Instead of nestling the desk in a corner or up against the wall, pull it out into the open so that you and your guests can get around all sides when concocting your cocktails.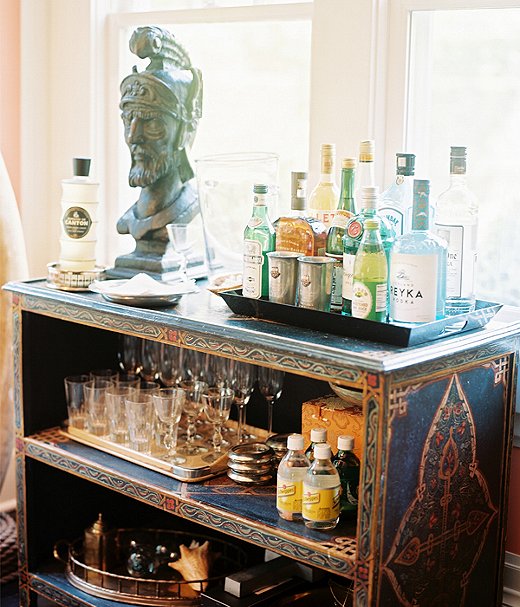 Bookish Charm
Adding a tray to the top of almost any surface in your home is a surefire and easy way to kick-start your home bar. Placing a tray on a bookcase is even better in that you can fill the lower shelving with all your necessities and leave the most-used and most-mesmerizing accessories atop. Find various style of trays (really, they don't have to match), and organize glassware on one, tools, coasters and cocktail napkins on the other. Place the additional trays inside the shelving for a well-organized look that also enables you to pull out items with ease.