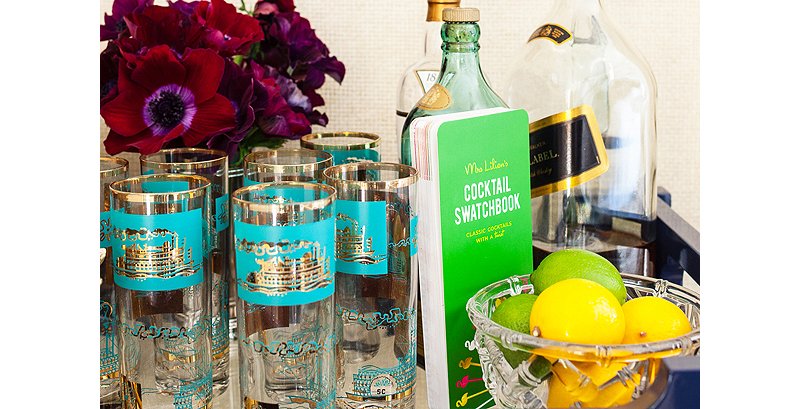 First things first, what do we need to stock a totally tricked-out bar?

"Here are my essentials:
• Tools: jigger, ice bucket and tongs, shaker, pitcher and stirrer, wine and beer opener
• Glassware: set of vintage highball and old-fashioned glasses, small cafe cups for wine, and vintage coupés for bubbles
• Booze: vodka, gin, tequila, rum (white and dark), bourbon, Scotch, bubbles, St-Germain, limoncello, Campari, Grand Marnier, vermouth (sweet and dry)
• Mixers: (fresh, always!): lemon, orange, grapefruit, lime, egg whites, soda water, plain simple syrup, craft simple syrups, and bitters
• Garnishes: fresh fruit slices, fresh berries, pomegranate seeds, fresh herb sprigs, novelty ice, specialty sugars and salts for rimming, edible glitter stars
• Accessories: a variety of swizzle sticks (vintage and new), colorful paper straws, sterling-silver straws, plastic pink elephants—you know, for fun!"
We never know how much booze to buy for a party. What do you suggest for a group of 10?

"Typically it's safe to plan for 2.5 libations per guest. That said, at my house and amongst my most dearest of lushes, I would take that number and DOUBLE it!"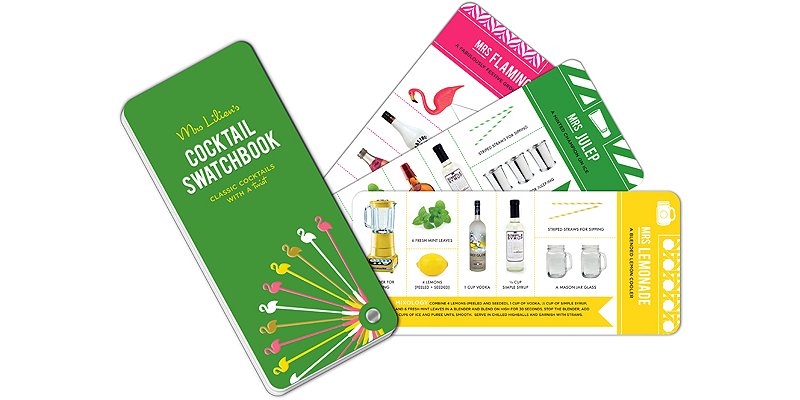 What three recipes from your book must we try?

"Since it's high citrus season my suggestions would be the Mrs. Salty Dog, the Bourbon Whistle, and the Mrs. Sidecar."

If you could have only three tools on hand when creating your cocktails, what would they be?

"If you are not an esteemed eyeballer I'd say a jigger for sure. Also, most cocktails that are fun require a shaker. Lastly, fabulous glassware—a good cocktail tastes even better when sipped out of something spectacular!"
What is your go-to recipe for a large party?

"A punch bowl is the way to go for large parties! I'm obsessed with my Starlight Bowl (above), and during the holidays I like to change it up by adding a handful of fresh cranberries (they FLOAT!)."

Are you a shaken, stirred, or blended girl?

"I'm a 'one of each but make it a double' kind of gal. I have yet to meet a preparation that I didn't like!"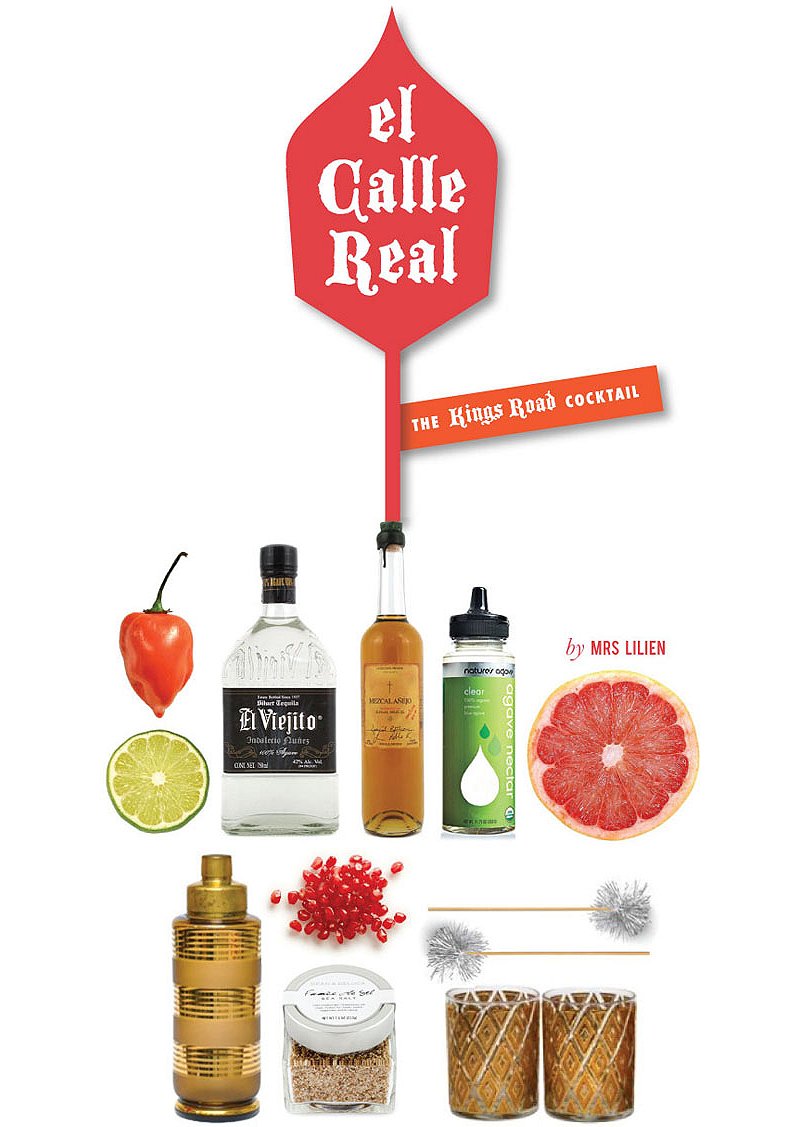 For our upcoming holiday party, would you create a signature One Kings Lane cocktail for us?

"I'd be delighted! Behold…the Calle Real (aka: The King's Road)
What You'll Need:
• 1.5 oz silver tequila
• 0.5 oz mezcal tequila
• 2 oz grapefruit juice
• 2 oz lime juice
• 1.5 oz agave
• 2-3 slices of habanero chilies
• Pinch of fresh pom seeds
• Smoked salt for rim
Mixology:
Add both tequilas, both juices, agave, and chilies to a shaker filled with ice. SHAKE! Pour over ice into a smoked-salt-rimmed highball, and garnish with pom seeds, a fun straw, and a festive swizzle!"
We'd like to extend a huge thank-you to Mrs. Lilien for her tips and tricks. For more on all things fabulous, check out her must-read blog here!