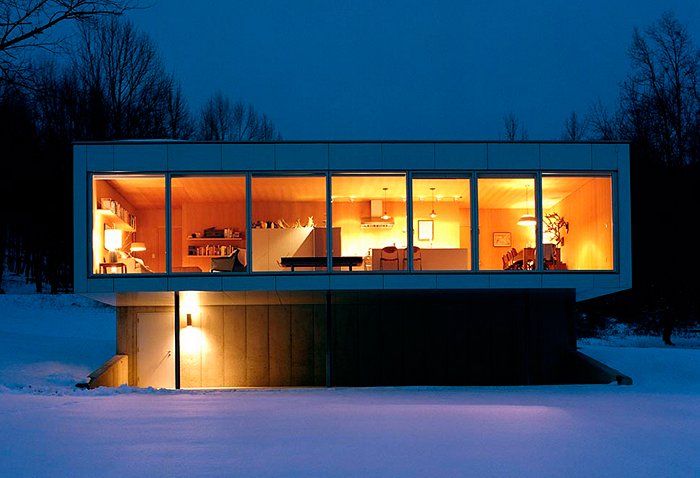 For globe-trotting photographer, blogger, and design-lover Matthew Hranek and his wife, Yolanda Edwards, the creative director of Condé Nast Traveler, life is naturally a series of adventures that often unfold on the road. But they always make family time to catch up and relax with their daughter, Clara, at their Modernist country house in upstate New York.
Located on 130 acres of bucolic landscape, the sleek glass house was a design collaboration among Matthew, Yolanda, and the Austrian architect Oskar Leo Kaufmann, whom Matthew met on a gig for Wallpaper magazine in Milan. "I said, 'Oskar, what about building a house on our property?'" says Matthew. "He said, 'Why don't we do a prefabricated house and we'll just ship it over?'" And that was it. Fast-forward to five months later, "the house came in four containers with six Austrians," says Matthew. "My local guys did all the groundwork and site prep. In four days, the house looked like that, and in four months we were in the house."
Since then it's become the family's escape from the bustle of New York City life. With its glass-fronted, light-filled, open setting, it's easy to see why. "No matter what the weather is, it's so meditative to sit and stare out the window at the field, trees, sky, and occasional deer," says Yolanda. Check out the inside and see why we're loving it as much as the family of three.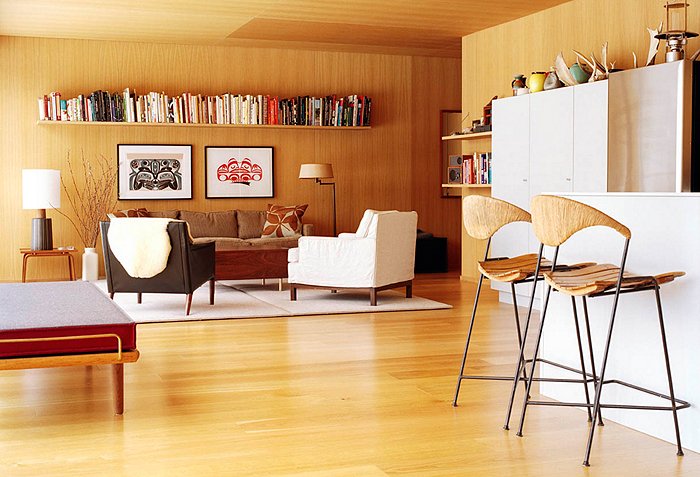 AN OPEN SETTING
The interior is one large rectangular open floor plan. But thanks to smart seating arrangements and a handful of vintage Scandinavian and midcentury pieces, the space feels cozy rather than sparse. "I had been collecting since high school," says Matthew. "After the house was built, I just brought it all in."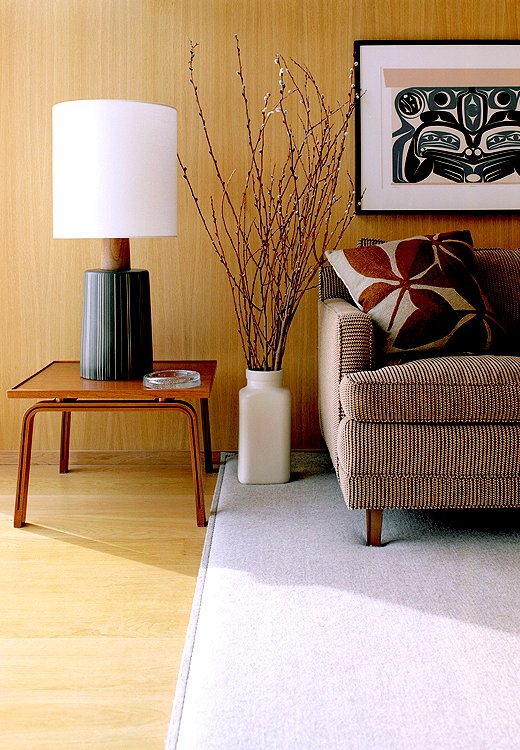 IT TAKES TWO
A thoughtfully composed vignette in the living area provides the perfect glimpse into Matthew and Yolanda's shared aesthetic. "We're approaching things in a very modern, geometric aesthetic, and I think that's why it works here," says Matthew. "We are pretty synced up on our color choices and design sensibility, which is good," adds Yolanda.
SOMETHING'S ALWAYS COOKING
"I'm very active in the kitchen. I love a big meal with a lot of people. We do that very often." The Corian island is a stark contrast in texture to the architectural barstools found at a junk shop. Matthew had the hanging copper pendants custom-made. "I love the way '70s copper kitchens always felt when I was growing up," he says. "I always thought it was supermodern."
AN IDYLLIC SCENE
The kitchen may be the heart of the home, but we love the dining area setup: a simple clean-lined table surrounded by Thonet chairs. All but two of the chairs were found at a junk shop. "The two end bentwood Thonet chairs I bought on eBay, and they came from the Enron executive dining room," Matthew says. From one end of the table, where the snowy outdoors is in plain sight during winter, we found our favorite seat in the house.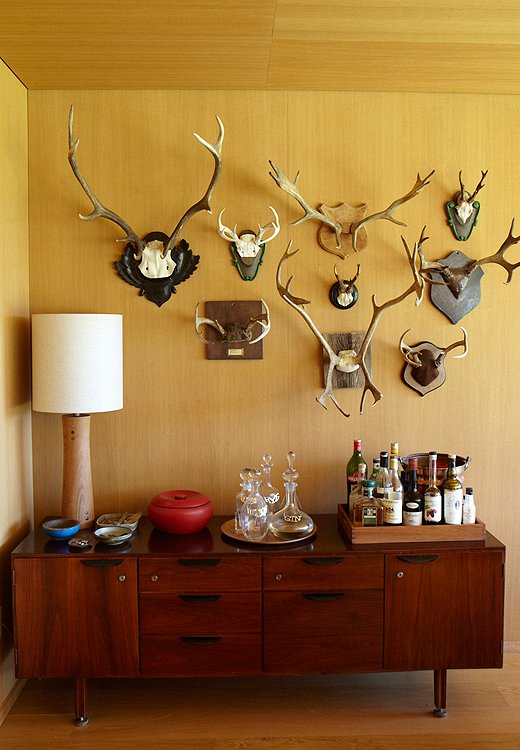 A MOMENT OF NOSTALGIA
Matthew's design style is perfectly captured in the bar area off to the corner. "I grew up going on deer hunts with my grandfather. There were always those trophy rooms," he says. "But I remember going through World of Interiors one time and there was this amazing country lodge in Scotland. One whole wall had antlers descending in scale. I just thought it was the most beautiful thing I'd ever seen."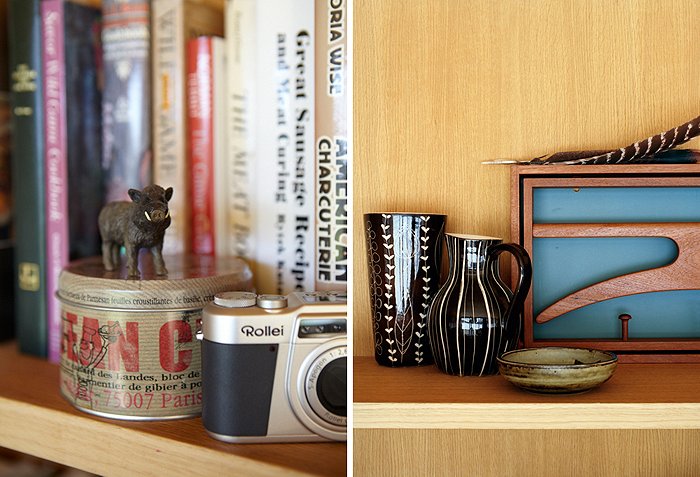 MEMORIES ON DISPLAY
Memorabilia are scattered across both homes. They range from a tin can, brought back from a French restaurant, that's now filled with champagne caps to Arabia pottery. "I was in love with all that Arabia pottery in the '80s, and I would just find it and buy it. I didn't know much about it; it just appeals to me aesthetically," says Matthew.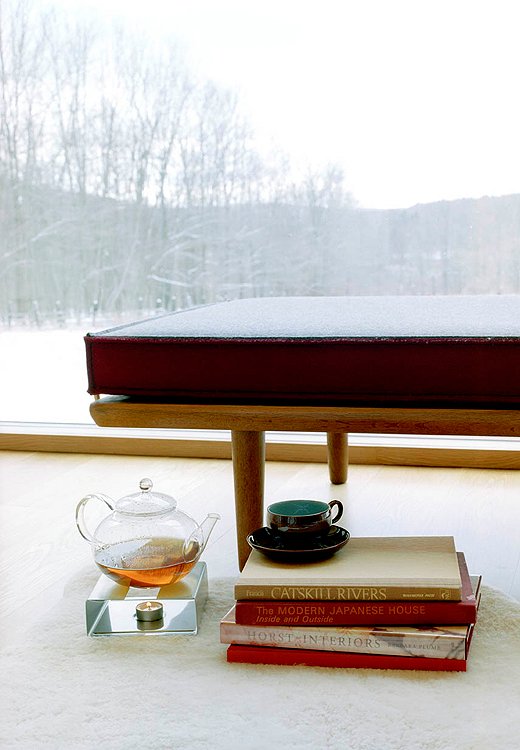 THE ULTIMATE ESCAPE
For a family of avid readers and book-lovers—be it art tomes, cookbooks, or vintage activity books for Clara—this spot encapsulates everything the country home stands for. "It's about what brings us the most joy," Matthew says. "For me, it's the escape. It allows me to clear my head."