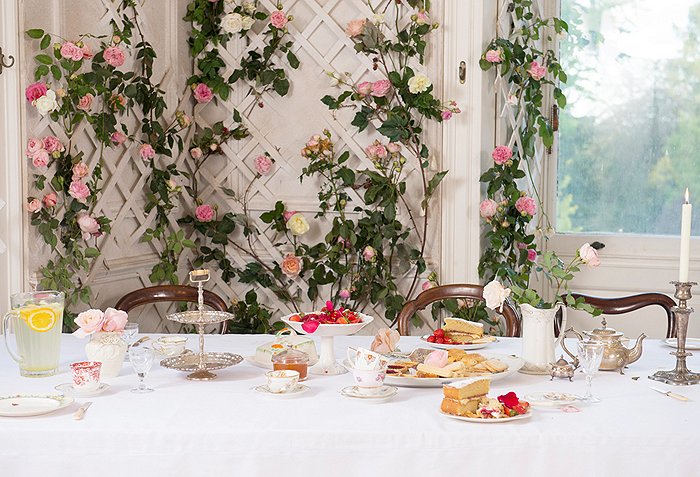 Britain-based Mulberry is one of those slightly under-the-radar brands worn by all the chicest celebrities including Sienna Miller and Kate Bosworth. Its clothing is structured and cool, and its purses? Three words: to die for. That's no surprise given that the brand got its start as a leather-goods company. When we first spied its tea-party-themed summer 2014 collection, it made us want to play dress up and throw the adult version of the tea parties we hosted as kids.
Afternoon tea, typically served between 4 and 6pm to help hold you over for dinner, can be as simple as a cuppa and a biscuit or as elaborate as stacks of sweets, cut-crust sandwiches, scones and clotted cream, and tea galore. We think the latter is perfect for your next get-together with friends, so we've conjured up all the elements you need for a tête-à-tête with tea.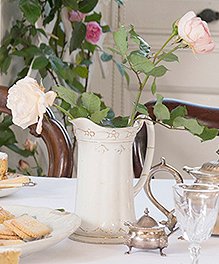 Why not use a vintage pitcher in lieu of a vase? A few flowers—even stems snipped quickly from your garden—placed in one looks on-theme and effortlessly chic.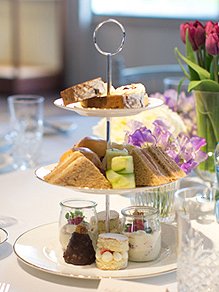 When it comes to the food, think in layers: The standard spread includes one layer of dainty sandwiches (cucumber, butter, and salt is a fave—with the crusts cut off, of course), one of cakes, and one of scones. You can also offer pastries, petits fours, and biscuits.
Plan A Perfectly Lovely Tea Party
All tabletop photos courtesy of Mulberry.