As flowers start to bloom, the allure of alfresco living grows stronger and stronger. There's no better place to take in the visual and olfactory delights of the season than in the garden. (French, English, Japanese, or kitchen—we're fans of all different styles.) While outdoor dining can happen all season long, there are only a few weeks in spring when garden parties thrive. Take advantage of the bright burst of blooms when you can and spend an afternoon lunching and lounging with friends. We've put together a guide that covers everything from setting a lunch table to picking out the best flowers.
Set the Mood
The best part of a garden party is that nature provides most of the decor. Your only job is to enhance what's already there. Because garden parties are held during the day, you won't have candles or string lights to set the mood. Instead, opt for great music and colorful table linens. "Don't hold back when setting your table outdoors," says Becca Roderick, One Kings Lane's director of interior design. "Your outdoor table can be just as layered and impressive as an indoor dining event." She suggests going with bright and light linens that reflect the airy beauty of a garden.
"Don't fret about everything matching," says Miami-based designer Constanza Collarte. "I'll take wineglasses from different sets, napkins in a few shades, and multipatterned place mats that coordinate to create an interesting tablescape."
The right menu will also help curate the proper "ladies who lunch" vibe that a garden party demands. Think light food such as a frisée salad with grilled chicken or salmon. Pair your bites with a crisp white wine or refreshing peach and pink-peppercorn lemonade.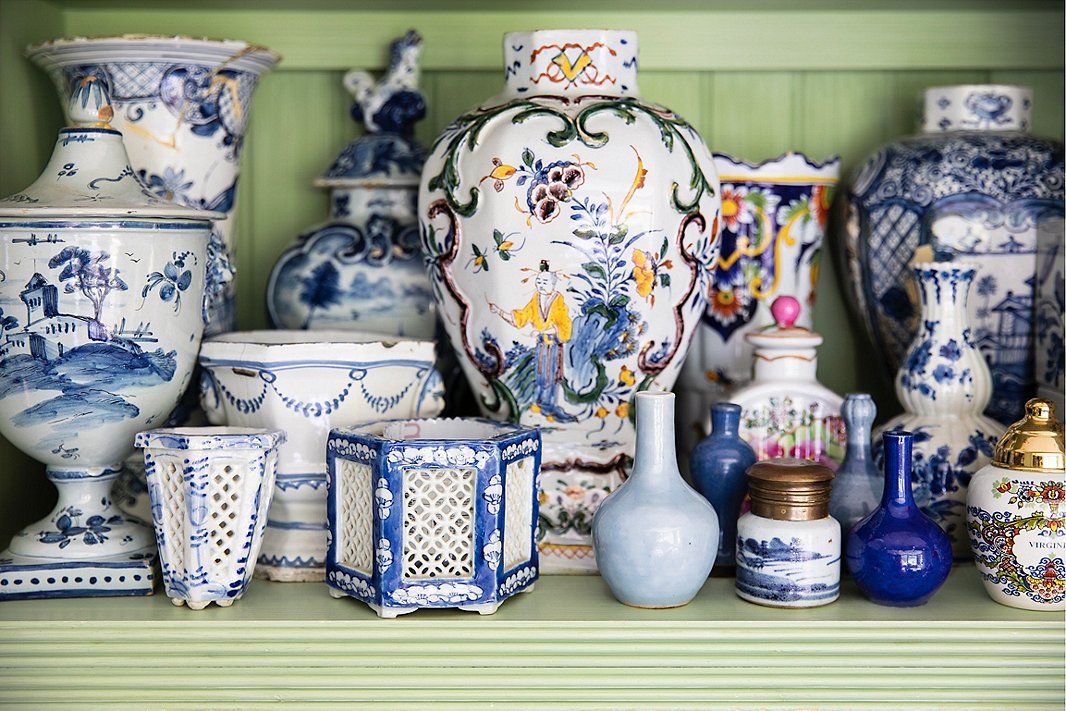 Floral Fine-Tuning
Your tablescape should reflect the fantasia of colors that surround you in a garden, and that starts with flowers. Famed designer Charlotte Moss's 11th book, Charlotte Moss Flowers, available now, is a modern master class on floral arranging, akin to taking a long and winding walk through a garden with Charlotte herself. Sprinkled generously among her stories about inspiring people and places are her best floral design tips. We've shared a few favorite tips below, but to get the full experience you'll have to pick up a copy of Flowers for yourself.
On vases: "Just about anything that holds water can hold flowers, so keep an open mind when you are shopping," Charlotte suggests. If you aren't shopping for a particular vessel, such as a centerpiece for the dining table or a chinoiserie vase for the entryway, let the flowers guide your selection. You can (and should) coordinate your vase pick with the color and feel of your table linens and china. Leafy flowers require a shorter vase, while tall stems need an equally tall container. Shop vases →
On tools of the trade: Top of Charlotte's tool list is the flower frog, a grid that sits at the mouth of the vase to keep flowers in place. Charlotte recommends you invest in metal, glass, and ceramic grids of various sizes so that you're always prepared. Her other secret weapon may be a bit more accessible. "I love the flexibility of chicken wire for positioning flowers," she writes. "It can be cut to size, shaped, and used again and again." 
On keeping flowers fresh: Bring the garden to your table seamlessly by cutting a few blooms from your garden to add to an existing arrangement. If you cut before you've got everything planned out, Charlotte suggests plunging them into a bucket full of water immediately after cutting: "This step will give you a chance to get organized, make your vase selection, and contemplate your arrangement." She also suggests misting your arrangements after completion to keep them looking fresh.