European elegance meets California ease: It's an irresistible aesthetic pairing— and one that has made home decor brand Hudson Grace a favorite of the West Coast style set. Founded in 2012 by best friends Monelle Totah and Gary McNatton, Hudson Grace has since expanded from one San Francisco shop to five loctaions across Northern and Southern California, and its signature tableware, candles, and entertaining pieces have attracted a serious following.
It's easy to see why. With close to 30 years of retail experience each—encompassing tableware, furnishings, fine fragrance, and package design—Monelle and Gary come by their decor cred honestly. They're also their own ideal customers. "We both have a passion for entertaining and a love of home," Monelle says. In creating the kind of simple, authentic products they themselves want to use, they've tapped into a desire we all share—for pieces that make our homes more inviting, more functional, and more beautiful.
We chatted with Monelle and Gary about what sets their designs apart, how their (very different) personal styles work together, and what pieces they rely on time and again for effortlessly stylish entertaining.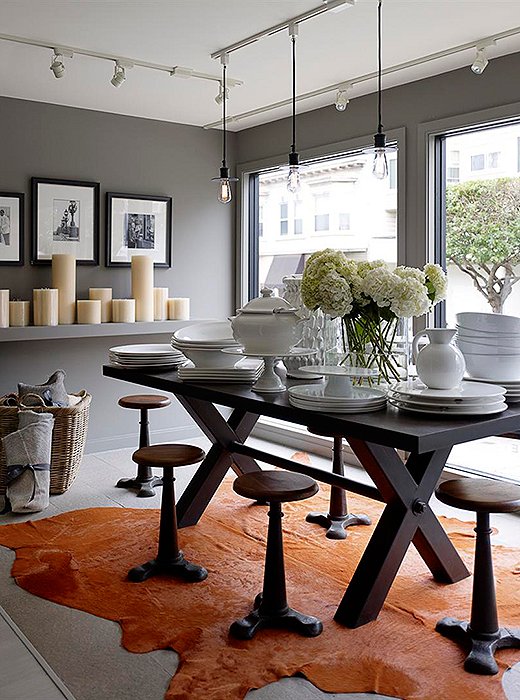 Bringing Something New to the Table
As avid entertainers, Monelle and Gary share a passion for tableware—particularly of the Old World variety. So in planning the launch of their own collection, they looked to family-owned European factories ("many of which are over a hundred years old and fading due to mass production done outside of Europe," Monelle notes) where artisanal techniques are still in practice. The pair spend months abroad each year, traveling from Italy to France to England and beyond to select—and perfect—Hudson Grace's signature serving pieces, glassware, and accents.
Finding a Balance
"I love to collect, and I love to shop," says Monelle, who describes her style as eclectic with a European bent. Gary, on the other hand, tends more to the dramatic—simple forms, statement silhouettes. "I think of myself as a modernist and a minimalist," he says. "I do believe less is more."
It's these differences that shape Hudson Grace's unique, covetable aesthetic, in which clean lines live happily alongside organic materials and Old World patinas. "Our individual tastes and styles have helped educate each other to create a comfortable mix that is uniquely ours," Monelle says. Adds Gary, "Our products can fit in a cozy cottage, a classic New York apartment, or a modern glass box—it's all in the mix."
Our individual tastes and styles have helped educate each other to create a comfortable mix that is uniquely ours.
The Scents of Home
Hudson Grace's scented candles are a particular fan favorite. Each exclusive fragrance is developed by Gary in collaboration with a master perfumer, and each starts with a name, a location, or an experience as inspiration. "Then the real work begins: finding the balance in the notes, which can take months to a year," Monelle says. "You can't rush it." Gary tests each candle prototype in his own home, tweaking the fragrance over and over again until it's just right.
Monelle and Gary's Entertaining Essentials
"I love to cook for friends and family," Monelle says. "I prefer sit-down dinner parties and always starting with a signature cocktail and a beautiful rustic cheese board, great music, and lots of candles." Gary's specialty is setting the mood rather than the menu ("My partner, Michael, is an amazing cook, so I stay out of the way"), though he does claim one secret ingredient: "dramatic lighting." Here, Monelle and Gary share their other hosting must-haves:
White platters. "You truly cannot have too many—it sets a beautiful buffet table," Monelle says.
Cake stands. "We get such inspiration from one of our favorite restaurants in London, Ottolenghi, with its beautiful presentations using stands of different heights," Monelle says. The pair suggest stocking up on styles in silver, glass, or ceramic.
Cloth napkins. "Every host should have them ready in an array of colors and types," Monelle says. "And always oversize—22 inches or bigger" for a feeling of "generosity."