There aren't that many givens when it comes to decorating. One of the few, however, is that your bedroom will likely include some sort of bed. What follows is another given: that you'll be left with a large swath of empty wall above said bed. That's where the givens end. Hanging some artwork is a seemingly straightforward choice, but in what configuration? How about something less expected to shake things up? We rounded up some gorgeous ideas to spark your imagination and help you complete your sanctuary in style.
1. The Gallery Wall
If your ideal bedroom is full of life, hanging a diverse array of artwork provides the eye with a treasure chest of places to rest. The overall look will be a vibrant gallery curated to your taste.
2. The Hanging Textile
If you love an eclectic look (or happen to be a globe-trotter with a penchant for fabric), consider hanging a textile in the place of, or in addition to, a headboard. Textiles featuring a clearly defined design tend to read as artwork, whereas a repeating pattern can have more of a curtainlike vibe, but both are equally as gorgeous.
3. The Principal Artwork
If "less is more" tends to be your guiding decorating philosophy, opt for mounting a single magnificent, oversize piece of art above your bed. One with visual intricacy, such as a busy photograph or a heavily patterned abstract, will have an energizing effect. For something a bit more restful, try a monochromatic work.
4. The 3-D Piece
A sculptural piece of wall decor is one of the more unexpected routes to go for above the bed, which is why it's the most likely to feel fresh and playful. The overall effect will vary depending on the size and color of the piece you choose, but if you're worried the item isn't big enough to anchor the entire wall, center it above the bed and find a few flanking items to help fill things out.
5. The Statement Mirror
If you love a room with lots of light, fill the wall above your bed with an eye-catching statement mirror. The mirror will reflect the natural light from your windows to make your boudoir feel lustrous and airy. A large mirror is also a great way to give your room the illusion of more space.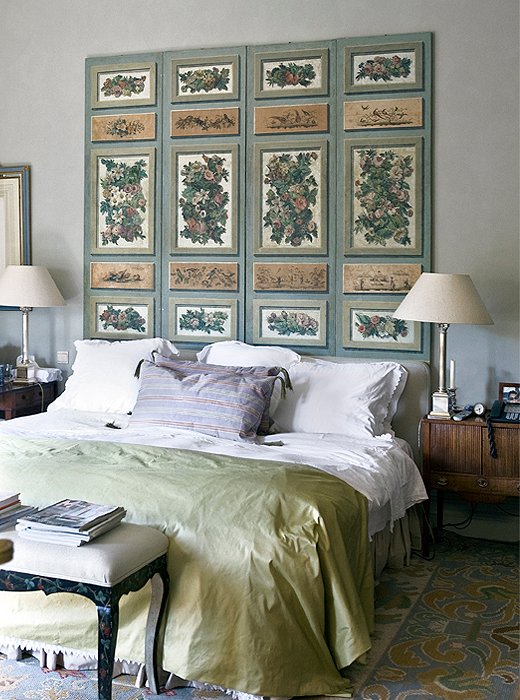 6. The Folding Screen
If you're in need of a pièce de résistance, place a traditional folding screen behind your headboard. The more intricate the design, the more it will draw the eye, creating an out-of-the-ordinary focal point for your room.
7. The Matched Set
In the realm of artwork, if the gallery wall feels too busy and a large piece of artwork is just too, well, big, a matching set is a great option. This can be a diptych, a triptych, or simply several works similar in size or style. A symmetrical hanging arrangement retains the sense of visual calm but can be expanded out or up to accommodate the size of your wall. Matching frames allow you to have fun with the prints or photographs while retaining the feeling of a coordinated group.