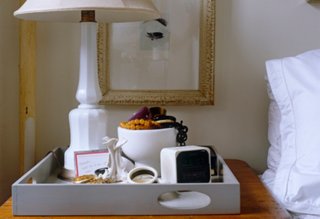 Beside a Bed
Place a deep tray on top of your nightstand to help contain items such as your alarm clock, notes, and pen and pencils. You can also station a lamp inside the tray, which will instantly make your bedside appear polished and organized.
As a Bar
A silver tray has a naturally elegant and polished look, and with bottles on top it can instantly become a formal, portable bar. Or pick a tray with tall sides, which will neatly contain bottles, glasses, and other beverages.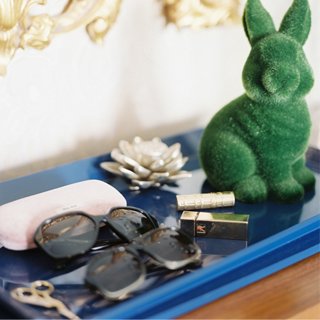 By the Front Door
Use a brightly colored or patterned tray as a catchall for keys, coins, and accessories in the foyer. It's the best way to contain everyday items in one spot, making them easy to grab on your way out or to set down as you come home.
PHOTO BY PATRICK CLINE/LONNY MAGAZINE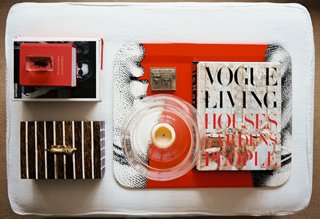 On a Coffee Table
A tray functions as a unifying foundation layer that can turn a group of disparate coffee table items like candles, matches, decorative objects, and books into a pulled-together vignette. They're also a stable, flat surface if your coffee table happens to be a large ottoman.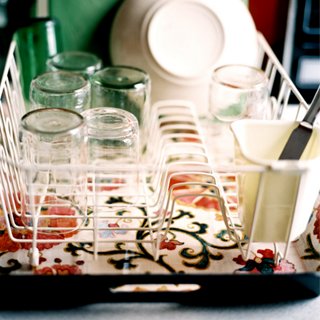 Under a Dish Rack
There's no need to limit yourself to a run-of-the-mill plastic tray to hold your dish rack. Swap it out for a tray with a bit of pattern and color. Just make sure it's made with water-resistant materials or finishes, like resin or glossy lacquer.
PHOTO BY PATRICK CLINE/LONNY MAGAZINE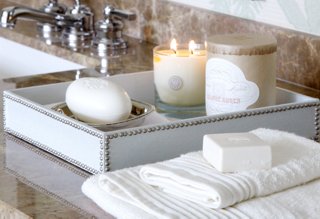 On a Bathroom Counter
A chic studded tray is a simple accent that can make any bathroom or powder room feel luxurious. Go for a relaxing spa-inspired look by grouping bath accessories and candles neatly in the tray, or fill it with folded and rolled towels.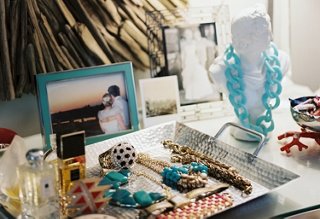 On a Vanity
Showcase jewelry and accessories by arranging them in a pretty square tray on your dressing table. We like the idea of a shiny hammered-metal tray, which has a handcrafted look that perfectly complements unique rings, chunky necklaces, and perfume bottles.
PHOTO BY PATRICK CLINE/LONNY MAGAZINE