Home libraries needn't be the stuff of mansion-size dreams. Whether you live in a classic city apartment with your family or a tiny bungalow on your own, creating a space for your books and getting lost in them can be as simple as carving out room for a big comfy armchair and a neatly arranged bookshelf.
We're taking a page from a few of our favorite home libraries—from a tucked-away study nook to a book-lined dining room—to create reading spaces where we can totally cozy up and escape. Read on to see how you can easily dream up a captivating and organized library area anywhere in your home—and let your imagination run free.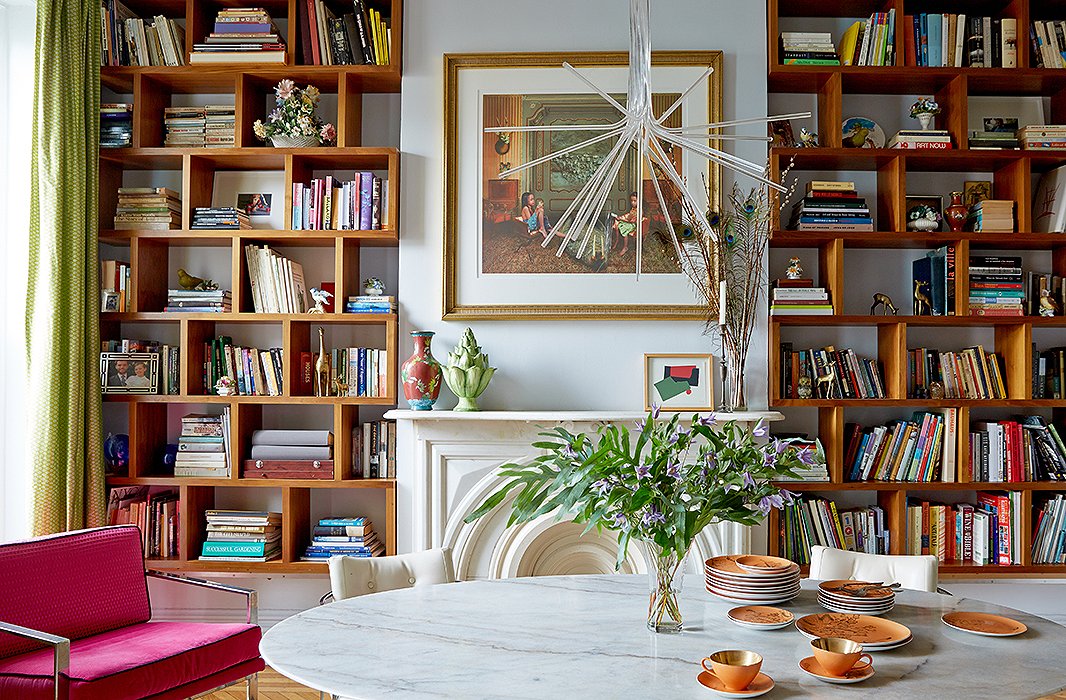 Line Your Walls with Stories
If you're short on space, infuse an existing room with a fresh purpose by lining the walls with shelves stacked with your favorite books. A library wall can be a welcome addition to almost any area, from an occasionally occupied guest room to a highly trafficked hallway. We particularly love a library-dining room combo—the shelves make an impossibly chic backdrop for gatherings as well as turn the space into a casual reading room for leisurely afternoons.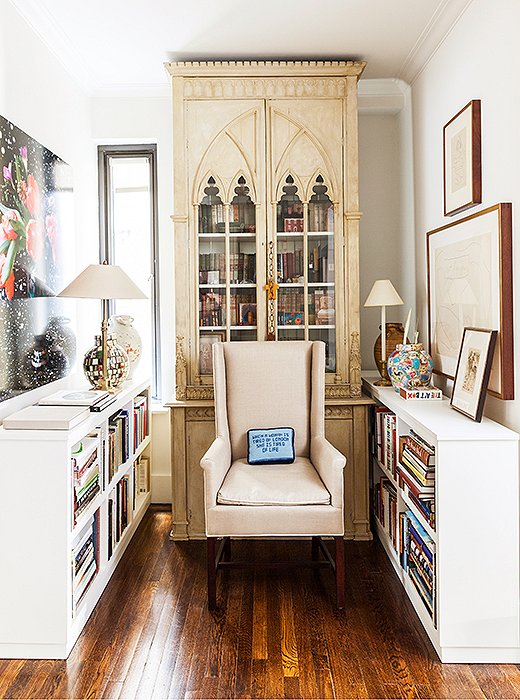 See Possibilities in Small Spaces
A hallway, a landing, or an alcove is a library in the making—all you need are a few small-space solutions. Here, that meant slim and low bookcases tucked away alongside an armoire and a high-back chair. The neutral palette keeps the area from feeling cluttered, while the cabinet provides plenty of deep storage. Add a table or a floor lamp to illuminate your volumes and you have a perfectly polished reading nook.
Ground Your Collections with Color
Why not create a space as colorful as your books and their stories within? We love a bold space with bright hues, lively patterns, and a bit of over-the-top glamour. Try a lacquered bookcase in a vibrant shade, and add a few exotic accents like coral and malachite to up the dazzle. This kelly-green mezzanine library also brings a beautiful architectural element to an unexpected and often forgotten space.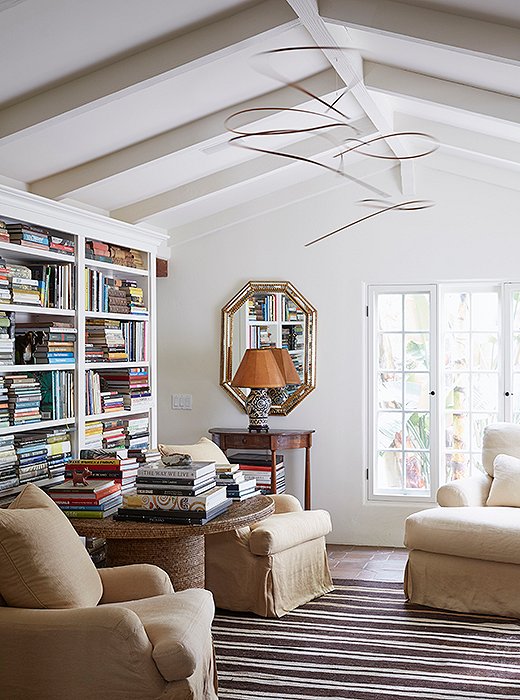 Make Space for Lots of Lounging
A home library should be more than a catchall for your books and storage—once you've picked up a good book, you'll need a place to curl up with it. Dedicate an area in your home for a set of big comfy armchairs alongside a wall of bookshelves to create an enormously cozy library corner. Plus, a deep chair to sink into is a must for long afternoons with a classic—and extra seating means others (including little ones) can also lounge with their favorite reads.
Live Big with Your Books (and Art!)
Open floor plans make it easy to combine areas, such as the living and dining areas, into one multipurpose space, so why not add a room-spanning library into the mix? Floor-to-ceiling bookshelves that run the entire length of the space make a big visual impact, and you can easily pair them with an equally eye-catching wall of art. Add a library ladder for a modern touch and to keep everything right at hand. After all, one can never have too many books.
Focus Your Inspirations
If you're not one for an entire room with miles of books, look for areas where you can fashion recessed shelving to hold your cherished reads and reference books. Even a few shelves will suffice, as this home office reading area proves. Take after this simple yet sophisticated library area by flanking a fireplace with a curated selection of art, design, and cooking books to spur your creativity. This way, inspiration will be front and center—and always right at hand.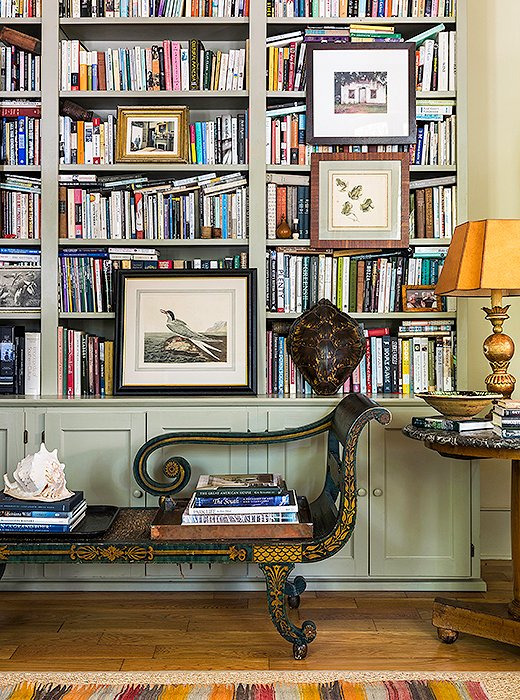 Add Art to the Story
There's no need to limit your library to the literary arts. Balance the sea of books with displays of artwork, collections, and other treasures for a look that recalls a cabinet of curiosities. Use pieces as bookends, or hang art on the shelves—just the pretty accent to disguise any guilty-pleasure thrillers and beach reads.
Color-Code Your Classics
There's no denying the traditional beauty of a classic library. Go for the grand and gorgeous design elements that evoke the hallowed halls of Oxford or Cambridge. Think vintage globes, stately busts, brass lighting, and furnishings with pedigree. To keep the look current (and for bright contrast), arrange your books by color—yes, we say set aside the dust jackets for now.