1. Find a New Point of View
Pots can definitely pretty up an outdoor space, but it's hard to create that feeling of escaping to the country while staring at a brick wall. Transform your garden's perimeter into something worth looking at with a trellis, perfect for adding polish to an outdoor wall, and an arbor for an overgrown focal point.
Bonus: Most of these structures are wood and can easily be painted any color that suits your fancy and your style.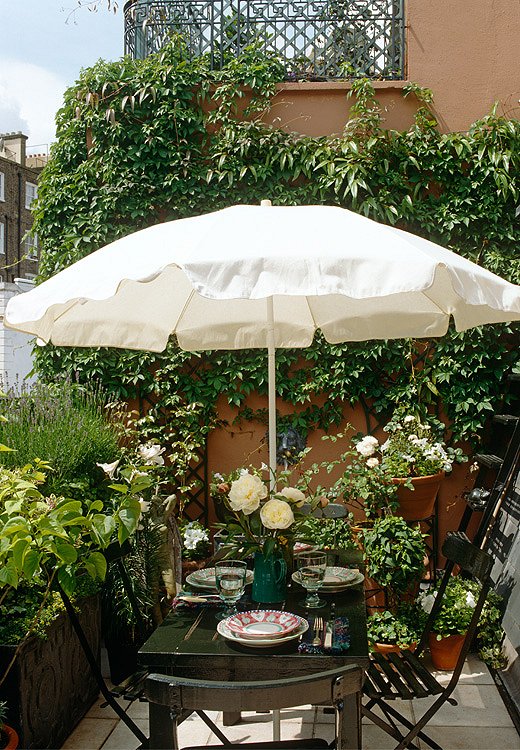 2. Design a Tricked-Out Terrace
If your "garden" consists of a tiny concrete slab, pots (and lots of them) are definitely the way to go. It may seem counterintuitive given the limited space, but using a row of long, narrow planters along the edge of your terrace can help create a greenery guardrail between you and the city beyond. To complete the cocooning effect, tiered plant stands are great for getting your greenery off the ground and bringing it up to eye level.
3. Add Structure
After pots, our second favorite "p" word for creating a fantasy garden has to be pergola. It instantly adds structure and defines parts of your outdoor space for specific uses, which is helpful since urban outdoor spaces tend to be continuous paved areas. No place to plant climbing vines? A pergola's slats are just as great for hanging plants as they are for supporting climbers.
4. Channel Style with Plants
The word garden tends to connote roses and hydrangeas, but a dream urban oasis can also be more Yves Saint Laurent's Jardin Majorelle in Marrakech than English countryside. Tropical plantings like philodendrons, sculptural succulents, or a mini palm tree will add a touch of the exotic, even if your home is in the heart of the city.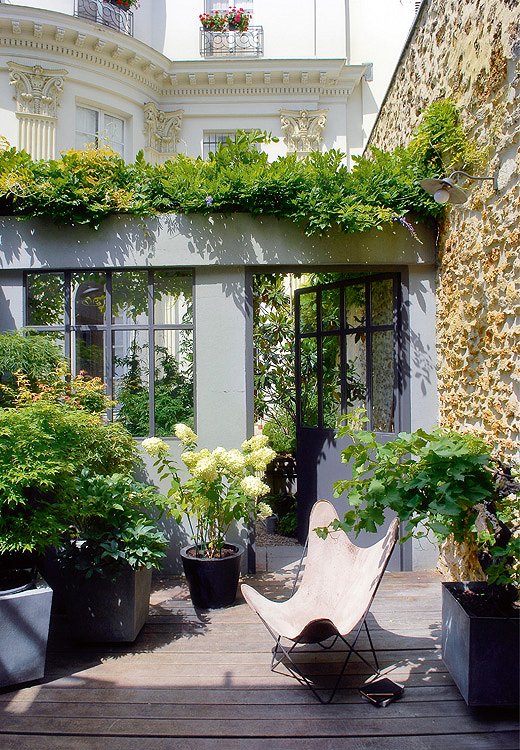 5. Pick a Singular Pot Palette
There's something to be said for just filling an outdoor deck with a ton of gorgeous potted plantings, but what was pretty can quickly look random.
Pick a palette for your pots and stick to it, looking for interesting shapes and lines (in your pots or your plants) to keep the space visually dynamic.
6. Create a Sense of Place
The goal of any good urban garden is to create a place where you can leave all the hustle and bustle behind. You can accomplish this simply by tucking a bench into a shady spot with a pillow or two to accommodate lingering. Adding a few pots will complete the effect, but either way you can say you spent the afternoon reading in your garden.