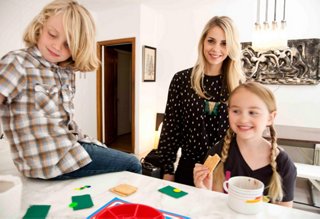 L.A.-based designer and storeowner Tamara Kaye-Honey creates fresh, gutsy interiors by combining present-day polish with the character that comes with vintage pieces. She even coined her own term for it, "New Vintage." Her shop and home are both filled with inspiring ideas, so we sat down with Kaye-Honey to glean a bit of decorating know-how from this master of the mix.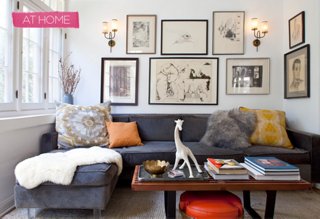 Build on Your Foundation
At home, Kaye-Honey used a dark sofa to ground a white, airy TV room, whereas in her shop she did the reverse, painting the walls a dark gray to help the lighter pieces really pop. Regardless of the walls' color, Kaye-Honey doesn't think a tight budget is any reason for them to be bare. "Art is crucial to an interior, and I think anyone can start an art collection no matter the budget or age. Both my kids have started collecting art from flea markets and thrift stores. I also don't think there's such a thing as right and wrong when it comes to mixing art. I sometimes frame modern art in ornate frames for an unexpected touch," she says.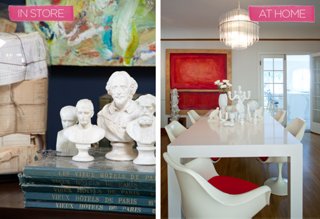 Achieve Continuity with Color
Mixing old and new often goes hand in hand with mixing high and low. "Take pride in what you have, no matter how valuable. I bought our dining room table on Craigslist for next to nothing, but our Saarinen Tulip dining chairs were a splurge," says Kaye-Honey. One of her strategies for achieving a cohesive look is to stick to a single color. "The effect of different pieces all in one color is very dramatic."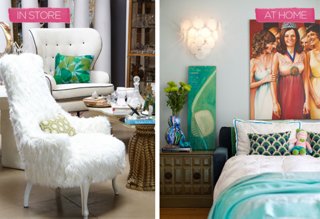 Embrace a Sense of Play
"The design of a home should be sophisticated but not take itself too seriously," says Kaye-Honey. "I think it needs to evolve, with layers and unexpected, maybe even silly, moments to keep it soulful and unique." She adopts this same philosophy in her shop with lighthearted, tongue-in-cheek pieces. "By mixing old and new with whimsical and unusual pieces, patterns, shapes, and colors, I try to take a playfully modern approach to design."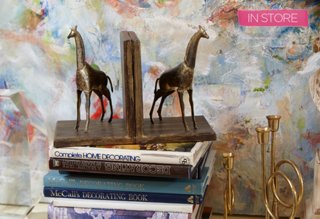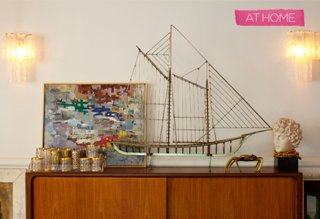 Build a Layered Vignette
Arranging a killer vignette is part of Kaye-Honey's job as both a shopkeeper and a designer, so we asked her to share her three rules of thumb for creating seriously stylish surfaces throughout your home.
1. "Groupings of three with varying heights work best to create a visual stunner."
2. "For a pop of unexpected color, create a grouping with numerous vintage glass bottles in the same color, like lime green."
3. "Mirrors are my secret weapon for opening up a space and creating a vignette with drama. Use pairs if you can get them."
To learn more Tamara Kaye-Honey or to see more of her inspiring work, pop over to the House of Honey website. And since not everyone can make it to L.A. to pay a visit to her store, we decided to bring the store to you. Don't miss the House of Honey Tastemaker Tag Sale, going on now!
(Photography by Peden Munk, Teri Lynn Fisher, and Kim Gresco)