At first blush, India Hicks seems to have fallen into a fairy-tale life: Once upon a time, the model, British aristocrat (Prince Charles is her godfather), and design royalty (her father was legendary 1960s designer David Hicks) fell in love in the Bahamas. There she stayed, raising five children in barefoot bliss and beautifully restoring a series of island homes with names like Windermere and Hibiscus Hill.
But over a long phone chat—interrupted by Bahamian power outages every few minutes—it's clear that her lovely life isn't just the result of happenstance, and she doesn't take any of it for granted. Behind the fairy tale is a woman who is fiercely hardworking and independent-minded, with an irrepressible entrepreneurial spirit.
She recently launched her biggest endeavor yet: India Hicks, Inc. With this company, India's updating the old definition of direct sales (we can't help but think of Avon) by overlaying her own beautiful lifestyle and a very chic line of products. The jewelry, scarves, bags, and beauty creams—all designed by India—are offered in fun get-togethers where everyone sips an island cocktail while shopping. It calls to mind the dreamy shop that India runs on Harbour Island but has a empowering purpose.
We asked her all about why she choose this new challenge and what life is really like in paradise. Get to know the inspiring India.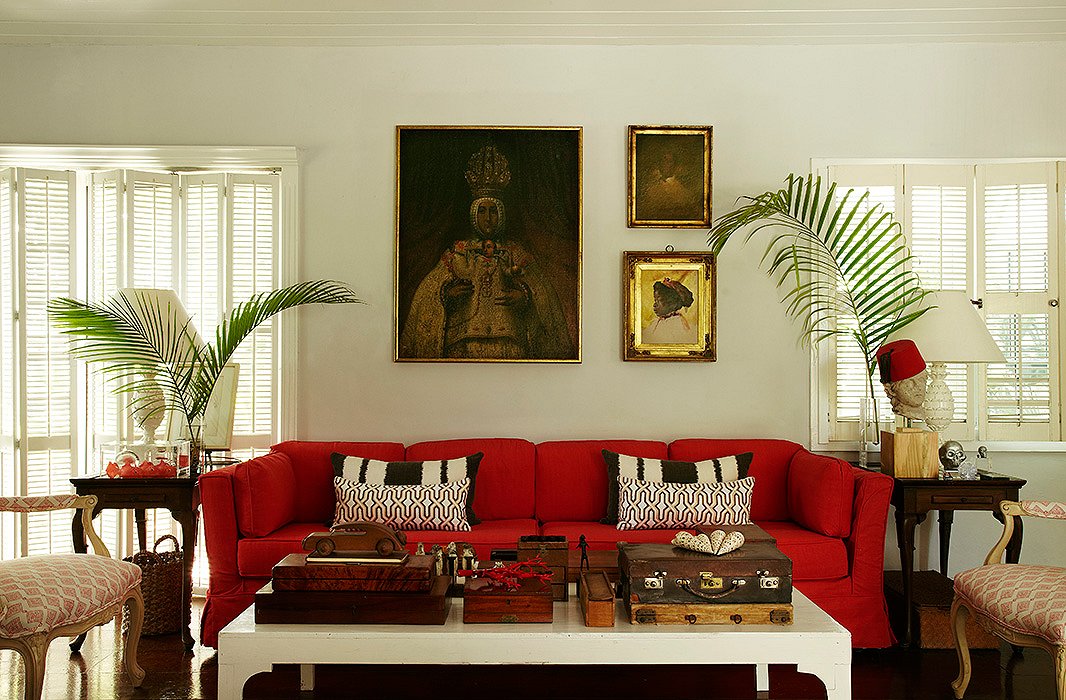 You've worn a lot of hats. What titles would you give yourself?
I am certainly a mother first. Then entrepreneur, designer, whirling dervish.
What prompted you to start India Hicks, Inc.?
I met a very influential man who said to me, "You can do more." That struck a chord because the way I'd been brought up, not many people said that to me. It's a very un-English thing to say. And I also thought I'd been doing quite a lot! At the same time, I had many smart, competent girlfriends in a similar moment in their lives—their children had reached a certain point past diapers, but they didn't want to go back to working in corporate America. Someone proposed that I look into the direct sales model, and when I began to investigate it, I saw a huge potential. I got very excited about developing a business in partnership with these girlfriends of mine.
What gave you the faith that you could start something new?
When I ran off to an island, people raised their eyebrows. When I decided to have five children—without ever marrying my partner [David Flint-Wood, whom she's still very much with]—people raised their eyebrows. And when I began a business in direct sales, people raised their eyebrows. But I take no notice, because although it might not be what is expected of me, everything I've done has felt like the right next move. 
What about this new venture inspires you the most?
Well, I think a lot about how bloody tough it still is for women. However much we try to manage our emotions, I think there's an innate animal instinct for us to mother, to care, to cope, and that leads to feeling guilty—guilty at work, guilty at home. Of course, there's an incredibly broad range of experiences, but I see so many women who've been such good daughters, such stable partners, and so consumed with motherhood, they haven't really been able to do anything for themselves. And I want this company to give women a chance to say, This is about me, this is my own business.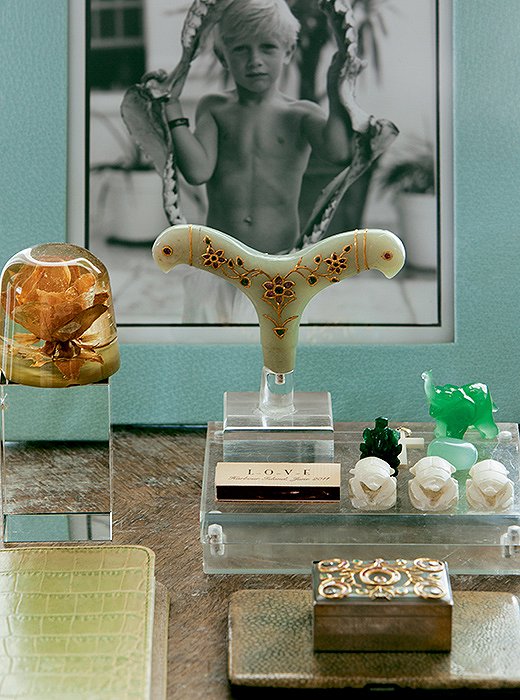 When I ran off to an island, people raised their eyebrows. When I decided to have five children—without ever marrying my partner—people raised their eyebrows. But I take no notice.
How do you hold it all together—the businesses, the children's schedules, the constant travel and entertaining?
It's been completely insane, being the founder and owner of a start-up. But I'm naturally pretty organized—my grandfather was an admiral of a fleet; perhaps I got it from him. I'm also a Virgo, so there's that tendency to be on time and present, to count out out the paper clips and file them into ordered lines. So it works even though we're scattered—the designers are in New York, the company headquarters are in L.A., and I'm here.
And what do you do for yourself, in all of this?
I do work very, very hard, but I make sure that I have a selfish hour to myself so I can exercise. It's absolutely paramount that I'm fit. I've just been on the road for 10 days, which was arduous—but because I keep myself pretty healthy, I managed.
When do you feel most creative?
Early in the mornings. I get up at 6 a.m., well before my children, and try to get to my desk to write my blog. I'm always fantastically insulted when people say "You haven't written that blog"—I write every word on my blog, every word of copy on my site. You can tell, because I'm completely dyslexic and I'll misspell things like "Wales."
What's your daily uniform?
It's very lazy—pretty much a pair of flip-flops, cutoff denim shorts, and a scrappy T-shirt.
Coffee or tea?
Tea! I've never liked the taste of coffee. Don't ask me about diet—I'll have a doughnut washed down with green juice.
Any favorite vices?
Licorice. The cheapest kind. Twizzlers you get in movie theaters.
Don't ask me about diet—I'll have a doughnut washed down with green juice.
Any downsides to living in paradise?
Life on an island is very seductive for a two-week holiday. Living on an island is a different thing altogether. If the boat doesn't come, you don't get milk. There are times of year, like hurricane season right now, when it's hard to get flights home, so you often get stuck here or there. And running an office is nearly impossible—the internet goes down all the time, the power goes down constantly. You can't get ahold of things like print cartridges and fax paper. But those are small prices to pay.
I know you entertain a lot there—houseguests, dinner parties. How do you like to put your guests at ease?
We're pretty informal, but in quite a formal way—or perhaps the other way around. Nobody has to wear shoes, but I do like to have a table laid, to decorate the table. We like to have an eclectic mix of people, which island life lends itself to, luckily.
Anything you always stock for your guests?
Good weather, so I don't have to entertain them!
A favorite cocktail in your house?
We do Pimm's quite a lot on a Sunday morning, in a big old jar with lots of ice and lemon.
I know you go back to England a lot and are on the road for work. Anywhere else you enjoy traveling when you get the chance?
We used to travel a lot with the children. It's gotten harder—I'm normally exhausted, my kids are in school off the island, so we do like to stay put. Also, when you have five children, people don't want you to come and stay. But someday, I'd be fascinated to visit Japan. And I went to Burma when I was 18 and had the most extraordinary trip; it would be amazing to go again.
Are there things you get nostalgic for or that you particularly miss?
Tea with my mother [Lady Pamela Hicks, who lives in England]. I'm very close with her, and I miss her a lot.
What does your mother make of your Bahamas life?
She's exhausted by the thought of it.
Would you say you have a different approach to parenthood than she?
Yes, my parents certainly had a different way of parenting. My father was very, very busy being dynamic in the world of design. My mother had a unique upbringing herself.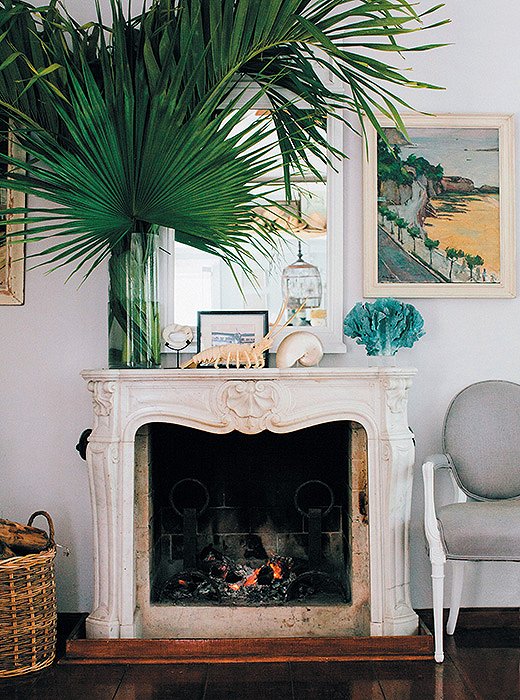 Did you always want a big family?
I hadn't really considered it. It certainly wasn't a plan. These days, we keep picking up cats, and for a while we did the same with children. We just got a kitten.
[Here, India interrupts the interview to send a photograph of their two-day-old kitten, saying, "This is very important to this interview."]
Do you have a menagerie of animals at this point?
We have Samson, who's a potcake—a stray that we found on another island. We have fat ducks with three legs, five lovebirds. We have a tortoise, but he's missing at the moment, which is very distressing.
And going back to your children, what do you find the hardest about parenthood?
What have I not found hard about parenthood! It is an impossible task and one that you are constantly reviewing and worrying about and just praying you are doing it right.  
What have you made peace with when it comes to your children?
I don't think it helps to read those bloody books. Not that I have! I think each child is so individual and unique that it's very hard to generalize.
A favorite family ritual?
Christmas and Easter are big in our family. It's really about all being together and the general excitement of it. More often than not, we have Christmas in the Bahamas, but we're very traditional about it. There are stockings, a big robust turkey, carols, Christmas trees. It could be 80 degrees out and we'll still have a Christmas fire.
What do you hope to pass down to your kids?
A sense of confidence, a sense of getting on and doing it. I hope they don't take anything for granted.
You've just come back from a 10-day whirlwind trip. What's next?
I'm going to Boston. I have two children in school there, and we'll have a crunchy fall weekend.
Anything that might be surprising about you?
Golly. I'm extremely competitive in a game of canasta. And I have a filthy sailor's mouth.
Parenthood is an impossible task and one that you are constantly reviewing and worrying about and just praying you are doing it right.
Steal India's Island Style