Indoor-outdoor living is one of the benefits of residing in a warm-weather locale. Even in areas where snow boots are worn as frequently as swimsuits, however, you can create outdoor spaces that are seamless extensions of your indoors as well as bring the verdant beauty of the outdoors in. Check out the stunning spaces below for inspiration and tips.
Use trellises as wallpaper
The petite room above is not especially bright, but the trellises along the walls make it seem like a wing of the garden. Of course, the towering leafy plants add to the illusion. So do the rattan-frame chairs, since rattan and wicker are often associated with patios and decks. And if trellises aren't your thing, wallpaper with a leaf motif, such as Nathan Turner's Pacific Palm, will have a similarly outdoorsy effect.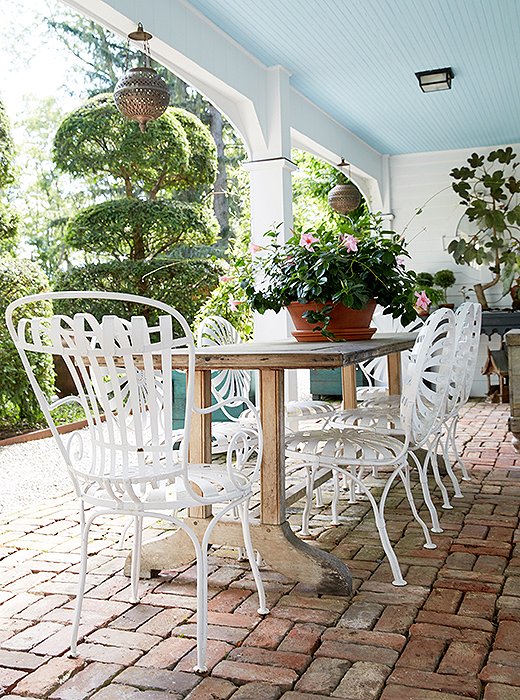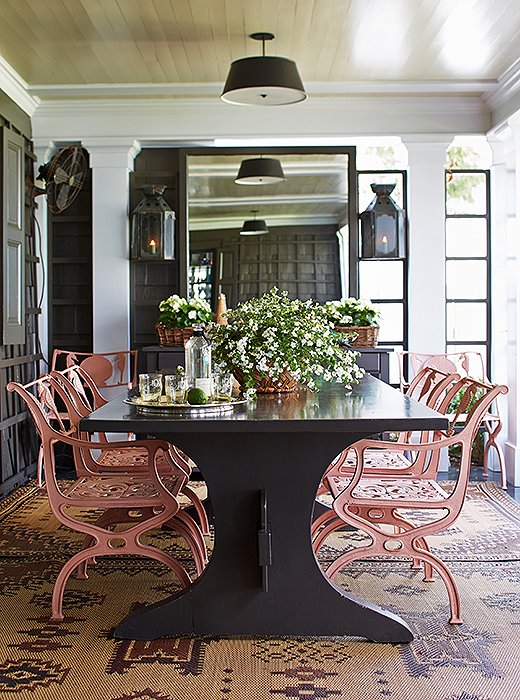 Pair iron chairs and wood tables
Chairs made of wrought- or cast-iron immediately evoke images of garden parties. Long wood tables, especially trestle styles, call to mind family feasts. Pair them, as designers Bunny Williams (left) and Jeffrey Bilhuber (right) did, and you've set the scene for a convivial gathering inside or out. To make the chairs comfortable enough for lingering over a second cup of coffee, add sheepskin rugs. (as seen in the photo below) or cushions. Outdoor pillows have the added advantage of being able to stand up to spills.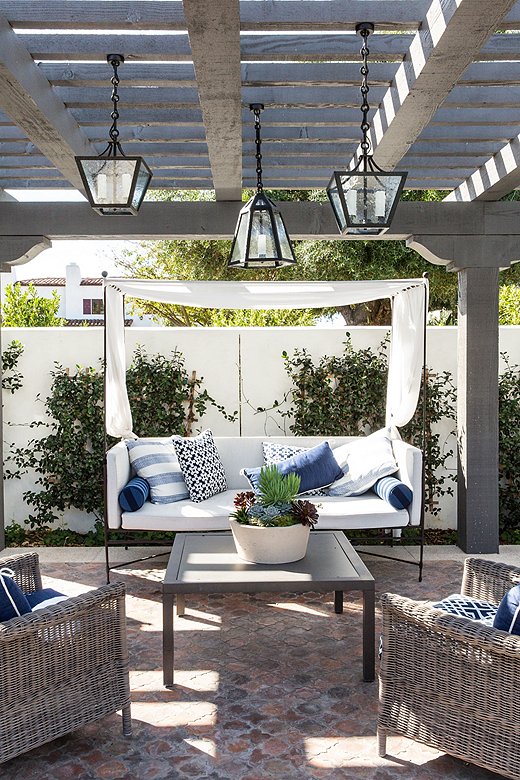 Add a pergola to create an instant outdoor room
A beamed or trellised roof supported by vertical beams, a pergola provides shade without keeping out those refreshing summer breezes. It also sets an outdoor space apart from the rest of the grounds. To really make it seem like an alfresco room, hang an outdoor pendant or chandelier from the roof beams. (Visual Comfort and Crystorama, among others, have styles similar to those at left.)
Line seating up against an exterior wall
Like adding a roof, emphasizing the wall by placing sofas, daybeds, benches, or banquettes directly against it makes an outdoor area feel more like a room. And if you can place the seating at a 90-degree angle in a corner, as seen above, you have a fuss-free conversation area.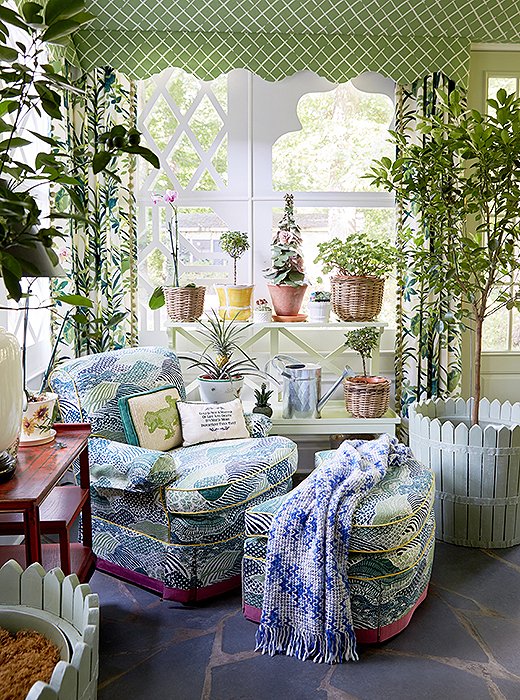 Add plants, plants, and more plants
This one is a no-brainer, but it's worth reiterating. A profusion of potted plants indoors, especially if you throw one or a few tall ones into the mix, literally brings the outdoors in. (We especially like how, at left, Jason Oliver Nixon and John Loecke of Madcap Cottage enveloped a pot in picket fencing.) If you have a black thumb rather than a green one, opt for good-quality faux plants; they really do look like genuine living flora.