Morning Routine
While most of us are still sleeping, Kelly Wearstler's day is well under way. By the time she arrives at the office at 9 a.m., she's already logged in time at Barry's Bootcamp for her daily exercise, managed to get herself and her two boys dressed and out the door, dropped the boys off at school, and stopped in at Urth Caffé for a double-dry macchiato. "When I arrive, I usually go right into a meeting," she says. "From there, my schedule is pretty much back-to-back meetings all day."
My days are so intense right now but you have to just continue to work hard. Anything that's worthwhile is usually difficult.
Making an Entrance
When it came to decorating her office space of four years, Wearstler had one key objective in mind: "I really wanted it to feel residential," she says of the second-floor headquarters, located on a design-heavy strip of La Cienega Boulevard. Greeting guests as they exit the elevator is an entryway where homey vignettes and massive sculptures coexist, giving it the feeling of one of her chic, boutique hotel designs.
Communing in Style
Venturing deeper into the space reveals two large conference rooms, both of which look more like dining rooms and reflect Wearstler's unique flare for combining materials (the organic stone table and vintage Lucite chairs, for instance) and textures (the cream-colored walls are covered in a subtle snakeskin wallpaper). "There's always something raw and something refined in my work," she says.
Breaking Down Barriers
Given her hectic schedule, "good communication is really the most important thing," she says. To that end, she opted for an open floor plan, with a series of large, custom-made worktables occupying the center of the space, and low cubicles running along either side. "It's important that I make myself accessible to everyone so if someone has a question I can be there and keep things moving forward." A series of Wearstler-designed French Modern chandeliers cast a warm glow over the entire space.
Working for Wearstler
What does Wearstler look for in potential hires? "I surround myself with people who are nice, courteous, and can get along with everyone, because so many different disciplines cross over on certain projects. We have to really respect and listen to one another." It's not unheard of for an on-staff architect to be called in to consult on a T-shirt design. "Everyone gets to do something new every day."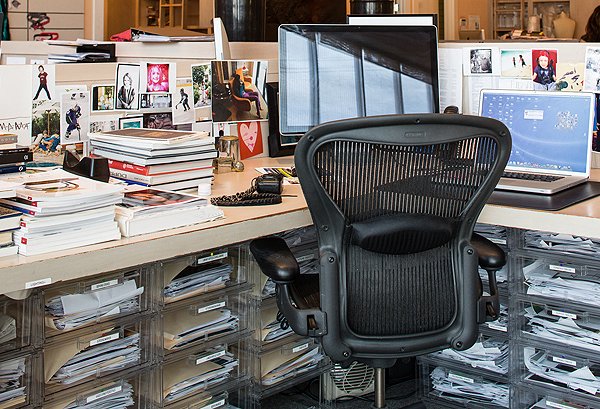 Sitting in the Mix
You may expect a design doyenne like Wearstler to occupy a perfectly appointed private office, but in reality she sits in a cubicle like everyone else. In fact, the only way to distinguish her workspace from those of her team are the shots of her two sons, Oliver and Elliott, plastered on the half-walls. That, and the meticulously organized inspiration drawers tucked underneath. "I actually hardly ever sit at my desk. I'm usually at the worktables, then I'll sit at someone else's desk to meet with them, or I'm in the library, the fashion room, or a conference room."
Keeping Calm to Carry On
Given the number of wheels in motion around this office every day, the vibe is surprisingly low-key, as is Wearstler herself. "People are always asking me how I stay so calm with all the stuff I have going on, but I'm just a generally calm person. There are of course days that are stressful and everyone's a little crazy, but this office is definitely drama free."
Adding Layers of Patina
Wearstler craves the added depth and texture vintage pieces bring to a space, and her office is no exception. "It's about creating that feeling of old soul," says Wearstler, a philosophy she become known for in her interiors work. "I always try to keep it 50/50 between new and old, but I especially love when you have both old and new in one object." Case in point: The phenomenal stools surrounding her worktables.
Drawing Inspiration
Everything from printouts of seashells to hinges appear on the inspiration boards all around the office, making it difficult to know whether a board is for a piece of jewelry or a client's boudoir. For Wearstler, "the inspiration all comes from the same place and ideas definitely cross-over. The interiors used to inspire the fashion, but now the fashion is also informing the interiors."
Collecting Nature's Bounty
The sliding drawers of the worktables reveal projects in the works, but they're also home to Wearstler's enviable collection of minerals, rocks, seashells, and fossils, all impeccably sorted into individual trays. "I just love being organized and having everything in its place," she says. Her collection, culled from places like Rock Star and The Evolution Store in NYC, boast the sort of organic forms that are likely to appear in her original prints and patterns.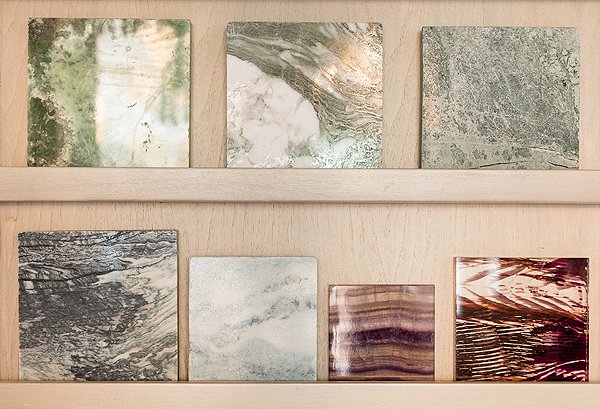 Making a Statement
"I love nature for stones, marbles, and minerals. Things that have a cool hand to them. I look for things that aren't too perfect but feel soulful and spirited," she says. A small wall with built-in ledges holds samples of the more daring stone surfaces she's used for everything from walls, to floors, to an eye-catching backsplash. While some may shy away from using such statement-making surfaces, taking design risks seems to come so naturally to Wearstler. "I never wanted to do what everyone else was doing."
Everything in Its Place
"I'm sort of a neat freak," she confesses. Wearstler's offices certainly suggest a P-Touch affinity, but given the amount of samples floating around, it's no wonder she keeps everything sorted and labeled for easy access. In a back "materials" room, floor-to-ceiling shelves are filled with bins of fabric samples (organized by color, of course), bits of wallpaper, trim, and more.
Fueling Creativity
When her well of ideas is running a bit dry, Wearstler always turns to books. "I have an amazing library at home that covers architecture, interiors, art, sculptors, fashion, everything. I've been collecting books forever." Similar to the bookshelves at her office, "they're all cataloged and organized." However, new projects often call for fresh reinforcements. "One of my favorite things to do every time I'm in New York is to go to Strand Bookstore. I'll literally go into any section and just start pulling books off the shelves."
Kelly's Workday 101
Technology: Mac
Gadgets: Blackberry for email, iPhone for calls and pictures, Canon G12
Lunch: Beet, kale, ginger, spinach, lime, E3Live, lemon, and chard juice from Erewhon
Office Tunes: Sirius XM Radio
Midday Snack: Almonds
Decorating Advice: "Take risks and trust your first instinct."
Career Words of Wisdom: "Follow your heart, do what makes you happy, and embrace who you are."